Tenkarabum Store - Fly Boxes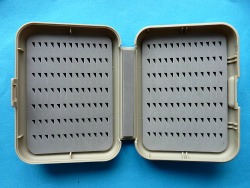 The foam slits in the EasyGrip™ Foam Fly Boxhold your flies securely, and the small triangular cut-outs make it easy to insert or remove flies without damaging the foam.  Rounded corners, no sharp edges and floats if you drop it. More info...

EasyGrip™ Foam Fly Box - $15.00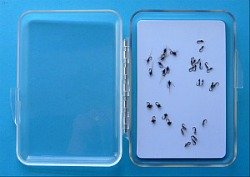 The problem with midge flies is that they are so darn SMALL! Us fat fingered folks have a hard time getting one out of fly boxes that have the slit foam, and a very hard time getting just one out of fly boxes that have compartments. This box solves that problem. There is one large compartment and your flies are held in place by a powerful magnet. You can spread them out so that it is easy to pick up just one at a time. With the bright white background, you can even see the little buggers. The box measures 4 3/8" by 3 3/8" by 3/4" so it fits in your pocket easily. It will hold more midges than you need. (Flies not included.)
Magnetic Midge Box - $7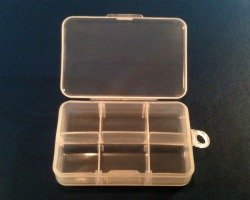 The minimalist fly box measures about 2 1/4" x 3 3/8" x 7/8" and will hold three dozen tenkara flies. Easily fits in your pocket and has a loop for a lanyard. Weighs .7 ounce. More info...
Minimalist Fly Box - $2.00
---
Shipping
A standard shipping charge of $4 will be added to all orders.
If you live outside the US, you must add more postage!

---
Where do you live?


---

USA


Add this amount for shipping.


---

No additional postage required for First Class mail.
(Total charge $4)

---

Canada or Mexico


---

Additional $6 postage required. (Total charge $10)

---

Other Country


---

Additional $10 postage required. (Total charge $14)
---
Payment
Payment is processed by PayPal but you don't need to have a PayPal account. You can use your credit card.
---
TenkaraBum Home > TenkaraBum Store > TenkaraBum Store - Fly Boxes


Walk softly and carry a long stick. - Teddy Roosevelt (almost)

Tenkara has no strict rules. Enjoy tenkara in your own way.
- Eiji Yamakawa
"The bitterness of poor quality remains long after the sweetness of low price is forgotten" – Benjamin Franklin