---
Shipping Schedule -

I will be away Friday May 1 through Tuesday, May 5.
Any orders that do not get shipped by close of business April 30 will get shipped beginning on Wednesday, May 6. Orders may be placed while I am away. They will be processed after I return, in the sequence in which they were received.
I will not be able to send order confirmations, but if you get a receipt from PayPal upon completion of your order, then I did receive your order. I'll ship it as soon as I can.
---
Tenkara Hooks

They do exist! Tenkara hooks! Designed specifically for tenkara. Do you absolutely have to have them? Of course not. You can use any hook you want. However, just as rods were designed specifically for this type of fishing, and lines were designed specifically for this type of fishing, there are indeed hooks designed specifically for this type of fishing.
Owner, a well known maker of hooks in Japan, has hooks that they label as "Tenkara" or rather as テンカラ. Or, to be a bit more precise as 本流テンカラ, or Main Stream Tenkara.

---
Tenkara Hooks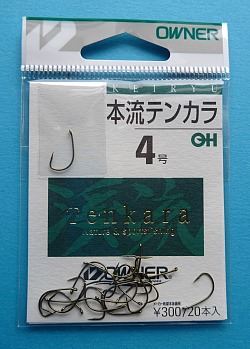 The Main Stream hook has a shorter shank and a very wide gap - although not nearly as wide as some of the bait hooks that we've all seen tenkara flies tied on. The point is angled up to provide positive hooking. It has a micro barb and a very slightly turned down eye.
The Owner Main Stream hook has a slightly different shape but is about the same size as the size 14 Daiwa 1130.
Owner Main Stream Tenkara Hooks
20 hooks per package - $5.00
---
Eyeless (Keiryu) Hooks

Some tenkara anglers in Japan use keiryu fishing hooks for tenkara. Most of the keiryu fishing hooks in Japan are eyeless, so anglers who do use them for keiryu fishing must snell the hooks. Tenkara anglers construct an "eye" using either silk cord treated with persimmon or nylon mono fishing line as the first step in tying their flies. Some anglers here use the hooks out of a sense of tradition - trying to keep true to their understanding of tenkara in Japan, but there is also a very practical reason for using eyeless hooks and tying in the eye when you start the fly. You can make the eye huge (at least compared to a regular hook eye). That makes it infinitely easier to tie on a fly if your eyesight isn't what it used to be, or if your hands are no longer as steady as they once were. For that matter, even for those with sharp eyes and steady hands, at dusk, flies tied on eyeless hooks will be much easier to tie onto your tippet.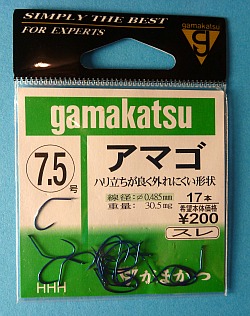 The Gamakatsu "Amago" hooks may look a bit strange, but it seems a many tenkara flies in Japan are tied on bait hooks like the Gamakatsu Amago or the Owner Yamame. It is said that the hooks provide more positive hook ups because the tippet is attached to a flexible eye fashioned from silk cord or a bit of mono rather than a hard hook eye. These are barbless hooks, but because of the shape, or the flexible eye, or possibly a combination of both, they hold fish better than the standard barbless "J" shaped hook.
Gamakatsu Amago Hooks
17 hooks per package - $4.00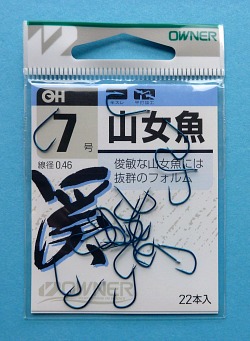 A while ago I got in some "Amago" hooks made by Gamakatsu. Well, it turns out there are "Yamame" hooks as well, although these are made by Owner instead.
Like the Amago hooks, the Yamame hooks are eyeless, and like them, they are also bright blue. These hooks have barbs.
Owner Yamame Hooks
22 hooks per package - $5.00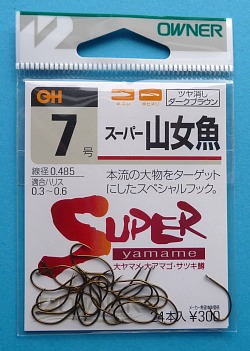 The Super Yamame hooks are the normal bronze color and have a shape that is not quite as radical to Western eyes. The hooks are barbed. These are very nice hooks.
Owner Super Yamame Hooks
24 hooks per package - $5.00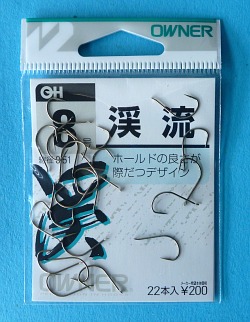 Owner Keiryu hooks. These are the hooks that Katsutoshi Amano uses for his one fly, which he ties without a vise. These are size 8, the same size Amano san uses, and are roughly equivalent to a US size 10. They are big enough to tie effectively without a vise, but they are not too large by any means (Tenkara no Oni uses flies up to a US size 2). Anthony Naples recently commented "These may be my current favorite hook - eyeless, super sharp and with a shape that I think facilitates hookset - though nearly impossible to find." I'm happy to say they are no longer impossible to find.
Owner Keiryu Hooks
22 hooks per package - $4.00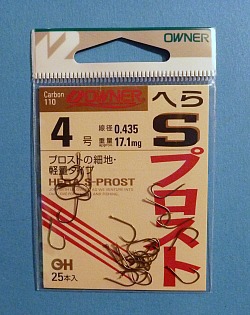 Owner Hera S-Prost hooks are eyeless, barbless hooks that are just a bit larger than the Gamakatsu Kawamushi hooks and just a very little bit smaller than the Owner Mainstream tenkara hooks. The point is turned up a bit and reminds me of the European competition nymph hooks.
Owner Hera S-Prost Hooks
25 hooks per package - $5.00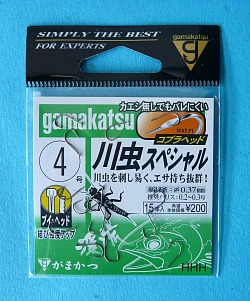 Gamakatsu "Kawamushi" hooks. These are eyeless, barbless hooks specifically designed for nymph fishing - that's fishing with live nymphs collected from under rocks in the stream you are fishing. I have read that barbs on hooks were initially developed not to keep the fish on the hook, but to keep the bait on the hook. The problem with baits as delicate as live mayfly nymphs is that the barb just destroys the nymph. On these hooks there is a flattened section just behind the hook point - designed to hold the bait without creating such a large hole that the bait is destroyed. Similarly, they should help in holding fish without creating the damage that is caused by pulling the barbed hook back out. They are a Japanese size 4, similar to the Mainstream hooks (above) but the gape is not quite as wide. If you are looking for smaller, eyeless, barbless hooks these may be just what you are looking for.
Gamakatsu Kawamushi Hooks
15 hooks per package - $4.00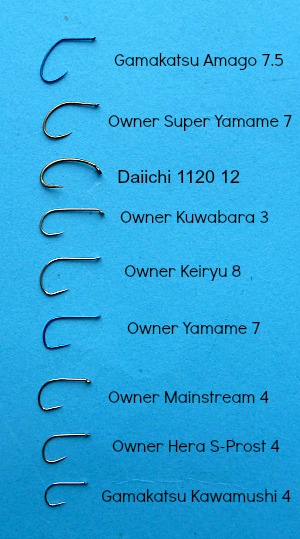 The eyeless hooks are roughly equivalent to a wide gap size 10 or 12 fly hook. The shape is radically different so it is hard to make a precise comparison. Does size matter? If you are not matching the hatch it doesn't matter much. I've caught trout on tanago hooks and on size 2 sakasa kebari. Just about anything a fish can get in its mouth may be considered food - particularly if it is (A) moving and therefore alive, and (B) getting away!
---
Persimmon Dyed Silk Cord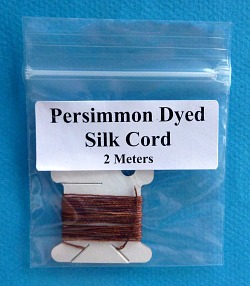 If you are tying on eyeless hooks, use persimmon dyed silk cord for creating the loop eye. When Amano san ties his flies on eyeless hooks, he first ties on a loop of silk cord treated with persimmon, which dyes it to a reddish brown color and also makes the cord a bit stiffer, so the loop will be less likely to twist or collapse. Now available in the US.

Persimmon Dyed Silk Cord - $2.50
---
Wide-Eyed Hooks™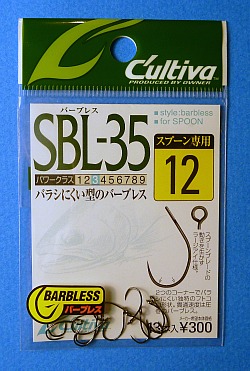 Wide-Eyed Hooks™ are for anglers who've gotten to the point where it is a bit difficult to thread the tippet through the hook eye. If you've ever wondered why they don't just make the eye bigger, boy do I have hooks for you. The eyes on these hooks are huge!
If you'd like to have the benefits of a larger hook eye without having to tie one in yourself, these hooks are for you.

I had a box of 20 packages with me at the recent Sowbug Roundup, which is a fly tying demo that brings tyers from around the world. The tyers on both sides of me bought some of the hooks, and before the Roundup was over I had sold every last package.
The hooks are a size 12 (western sizing, not Japanese sizing), which is probably the de facto standard for tenkara flies. They are barbless but the shape should prevent all but the littlest, squirmiest fish from wriggling free.
Wide-Eyed Hooks™
13 hooks per package - $5.00
---
Payment
Payment is through PayPal but you don't need to have a PayPal account. You can use your credit card.
Domestic Shipping

Domestic shipping  is via USPS First Class mail (2-5 day delivery). The $3 charge is automatically added to each order. Most small items can be combined and shipped together without additional charge.
International Shipping

International shipping is via USPS International First Class mail (2-5 week delivery). Additional postage is required but is not added automatically. Please click on the button below to add international postage. Postage is based on weight, so please add postage for the largest or heaviest item.
---
TenkaraBum Home > Basic Fly Tying > Tenkara Hooks

Speak softly and carry a long stick. - Teddy Roosevelt (almost)

Tenkara has no strict rules. Enjoy tenkara in your own way.
- Eiji Yamakawa