Tenkara Flies for Bass
Tenkara flies for bass? Sure!
In Japan, tenkara is used almost exclusively in mountain streams and almost exclusively for trout. In the US, more and more tenkara anglers are pushing the envelope and using tenkara rods in other waters and for other species. Bass and bluegills immediately come to mind.
There are wide swaths of this country that do not have mountain streams and trout. Most of the troutless swaths have bass and sunfish, though, both of which are just too much fun to ignore. I have used a number of different flies when fishing for bass, some more effective than others.
On a recent trip to Maine for smallmouth bass, I experimented with several tekara flies for bass - some to expand the range of blue flies with which I have caught fish (which to be honest was more for fun than for serious fishing) and some to find a good, all-around bass fly that is suitable for use with a wide range of tenkara rods.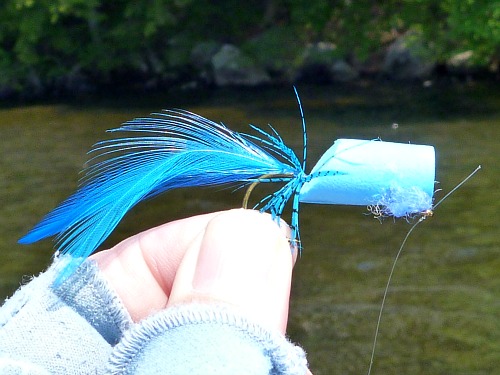 The last time I fly fished for bass in Maine, I had a lot of fun with deer hair bass bugs. I do not like tying deer hair bugs, though, so I tried some foam bugs with blue feathers and blue yarn -  just to see if they would work. They did and I caught a number of nice bass. The poppers are quite wind resistant and not that easy to cast, though. Longer, stiffer rods and heavier line worked (Daiwa Kiyose 43MF, Nissin 2-Way 450ZX and Daiwa Enshou LT44SF rods and level flourocarbon size 4.5 or Rio Powerflex Core running line). Seeing the bass exploding on a topwater fly does kind of make the heavier rod and line worthwhile, though. The blue worked, but if you are not participating in the Blue Fly Challenge, I think I would go for green or yellow instead.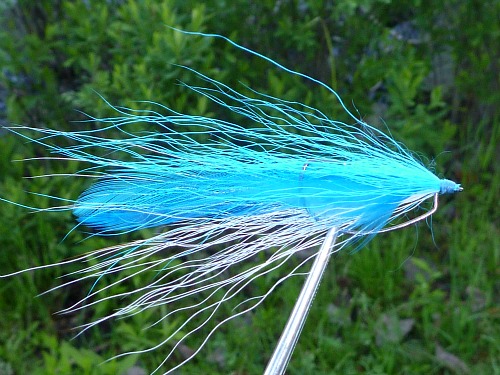 This is a fly that I think has a lot of potential (although probably more potential in a more traditional olive or chartreuse over white rather than blue over white). The fly is an adaptation of Lefty's Deceiver tied on an offset wide gap worm hook. Tying flies so they swim hook up to reduce snags is nothing new. The Clouser Minnow is perhaps the best known, although it uses lead or beadchain eyes to make the fly swim hook up. Lead or brass eyes are really too heavy for tenkara.
This fly just uses the shape of the hook to force a hook up orientation. Years ago, Mustad made keel hooks that served the same purpose, but they are long out of production. Offset worm hooks work well and are readily available in a wide range of sizes.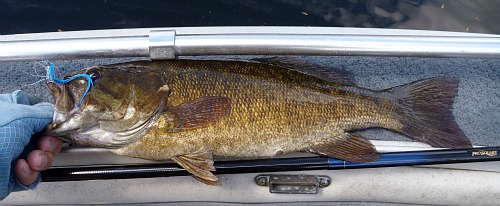 Since the fly is not weighted at all, it swims just under the surface. You can easily see the fly and guide it by moving your rod tip to one side or the other, to swim it around weeds and branches. Offset "wide gap" worm hooks have the hook point in direct line with the the hook eye. With the saddle hackles and bucktail on either side of the hook point, the fly is surprisingly weedless. I threw it in the midst of some pretty thick stuff and it almost never got hung up. I was really surprised at the stuff I could fish it through. I caught bass and pickerel with the fly.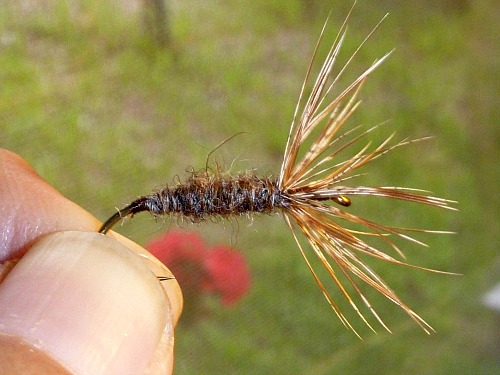 Hook: Daiichi 1560 size 6
Thread: UNI-Thread 6/0, Dk. Brown
Body: Nymph Yarn (Jamieson's Spindrift Moorit-Shaela)
Hackle: Partridge

Of all the tenkara flies for bass I have used, the best, by far, was a big kebari tied with a wool yarn body and large partridge or pheasant hackle. The fly shown is tied with Nymph Yarn and partridge, although I had equal success with Little Dark Kebari (Oxford) yarn and hen pheasant breast hackle. The fly is big enough that the smallies would come up off the bottom to get it, including the largest fish I've ever caught tenkara fishing, the 20 1/2" smallmouth shown below.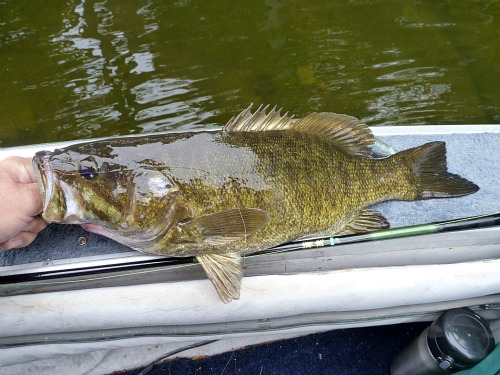 Still, the fly is small enough that even sunfish or very small bass could take it. I am definitely going to try it next time I go trout fishing. I think it might be a keeper. If it works for trout, too, it goes beyond tenkara flies for bass, and I may just call it the Keeper Kebari.
Perhaps the best thing about the fly, aside from it being very effective, is that you can cast it effectively with any tenkara rod.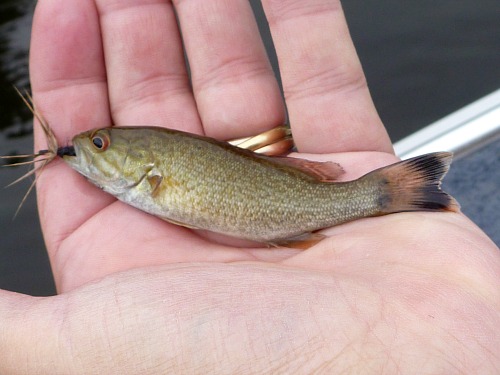 Return from Tenkara Flies for Bass to Tenkara Flies

Return from Tenkara Flies for Bass to TenkaraBum Home



Tenkara has no strict rules. Enjoy tenkara in your own way.
- Eiji Yamakawa