Suntech TenkaraBum 40

The TenkaraBum 40 is not just the TenkaraBum 36 with one more section. It is built on a different blank, optimized to give performance as close as possible to the TenkaraBum 36 while minimizing any tendency for tip heaviness. The 40 has a slightly longer collapsed length, allowing Suntech to make a longer rod with the same number of sections. That improves the bend profile and also keeps down the weight. The penny measurement is exactly the same as the TenkaraBum 36.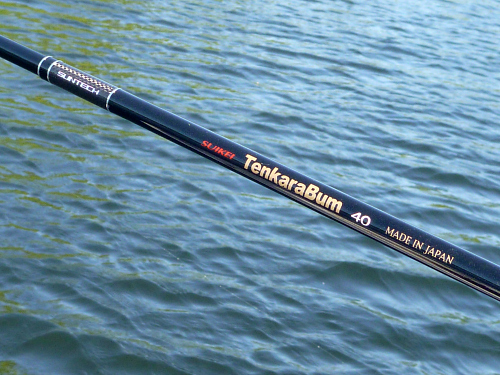 For the TenkaraBum 40 to have the exact same penny rating as the TenkaraBum 36 is a tribute to the skill of the Suntech engineers. I told them I wanted the rod to feel like the TenkaraBum 36 and then let them go. I don't have years and years of experience working with different tapers, wall thicknesses, resins and prepregs (pre-impregnated carbon cloths). They do. They were able to make a rod that is longer but feels almost the same - exactly what I wanted and what was wanted by the people who shortly after getting a TenkaraBum 36 asked me for a TenkaraBum 40.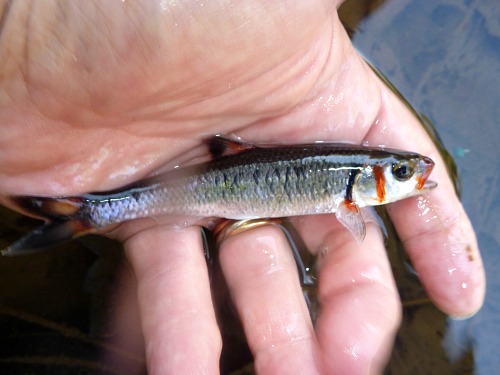 The TenkaraBum 40 is just a bit faster than most tenkara rods. The tip sections are a bit softer and the mid sections are a bit firmer. Having slightly softer tip sections yields two benefits: the rod will cast a very light line very easily, and the rod tip will still dance when you have a small fish on the line. You can feel the fight of a warpaint shiner, like the one above caught in North Carolina when I was there for the Tenkara Jam.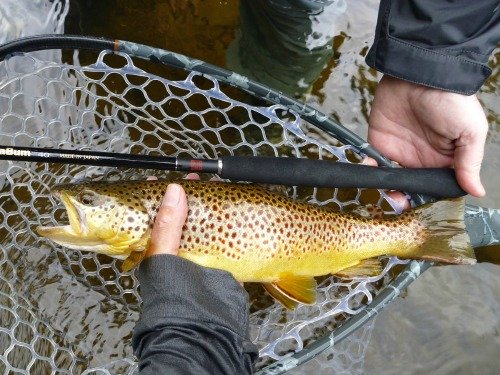 TenkaraBum 40 with brown trout.
Having slightly firmer mid sections also yields two benefits: you can get good hook sets when fishing weighted nymphs and you have a bit more control, making it a bit easier to guide good sized fish out of the current and into quieter water.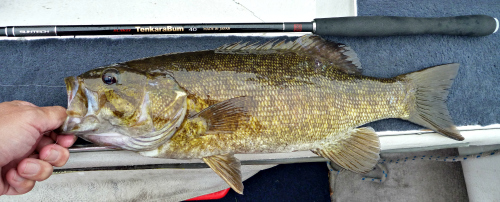 TenkaraBum 40 with 18" smallmouth bass.
The TenkaraBum 40 was not designed with bass in mind, but it does just fine with modest bass (and sunfish).

I have fished the Suntech TenkaraBum 40 with everything from a 2.5 to a 4 level line, and with the 3.6m and 4m Fujino White lines.  So far, my favorites have been a size 3 level line or the 3.6m Fujino White line (the Fujino White lines seem to be just a little longer than the length shown on the package).
It also does extremely well with a Tactical Nymphing line, which for me is 0X Varivas fluorocarbon tippet and a TenkaraBum Tactical Nymphing Sighter. A clear line and white sighter is about as stealthy as you can get, yet still registers strikes very well.
I have not tried to cast a 6m line of size 3 nylon with the TenkaraBum 40. I have fished a line similarly longer than a rod just twice. The first time I managed to hook the only brown trout of my life that had a prominent kype on its jaw. I don't know how big the fish was because with a line longer than the rod you have to hand line the fish and as soon as I touched the line the brown took off and broke the tippet in an instant. The second time I tried a long line I hooked a large fish that after a short while just sulked on the bottom. With the long line there was no way to put any pressure on the fish. Again, having to hand line a fish that wasn't nearly ready to come in was a disaster. Hand lining 9 or 10 inch fish is easy. Hand lining a fish that could be twice that size isn't.
If you are one of the many tenkara anglers who really like the TenkaraBum 36 but have wished there was longer model, now there is. Even if you have never fished with a TenkaraBum 36, if you've wanted a light weight, very responsive rod of about 13' that is fun with smaller fish and has the ability to handle larger fish, the Suntech TenkaraBum 40 may be just the rod you've been looking for. That is especially true if you want to fish weighted nymphs as well as unweighted wets and dries.
Recently, a new premium Japanese rod has been introduced. I have been asked several times how it compares to the TenkaraBum 40. Like the TenkaraBum 40, the primary design goals for the new rod were light line capability and positive hook sets (plus another 8 or 10 things that would make a rod truly exceptional). The designers' intention was to make the best tenkara rod, one that would meet all their demands and would also satisfy the elite Japanese tenkara anglers who provided design insights, product testing and feedback. From the accounts of the Japanese and European anglers who have fished with the rod, the designers have fully achieved their goals.
I freely admit my skills are not sufficiently advanced to recognize, appreciate and utilize what their rod can accomplish. I prefer the TenkaraBum 40. It reminds me of when Dr. Ishigaki introduced me to the gathered tenkara anglers at Itoshiro. He said I had Yuzo Sebata's beard but not his skills. I guess that's still the case.

Suntech TenkaraBum 40 Features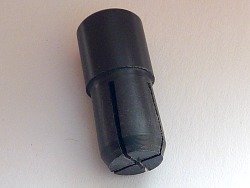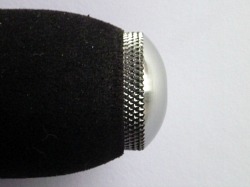 Although the Suntech TenkaraBum 40 blank is different than the TenkaraBum 36 blank, the grip, grip screw cap and tip plug are the same for both rods.
The grip is hard EVA foam, which provides an excellent nonskid grip (and is less expensive than cork, allowing the money to go toward a higher quality blank). The grip screw cap is knurled for easy tightening and removal, and rounded for comfort. The tip plug fits quite snugly and will not fall out when you least expect it. Because of the tight fit, do not insert the tip plug when the line is attached. The tip section has Suntech's signature "Lillian Spin" swivel, which does help to reduce line twist and which easily passes through the second section.

Length extended - 13' 1 1/2"
Length collapsed - 23 5/8"
Weight without tip plug - 2.6 oz
Grip - Shaped EVA foam
Sections - 8
Tip Diameter - .65mm
Recommended tippet - 6x-4x
Pennies - 18.5
The TenkaraBum 40 when collapsed is too long to fit in any of the Ebira rod quivers. It will fit (just barely) in the medium rod case.

Suntech TenkaraBum 40 - $245
---
Shipping
A shipping charge of $10 will be added to all orders.
If you live outside the US, you must add more postage!

---
Where do you live?


Add this amount for shipping


---

USA


---

No additional postage required.
(Total charge $10)

---

Canada or Mexico


---

Additional $6 postage required. (Total Charge $16)

---

Other Countries


---

Additional $13 postage required. (Total Charge $23)
---
Payment
Payment is processed by PayPal but you don't need to have a PayPal account. You can use your credit card.
---
TenkaraBum Home > Rods > TenkaraBum 40


Walk softly and carry a long stick. - Teddy Roosevelt (almost)

Tenkara has no strict rules. Enjoy tenkara in your own way.
- Eiji Yamakawa
"The bitterness of poor quality remains long after the sweetness of low price is forgotten" – Benjamin Franklin
---
Warning:
The hooks are sharp.
The coffee's hot.
The fish are slippery when wet.

---