Suntech GM Suikei
Keiryu Special

(Mountain Stream Special)

---
The GM Suikei Keiryu Special 39  and 44 have been replaced by the new Suntech TenkaraBum Traveler rods.
The GM Suikei Keiryu Special 53 remains and is in stock. Read about it here.
Only a few of the GM Suikei Keiryu Special 27 rods remain.

---
The Suntech GM Suikei Keiryu Special rods are indeed special. They had been discontinued by the time I was first introduced to Suntech. I was able to purchase some of the last few Keiryu Special 39 rods and immediately fell in love with them. They were just exactly what I was looking for. Although they are keiryu rods, I thought their action made them excellent for tenkara fishing.  They have a nice progressive bend profile and a slightly faster action than most tenkara rods. The tip sections are a bit softer than most tenkara rods, while their midsection is just a bit firmer.
Their light weight, three position zoom function and the ability to fish bead head nymphs better than most tenkara rods makes them perhaps the most versatile rods in the US for tenkara fishing.

After slowly building a close working relationship with Suntech, I was able to convince them to bring back the Keiryu Special 39. The following year, they offered to bring back the Keiru Special 44 for me. This year, I asked them to bring back the Keiryu Special 53 and they agreed. They also agreed to make a new rod, the GM Suikei Keiryu Special 27.

There is now a whole family of Suntech GM Suikei Keiryu Special rods, ranging from the 27 for small overgrown streams to the 53 for large open rivers.
Suntech GM Suikei Keiryu Special 39

The Suntech GM Suikei Keiryu Special 39 could be someone's favorite rod. For that matter, it could be someone's only rod. I recently spent a day exploring. Coach and I were planning to fish three "thin blue lines," as small streams are shown on topographic maps. Since I had never fished any of them, and thus did not know if they were wide or narrow, open or overgrown, rod choice could have been a problem. I took the Suntech GM Suikei Keiryu Special 39. Problem solved.

At first glance, the rod is very similar to the Suntech Field Master. Like the Field Master, the Suikei Keiryu Special 39 is a three position rod that can be fished at 3.2m, 3.6m and 3.9m, making it extremely versatile for fishing smaller streams and larger streams, rivers and lakes.

The rod is softer than the Field Master, measuring 18.5, 21 and 21.5 pennies at the 3.2, 3.6 and 3.9m lengths, respectively, compared to 24, 26 and 28 for the Field Master. It thus may not be quite as good as the Field Master for fishing heavy nymphs or for wrestling 20" trout, but for fishing the unweighted wets that are traditional to tenkara, the dries that everyone loves and the modestly weighted nymphs that work well in all but deep, fast runs, it is a wonderful rod.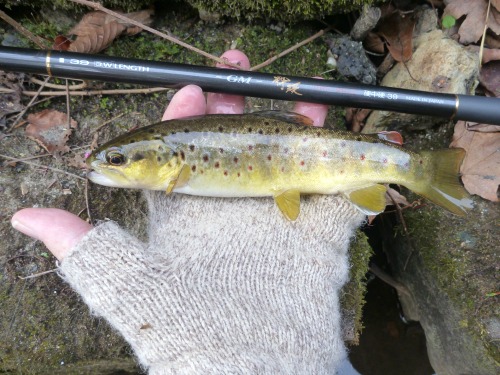 Which to choose? To a large extent, it depends on whether you prefer slightly softer or slightly firmer rods. At first glance, one would think that the softer rod would be more fun with smaller fish - and I'd have to agree. I really like it for smaller streams where some spots are tight and technical and others are quite a bit more open. Most of the small streams I fish are home to smaller fish and for them the Keiryu Special 39 is an excellent choice.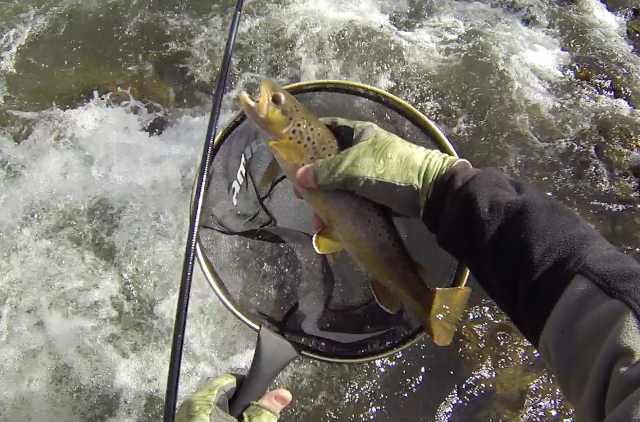 Photo courtesy Teton Tenkara

It's not limited to small fish, though. Tom Davis feels it is a great rod for the high gradient mountain streams he fishes. Trying to keep 12-14" fish out of the snags and pulling them back upstream when they get below him takes some backbone. In his words "it has never let me down."
As you can see from Adam K's brown (below) and Kyle Q's rainbow (to the right) they can handle fish larger than 12-14 inches!

That Suikei did the trick again :) - Adam K
In comparing the Suntech GM Suikei Keiryu Special 39 with the Tenkara USA Sato, which has almost identical penny ratings (18, 21, and 21.5 for the Sato compared to 18.5, 21, 21.5 for the Suikei), he felt the Suikei was less expensive, lighter weight and more of an all around rod.
You can read Tom's review of the GM Suikei Keiryu Special 39 here and his "Multi-zoom rod Shootout" comparing the Keiryu Special and the Sato here.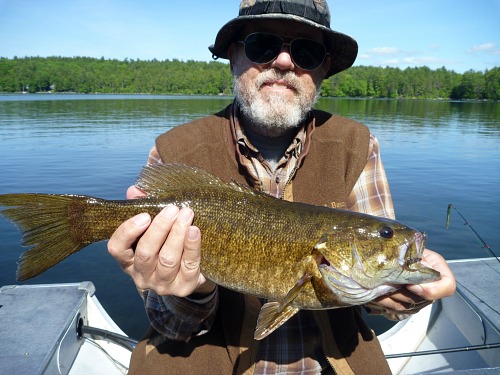 19" Maine smallie caught on GM Suikei Keiryu Special 39
You know, sometimes I'm a little dense. OK, sometimes I'm really dense. I got an email from a guy asking for a replacement part for his GM Keiryu Special. It took me a while to realize what rod he was asking about. Then it dawned on me it was what I had always called the Suikei 39. In the future, I'll just call the rod the Keiryu Special 39 instead of the Suikei 39. After all, that's what it says, in English, right on the rod. In my defense, it does say Suikei also, but only in Japanese.
Early on, I thought the "Keiryu Special" name might have been a bit misleading. By now, though, I suspect most people know that the word "keiryu" means "mountain stream" in Japanese. Think of the rod as being the Mountain Stream Special.


Suntech GM Suikei Keiryu Special 44
The Suntech GM Suikei Keiryu Special 44 is a bit softer than the Field Master 44 and it has a wider grip, which were the only two things about the Field Master 44 that I felt could be considered drawbacks. The grip is significantly wider than on the GM Suikei Keiryu Special 39.
I think the Suntech GM Suikei Keiryu Special 44 will turn out to be a very nice rod for tenkara fishing - and I expect most buyers will have tenkara in mind rather than keiryu fishing. That said, this will also be a truly excellent small stream keiryu (bait fishing) rod. The tip sections are soft enough that the rod will cast a light line with ease but there is enough backbone in the midsection to get good hook sets and to handle good sized fish.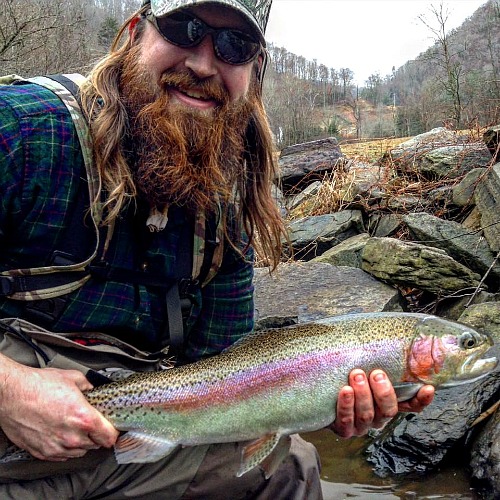 Colin S with nice rainbow caught with GM Suikei Keiryu Special 44.
The GM Suikei Keiryu Special 44 has a penny rating at full extension just slightly greater than the new Nissin Zerosum Oni Tenkara Honryu 450. The bend profile is similar as well. Perhaps the biggest difference (beyond the cork grip on the Oni rod) is that Suntech rates the Keiryu Speical 44 for 6X tippet while Nissin rates the Oni rod for 3X. Of course, the Oni rod is $100 more expensive. That is a pretty big difference, too. Of course, you can still catch some mighty nice fish with 6X tippet, as Colin S proved (the photo above is one of five fish ranging from 22 to 26 inches - not a bad day!).

Suntech GM Suikei Keiryu Special 53

The Suntech GM Suikei Keiryu Special 53 is the next longer version of the Keiryu Special 39 and 44. I had known for quite some time that Suntech used to have a 53 and I had been curious about it.

Two factors prompted me to ask Suntech to bring it back into production. Interest in two handed rods has picked up, and Suntech discontinued their Suikei ZPRO 54. The Suikei ZPRO 54 was a three position zoom rod, with essentially the same three lengths as the Keiryu Special 53 and the Field Master 53. It was wonderfully light and I liked the rod a lot, but its maximum tippet recommendation was 8x, which many people felt was just too light.
The Keiryu Special 53 is rated for 6X, which will be adequate for the size fish most people catch. It is significantly lighter and softer than the Field Master 53, and actually feels a bit more like the Suntech Fine Power NP56. The Fine Power is a little longer (and a lot more expensive), but the Keiryu Special penny ratings of 26, 26.5 and 26.5 are closer to the Fine Power NP56 than they are to the Field Master 53.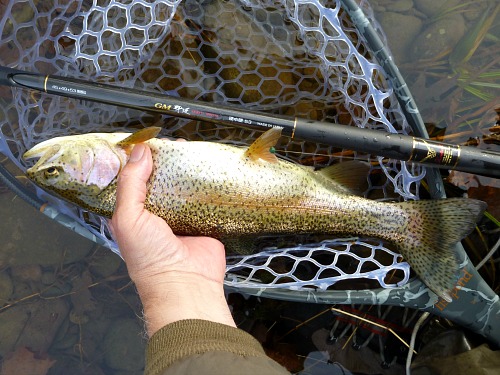 The Keiryu Special 53 can handle nice fish, too.
The Keiryu Special 53 pretty effectively bridges the gap between one-handed and two-handed rods. At the shortest length, 4.5m, it is a nice one-handed rod that is not as tip heavy as the Tenkara USA Ito, while being substantially more capable (26 pennies compared to 15).
Somewhat surprisingly, it is still a very reasonable one-hander at the 4.9m middle length. That pretty much blows away all the 4.5m honryu tenkara rods. Some people will cast it one handed even at the 5.3m full extension but I think most will prefer to use two hands.
With longer rods, the rod's own inertia loads the rod, so they can cast ligher lines than you would expect. A lot of people fish the Keiryu Special 39 with size 3.5 line. The 53 casts a size 2.5 line nicely, and I really don't think you need to go over size 3, even if you are new to two handed rods. Of course, the Keiryu Special works quite nicely for keiryu fishing as well.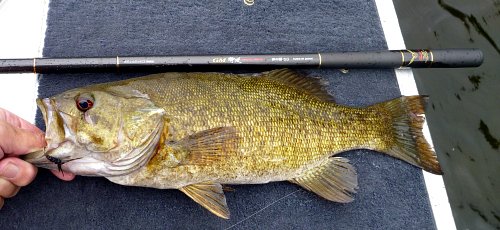 I haven't caught any large fish with the Keiryu Special 53 yet, but given the penny ratings, it should handle fish over 20 inches. The limitation will be the tippet strength, but the rod is rated for tippets down to 9x, so it should protect a 6x tippet nicely.
---
Suntech GM Suikei Keiryu Special 27

The Suntech GM Suikei Keiryu Special 27 is the latest in the series, and the only one that Suntech did not bring back from having been discontinued some time ago. The 27 is a brand new rod, developed at my request.
Ever since Daiwa discontinued the Soyokaze, I have wanted a rod that was light weight, could cast a light line, was fun with small fish and yet could handle pretty good sized fish. After several false starts I finally asked Suntech to make one for me. Wow! What a great little rod. I think it deserves its own page. Read about it here.

---
Suntech GM Suikei Keiryu Special Features


As with all other keiryu rods I know of, the grip is a widened section of the rod blank. The Keiryu Special 39 grip is thinner than the Field Master grip, and thinner than the cork grips on tenkara rods, but I have never felt it to be too thin. The grip on the Keiryu Special 44 pleasantly fills the hand.

When Suntech brought back the rod, they made two changes from what you can see in Tom's review.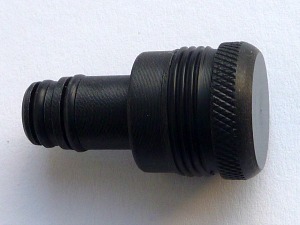 Most important, they replaced the two-part grip screw plug with a one-part plug similar to that used on the Field Master. This completely eliminates the problem that Tom had with the two-part plug coming apart. The new plug is knurled for easy removal and beveled for comfort. The two "O" rings hold the two zooming sections securely. Twist the zooming sections to seat them over the plug. They almost snap into place. It is a very secure fit and the parts won't rattle.

The second change is an upgrade from the cloth rod sock to a stretchy knit "Suntech" rod sock. I like the stretchy knit rod socks much better than the cloth ones where you have to fold over a flap and tie down the drawstring.

Rather than a tip plug, which can fall out and is remarkably easy to lose, the Suntech Suikei Keiryu Special 39 comes with a KTC-12 rod cap. The Keiryu Special 44 and 53 come with a KTC-16. It really is a much more secure solution.
As with all of the other Suntech rods I've seen, the lillian is attached by a swivel that is thin enough to easily pass through the second section.

Suntech GM Suikei Keiryu Special 53

Length (extended) - 14'10", 16'1", 17'2"
Length (collapsed) - 21 1/4"
Weight (with Fuji cap) - 4.0 oz
Weight (without Fuji cap) - 3.5 oz
Sections - 12
Tip Diameter - .6mm
Butt Diameter - 22.5 mm
Tippet recommendation - 9X - 6X
Pennies 26, 26.5, 26.5
Suntech GM Suikei Keiryu Special 53 - $285
The Suntech GM Suikei Keiryu Special rods are made in Japan.
---
Turn your rod into a starter kit

Tenkara Line Holders
(pkg of two) - $10

Nissin Oni Line - $18 Size 2.5 or 3 recommended.
---
Shipping
A shipping charge of $10 will be added to all orders.
If you live outside the US, you must add more postage!

---
Where do you live?


Add this amount for shipping


---

USA


---

No additional postage required.
(Total charge $10)

---

Canada or Mexico


---

Additional $6 postage required. (Total Charge $16)

---

Other Countries


---

Additional $13 postage required. (Total Charge $23)
---
Payment
Payment is processed by PayPal but you don't need to have a PayPal account. You can use your credit card.
---
TenkaraBum Home > Tenkara Rods > Suntech GM Suikei Keiryu Special  (medium)



Walk softly and carry a long stick. - Teddy Roosevelt (almost)

"The bitterness of poor quality remains long after the sweetness of low price is forgotten" – Benjamin Franklin
---
Warning:
The hooks are sharp.
The coffee's hot.
The fish are slippery when wet.

---