Shimano LLS36NX
I had wanted to fish with a Shimano LLS36NX ever since seeing Dr. Ishigaki's in Daniel's apartment in the fall of 2010. Had I realized he'd had it with him I probably could have tried it out when we were fishing together for golden trout in the Sierras.
Months later, I was able to borrow a Shimano LLS36NX and did an initial review of the rod in the summer of 2011. As Jim B. wrote in his review of the rod (in the Your Reviews section), it is a beautiful rod with a nice olive finish and quality cork.
I find it much easier to describe something by comparing it to a more widely known item, so this review will largely compare the Shimano LLS36NX with a rod that to my readers will be much better known and more widely accessible: the Tenkara USA 12' Iwana. They are similar rods, but they are clearly not the same.
The Shimano is lighter at 2.5 ounces compared to 2.7 for the Iwana (measured on my own postal scale). The center of gravity is in almost exactly the same spot for the Shimano and the Iwana so the lighter weight is definitely noticeable when casting.
The Shimano LLS36NX feels a bit stiffer that the Iwana, but just a little. The Iwana has very slightly stiffer butt sections and slightly softer tip sections than the Shimano. The most significant difference seems to be that the Shimano has a tubular tip section rather than the solid tip of the Iwana (and all the other Tenkara USA rods).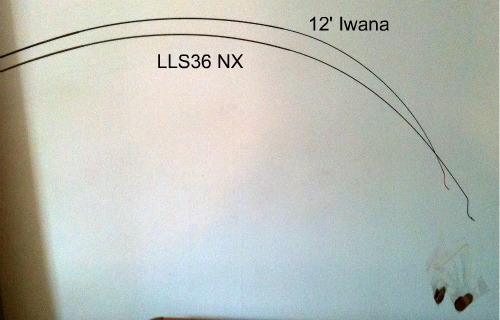 The slightly stiffer rod and noticeably stiffer tip do change the casting dynamics. I would say the Shimano LLS36NX was specifically designed for fishing a level line. That should come as no surprise because Dr. Ishigaki, probably the premier proponent of level line tenkara in Japan, is a design consultant for Shimano.
It certainly appeared to me that the Shimano LLS36NX had been optimized for a size 4 level line. I also tried a size 3, a size 5, several tapered lines, and both tapered and level horsehair lines. Size 4 level fluorocarbon line is the one that seems to fit the rod the best, and with it the rod will make effortless pinpoint, tight loop casts.

What I also found interesting was that the rod is clearly best with an unweighted fly. Even the minimal weight of a Killer Bug affected the cast. To be clear, the Shimano with the size 4 level line will cast the Killer Bug, and would certainly cast a Czech nymph or woolly bugger or Dave's hopper. It's just that with an unweighted fly, the cast is a thing of beauty. With a weighted fly the cast works, but the beauty is gone.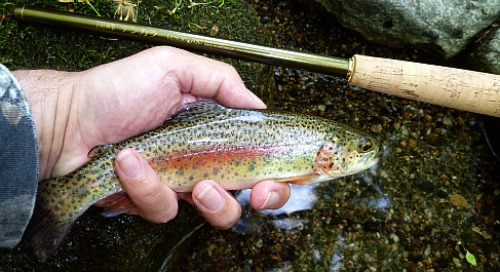 If you prefer a slightly crisper cast and feel to a rod, and especially if you mostly fish unweighted flies in the strict Japanese tradition, I think you would really like the LLS36NX. Now that Daiwa has discontinued the Enshou tenkara rods and I can no longer get the Enshou LT36SF, the Shimano is the nicest rod for someone who wants a slightly crisper rod. It is a bit stiffer than the Nissin Zerosum 360 7:3 and considerably stiffer than the Zerosum 360 6:4 and Shimotsuke Ten.
To be sure, the LLS36NX is not a stiff rod, it's just that the other premium Japanese rods are softer. American tenkara anglers seem to like slightly stiffer rods than the Japanese, and I do believe American tenkara anglers will really appreciate the Shimano LLS36NX.
Rods made in Indonesia.
Shimano LLS36NX
Length (extended) - 11'10"
Length (collapsed) - 19 3/4"
Sections 9
Carbon % - 98.8
Weight 2.5 oz (without plug) 2.6 (with plug)
Pennies - 21
Out of stock

The action of the Shimano LLS33NX is very similar to the LLS36NX, but being a shorter rod it is also lighter and has a noticeably lower swing weight. This is about as nice a short, cork-gripped rod as I had ever found, and if you like a rod that is a bit stiffer and crisper than the Nissin Zerosum 320 7:3, this is indeed the best. I would fish it with a size 3.5 line. 
Shimano LLS33NX
Length (extended) - 10'6"
Length (collapsed) - 19 3/4"
Sections 8
Carbon % - 98.6
Weight 2.1 oz (without plug) 2.2 (with plug)
Pennies - 19
Shimano LLS33NX - $250
Out of stock
---
Shipping
A shipping charge of $10 will be added to all orders.
If you live outside the US, you must add more postage!

---
Where do you live?


Add this amount for shipping


---

USA


---

No additional postage required.
(Total charge $10)

---

Canada or Mexico


---

Additional $6 postage required. (Total Charge $16)

---

Other Countries


---

Additional $13 postage required. (Total Charge $23)
---
Payment
Payment is processed by PayPal but you don't need to have a PayPal account. You can use your credit card.
---
TenkaraBum Home > Tenkara Rods > Shimano LLS36NX


Walk softly and carry a long stick. - Teddy Roosevelt (almost)

Tenkara has no strict rules. Enjoy tenkara in your own way.
- Eiji Yamakawa
"The bitterness of poor quality remains long after the sweetness of low price is forgotten" – Benjamin Franklin
---
Warning:
The hooks are sharp.
The coffee's hot.
The fish are slippery when wet.

---