Nissin Fine Mode Kosansui
Keiryu Rods
Nissin Fine Mode Kosansui keiryu rods are similar to the Nissin 2Way 450ZX rods but they do not zoom. That makes them simpler - and less expensive. It also makes them a lot of rod for the money. And that makes them excellent choices as kids' rods. They may be keiryu rods, but they cast tenkara lines as well.

They're not just for kids, either. The Fine Mode kosansui 270 is an excellent rod for small streams as well as for small anglers. It's not to heavy for even a young child to manage, and not too long either. It's also not too long for those tiny overgrown streams where your standard tenkara rod is just too long.
The Fine Mode Kosansui 450 (soft) is also a good kid's rod, but in this case it's a two hander. It would be a great rod to introduce kids to keiryu fishing. The next step up from fishing with a bobber and worms in a pond for bluegills is fishing with a bobber and worms in a stream for trout. If you want to teach your child tenkara as well as keiryu, the 450 will cast a size 3.5 tenkara line nicely.

---
Fine Mode Kosansui 270

The Fine Mode Kosansui 270 in an inexpensive rod that will work well in small overgrown streams. It doesn't come with a fancy cork grip or a fancy zoom-zoom feature. (It doesn't come with a fancy price tag, either).
What it does have is a relatively soft tip that will allow you to cast a size 3 level line, with mid and butt sections stiff enough to handle any fish you're likely to hook in a stream small enough to want a 9' rod. The rod measures 19 pennies, the same as the Shimano LLS33NX or the Nissin Pro Square 390 7:3.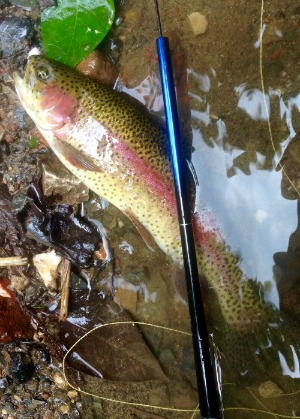 Nice Pennsylvania Rainbow caught by Don H.
Watching some of Tom Davis' small stream videos on Teton Tenkara, though, it's pretty clear that not all the fish in small streams are 5 or 6" brookies. He noted the need for a rod with enough backbone to keep larger fish away from sticks and snags. The Kosansui 270 does well in that regard. Tom recently reviewed the Kosansui 270, concluding that "It's the perfect rod for small, tight streams."

However, if the fish in the stream are in fact the 5 and 6 inchers, because of the softer tip sections on the Fine Mode Kosansui they'll still make the rod dance.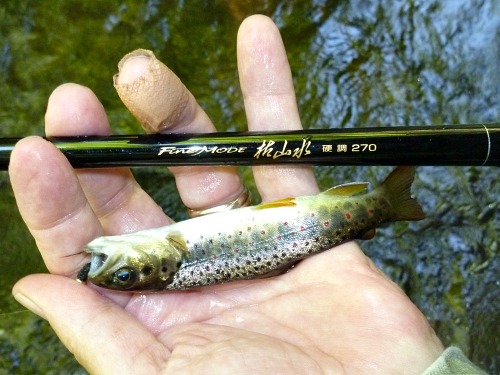 I used to include this rod in the Small Stream Starter Kit, but I have replaced it with the Suntech Keiryu Special 27, which really is a much nicer rod.
I also used to include this rod in the Kids Tenkara Kit, but I have replaced it with a rod that is less expensive and has an action and bend profile that is better for tenkara.

---
Fine Mode Kosansui 320
The Fine Mode Kosansui 320 is a bit longer and a bit more capable. It is a 25 penny rod, which puts it one penny more than the Suntech Field Master at its shortest (3.2m) length, and two pennies more than a Tenkara USA 12' Iwana.

If you want the ability to land nice sized fish but don't have room for a longer rod, this is definitely one to consider.
---
Fine Mode Kosansui 450 (soft)

On the penny scale, the Nissin Fine Mode Kosansui 450 (soft) is a 25,  almost right in between the 450ZX (soft) and the 450ZX (medium). If you need the length but don't need the zoom capability, this is a rod that may definitely appeal to you. It is a bit stiffer than the average tenkara rod, and towards the lower end of keiryu rods. It should pretty easily handle larger waters but is not a rod for larger fish. It should be fine for trout into the teens (inches, not pounds), but I would not use tippet stronger than 6X.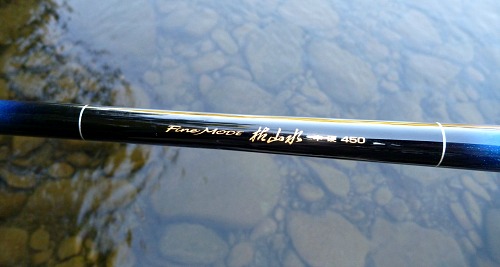 The rod weighs in right at 3 ounces with the tip plug and 2.8 ounces without it. It is about as much rod as you can comfortably cast one handed but is a very light two hander. The last time I fished with one I used it as a two hander about half the time.
I see this rod as a great rod to introduce kids to keiryu fishing. It is light enough for a kid to cast two handed and just long enough to be effective for keiryu fishing. Using a Nakazima Ball Float would be easier for kids than the yarn indicators, though.
I have used the rod for tenkara fishing more than for keiryu fishing, but the action is clearly that of a keiryu rod (soft tip and firm midsection) rather than a tenkara rod. With a size 3.5 line it does work reasonably well, though, and it provides a lot of versatility for $110!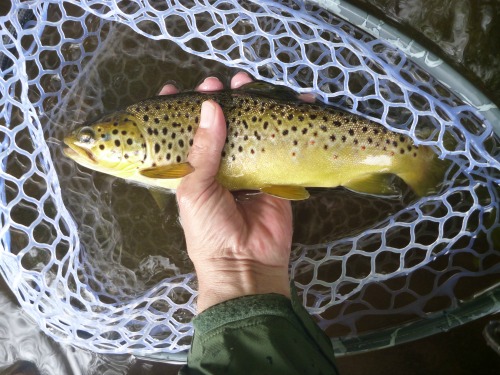 ---
Nissin Fine Mode Kosansui Features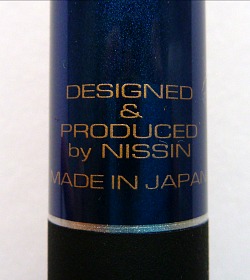 The grip, as in all the keiryu rods I've seen, is just the rod blank itself with a very effective non-skid covering. I have come to prefer this style of grip to the cork found on tenkara rods. It is much better at transmitting the tactile information of what your rod is doing during the cast, what your fly is doing during the drift, and what the fish is doing during the fight.
Do not be concerned that the grip is too narrow to be effective, though. For the longer rods it is actually wider than the front part of the grip (cork grip, that is) on the Shimano LLS33NB tenkara rod.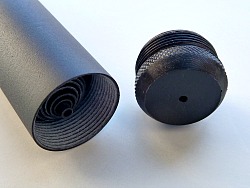 The grip screw cap is plastic and is knurled for easy gripping. There is a rubber insert to make it quiet and a ventilation hole to help in drying out the rod. I would still recommend that the rod be completely disassembled to dry thoroughly between uses, though. Moisture does get inside during a day on the water, and it can ruin the finish of any telescopic rod if it is put away wet.

The tip plug is rubber, and like many of the Nissin plugs has aggressive fluting. This not only allows you to keep the line attached when you collapse the rod, it also insures that the tip plug is not going to fall out when you least expect it. You will find that it helps to screw the plug in rather than trying to push it straight in. When taking the plug off, be careful not to pull it to the side. The part that is inserted into the rod is hollow, and the tip and lillian will occasionally come out with the plug. If you pull the plug straight out, though, it will never be a problem.
Please note that the Nissin Fine Mode Kosansui rods do not come with a rod sock. The medium rod case fits the Kosansui rods.
| | | | | | |
| --- | --- | --- | --- | --- | --- |
| Model | Extended | Sections | Collapsed | Weight | Pennies |
| Number | Length | | Length | With Plug | |
| 270 | 8'10" | 6 | 20.5" | 1.4 | 19 |
| 320 | 10'3" | 7 | 20.5" | 1.7 | 25 |
| 450 (soft) | 14'6" | 10 | 20.5" | 3.0 | 25 |
Rods made in Japan.
---
Nissin Fine Mode Kosansui 270 - $100
Kosansui 270 is out of stock
Nissin Fine Mode Kosansui 320 - $110
Kosansui 320 is out of stock

Nissin Fine Mode Kosansui 450 (soft) - $110
450 soft out of stock.

---
Shipping
A shipping charge of $10 will be added to all orders.
If you live outside the US, you must add more postage!

---
Where do you live?


Add this amount for shipping


---

USA


---

No additional postage required.
(Total charge $10)

---

Canada or Mexico


---

Additional $6 postage required. (Total Charge $16)

---

Other Countries


---

Additional $13 postage required. (Total Charge $23)
---
Payment
Payment is processed by PayPal but you don't need to have a PayPal account. You can use your credit card.
---
TenkaraBum Home > Tenkara Rods > Nissin Fine Mode Kosansui Rods

Walk softly and carry a long stick. - Teddy Roosevelt (almost)

"The bitterness of poor quality remains long after the sweetness of low price is forgotten" – Benjamin Franklin
---
Warning:
The hooks are sharp.
The coffee's hot.
The fish are slippery when wet.

---