Nissin Fine Mode Kosansui
Keiryu Rods
Nissin Fine Mode Kosansui keiryu rods are similar to the Nissin 2Way 450ZX rods but they do not zoom. That makes them simpler - and less expensive. It also makes them a lot of rod for the money.
Like nearly all other Nissin rod models, they come in a wide range of lengths and stiffnesses. For rods of the 450 length (or longer) the Fine Mode Kosansui comes in a range of stiffnesses. For shorter rods it only comes in stiff.

"Stiff" is relative, though, and is more of a relationship between the softer tip sections and the stiffer mid and butt sections. I might have been better off to just accept the Google translation of the Japanese notation 硬調. Google translates that as "high contrast" and that is actually a fair description in that there is a high contrast between the stiffer mid and butt sections and the softer tip sections.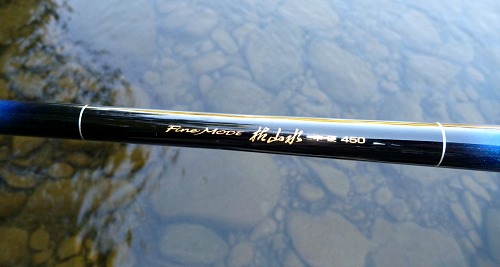 Initially, I got in the 390 and the 450 (soft). I fished with both of them on the Beaverkill River in the Catskills. It wasn't a "many" day. It wasn't a "few" day or even a "two" day. I did get a lot of time to play around, casting different lines, uninterrupted by that whole strike, set, fight, net thing.
My first time out with the 270 and 320 was on a mid-February day, and it wasn't even a "one" day. As with my day in the Catskills the previous spring, I got to play around with the rods a bit without being bothered by pesky fish. I took the 270 to Maine with me last year, though, and it proved itself quite capable of landing nice fish.
It seems many rods have a "sweet spot" for length. For the Fine Mode Kosansui, I really like the 270, but as they get longer, there are other rods that I like a lot better. The 450 soft, though, is again a nice rod. I think it might make a good starter rod for someone who is interested in keiryu fishing but wants a smaller starting investment than the Field Master rods.

---
Fine Mode Kosansui 270

For people who want a light weight, simple rod for small brushy streams, I think I have found the rod for you. The Fine Mode Kosansui 270 weighs just 1.3 ounces without the tip plug. It doesn't come with a fancy cork grip or a fancy zoom-zoom feature. (It doesn't come with a fancy price tag, either). What it does have is a relatively soft tip that will allow you to cast a light size 3 level line, with mid and butt sections just stiff enough to handle any fish you're likely to hook in a stream small enough to want a 9' rod.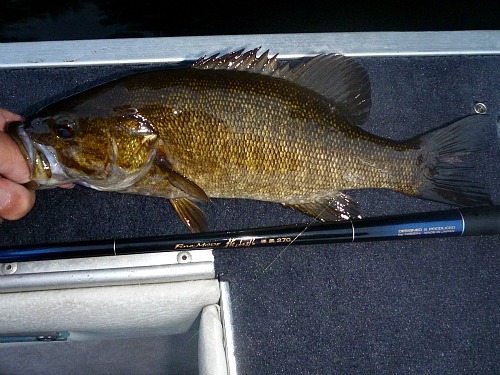 The rod measures 19 pennies, the same as the Shimano LLS33NX or the Nissin Pro Square 390 7:3. It can handle fish larger than the smallmouth shown above (I caught a significantly larger one but ruined the photo.)
I like the rod well enough that I have dropped the Kiyotaki 27 in favor of the Kosansui 270. The only advantage the Kiyotaki has over it is collapsed length. At 20.5" the Kosansui 270 won't fit entirely within a modest daypack like the Kiyotaki does, but the rod is nice enough to more than offset that.
The Nissin Fine Mode Kosansui 270 is a nice complement to the Nissin Air Stage 240 or 290. The Air Stages are seiryu rods, and are wonderful rods if your smaller streams contain smaller fish. Watching some of Tom Davis' small stream videos on Teton Tenkara, though, it's pretty clear that not all the fish in small streams are 5 or 6" brookies. He noted the need for a rod with enough backbone to keep larger fish away from sticks and snags. The Kosansui 270 does well in that regard. Tom recently reviewed the Kosansui 270, concluding that "It's the perfect rod for small, tight streams."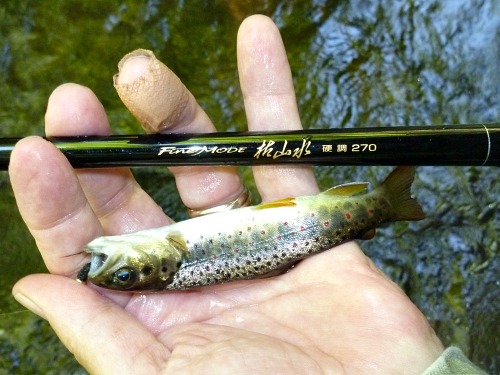 However, if the fish in the stream are 5 and 6 inchers, because of the softer tip sections they'll still make the rod dance.

I've had a hard time keeping this one in stock.
If you are just getting started, consider the Small Stream Starter Kit, which pairs the Fine Mode Kosansui 270 with a size 3.5 fluorocarbon level line and a pair of Fuji EZ Keepers.
---
Fine Mode Kosansui 320

This rod will work very nicely for someone who wants a relatively short rod (10'3") that is a bit more capable than the Nissin Pro Square and Zerosum rods but isn't as stiff as the Daiwa Kiyose. Basically, if you are fishing smaller, brushy streams but are routinely catching fish over 12" with the potential for fish over 18" the Nissin Fine Mode Kosansui 320 is definitely a rod to consider. With a CCS measurement of 25 pennies, it is a more capable rod than the Iwana.

It is also an extremely light rod at just 1.7 ounces with the tip plug (1.6 without). The 20.5" collapsed length is a bit longer than the backpack-friendly Kiyose, but it is still pretty compact and is a very reasonable choice for backpackers.
Just as I was surprised last spring that the 390 did not require a size 4 line, I was surprised that the 320 did not require a 3.5. I found it cast quite nicely with a size 3 line. It is definitely a tip flex rod with lots of reserve backbone, but the tip is soft enough to cast a relatively light line. If you wanted to cast a heavier line, either a size 4 or a Nissin PALS twisted fluorocarbon line or a RIGS floating line, the rod can certainly handle it.

If you are looking for a relatively short, relatively light tip flex rod that has the muscle to handle some good sized fish, this may be just the rod you're looking for.

Jeff R's pictures.

---
Fine Mode Kosansui 360

The Fine Mode Kosansui 360 is a light (2.2 ounce) tip flex rod that has a bit more length and a bit more capability than the Kosansui 320. It doesn't have the smooth casting stroke of a 360 tenkara rod, but it has more backbone than most (28 pennies), and would be a good choice for modest streams with larger than modest fish.
It would also easily handle larger flies or poppers if you wanted a simple, light weight rod for bass fishing.

I'd fish it with a 3.5 or 4 level line or one of the Nissin PALS twisted fluorocarbon lines or even the RIGS floating tenkara line.
---
Fine Mode Kosansui 450 (soft)

On the penny scale, the Nissin Fine Mode Kosansui 450 (soft) is a 25,  almost right in between the 450ZX (soft) and the 450ZX (medium). If you need the length but don't need the zoom capability, this is a rod that may definitely appeal to you. It is a bit stiffer than the average tenkara rod, and towards the lower end of keiryu rods. It should pretty easily handle larger waters but does not seem to be a rod for larger fish. I had thought it would easily handle fish into the upper teens, but I have one customer who has broken his twice on what he described as "big fish." In a second email he mentions carp, and this is definitely not a carp rod! I still think it will be fine for trout into the teens, but I would suggest using the Fujino 6.5X tippet (which is the strongest that Nissin recommends).

The rod weighs in right at 3 ounces with the tip plug and 2.8 ounces without it. It is about as much rod as you can comfortably cast one handed. Even if you aren't comfortable casting a fully extended Ito, you will have no problem with the Fine Mode Kosansui, which is only 2 inches shorter but is a full 2 ounces lighter! The Nissin also collapses to 20.5" instead of 26.25" and it has enough backbone to maneuver a good sized fish into quiet water.
I suppose the rod could be the fixed line equivalent of a switch rod, those almost-spey rods that can be used either one handed or two (and don't discount two handed casting - it is a lot easier on your arms and shoulders). When you hook up with good sized fish, because of the added leverage that the long rod gives to the fish, it really will take two hands to handle a whopper.

The Nissin Fine Mode Kosansui 450 (soft) is quite happy with a 3.5 line. You can cast a 3 with it, or a 4, but the 3.5 seems about right to me.
I hadn't considered this previously, but the Fine Mode Kosansui 450 (soft) would make a good rod for a Kid's Keiryu set up. It is light enough for a kid to cast two handed, and is just long enough to be useful for keiryu fishing.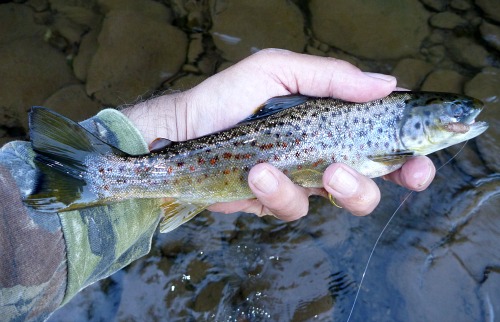 ---
Nissin Fine Mode Kosansui Features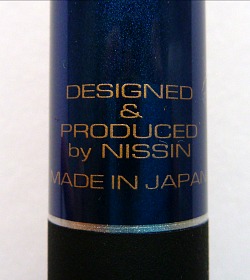 The grip, as in all the keiryu rods I've seen, is just the rod blank itself with a very effective non-skid covering. I have come to prefer this style of grip to the cork found on tenkara rods. It is much better at transmitting the tactile information of what your rod is doing during the cast, what your fly is doing during the drift, and what the fish is doing during the fight.
Do not be concerned that the grip is too narrow to be effective, though. For the longer rods it is actually wider than the front part of the grip (cork grip, that is) on the Shimano LLS33NB tenkara rod.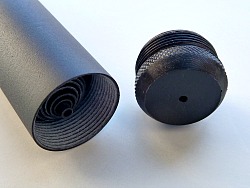 The grip screw cap is plastic and is knurled for easy gripping. There is a rubber insert to make it quiet and a ventilation hole to help in drying out the rod. I would still recommend that the rod be completely disassembled to dry thoroughly between uses, though. Moisture does get inside during a day on the water, and it can ruin the finish of any telescopic rod if it is put away wet.

The tip plug is rubber, and like many of the Nissin plugs has aggressive fluting. This not only allows you to keep the line attached when you collapse the rod, it also insures that the tip plug is not going to fall out when you least expect it. You will find that it helps to screw the plug in rather than trying to push it straight in. When taking the plug off, be careful not to pull it to the side. The part that is inserted into the rod is hollow, and the tip and lillian will occasionally come out with the plug. If you pull the plug straight out, though, it will never be a problem.
Please note that the Nissin Fine Mode Kosansui rods do not come with a rod sock. The medium rod case fits the Kosansui rods.
| | | | | | |
| --- | --- | --- | --- | --- | --- |
| Model | Extended | Sections | Collapsed | Weight | Pennies |
| Number | Length | | Length | With Plug | |
| 270 | 8'10" | 6 | 20.5" | 1.4 | 19 |
| 320 | 10'3" | 7 | 20.5" | 1.7 | 25 |
| 360 | 11'9" | 8 | 20.5" | 2.2 | 28 |
| 390 | 13'0" | 9 | 20.5" | 2.8 | 32 |
| 450 (soft) | 14'6" | 10 | 20.5" | 3.0 | 25 |
Rods made in Japan.
---
Nissin Fine Mode Kosansui 270 - $100
Nissin Fine Mode Kosansui 320 - $110
Nissin Fine Mode Kosansui 360 - $120
Nissin Fine Mode Kosansui 450 (soft) - $135
---
Shipping
A shipping charge of $8 will be added to all orders.

---
Where do you live?


Add this amount for shipping


---

USA


---

No additional postage required.
(Total charge $8)

---

Canada or Mexico


---

Additional $6 postage required. (Total Charge $14)

---

Other Countries


---

Additional $11 postage required. (Total Charge $19)
---
Payment
Payment is processed by PayPal but you don't need to have a PayPal account. You can use your credit card.
---
TenkaraBum Home > Tenkara Rods > Nissin Fine Mode Kosansui Rods

Speak softly and carry a long stick. - Teddy Roosevelt (almost)

Tenkara has no strict rules. Enjoy tenkara in your own way.
- Eiji Yamakawa