Daiwa Sagiri

The Daiwa Sagiri is a wonderfully light, delightfully soft, smooth casting rod that is just ideal for modest fish. I wouldn't recommend it for 20" trout or 16" river smallies, but for the size fish that most American tenkara anglers catch most of the time it will do just fine.

The Sagiri was not the first zoom rod sold in the US. The TenkaraUSA Ito was first. However, the Sagiri was the first that was light in the hand. Back in July of 2012, when I first introduced the Daiwa Sagiri 39MC to American tenkara anglers, people were shocked by how light it was.
At 2 ounces, the Sagiri 39MC weighed just a little over half as much as the Ito. The Sagiri 39MC weighed a little over half as much as an Ayu, which like the Sagiri, was a 13' rod.
Granted, the TUSA Ito is and the Ayu was a tenkara rod and the Daiwa Sagiri is a seiryu rod. Not to reignite the Tenkara Wars (some people seem to have done that already) the significant differences between a seiryu rod and a tenkara rod are that modern tenkara rods have a grip consisting of cork, wood or EVA foam and a seiryu rod has a wider blank, which with its nonskid coating becomes the grip.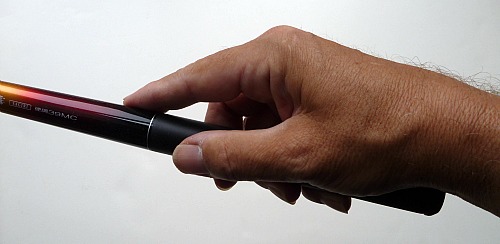 Adding a cork or wood or foam grip adds weight to the rod. A 2 ounce rod is not tip heavy, so it just isn't necessary to add weight for balance purposes. The nonskid coating is quite effective, so that isn't an issue either. The grip on the Sagiri is much wider than on some other seiryu rods. I find it quite comfortable to use - and oh, so sensitive. Of course, adding a grip, particularly a cork grip, adds a surprising amount to the cost of the rod.
What gets lost when talking about the differences is the overwhelming similarity - particularly in how and where the rods can be used. The Sagiri will cast a light tenkara line so well you'd think that's what it was made for. Want to cast nylon? Go for it. Long before the current buzz about nylon lines - my favorite line for the Sagiri 39MC was a size 3.5 nylon line! But can it cast a 3? Of course it can. If you prefer flurorocarbon - size 2.5 line casts just fine. If you are looking for delicate presentations, you need look no further.
For casting light lines and catching modest fish, there isn't a difference between a full flex tenkara rod and the Sagiri seiryu rod that actually matters.

I fully understand that the streams where a Japanese angler would use a tenkara rod are generally different than the streams on which he or she would use a seiryu rod. In most cases the target species would be different as well.
However, with all due respect to the history and tradition of Japanese tenkara, I honestly do not think that American tenkara anglers need be concerned that Japanese anglers do not use a Sagiri when fishing for trout.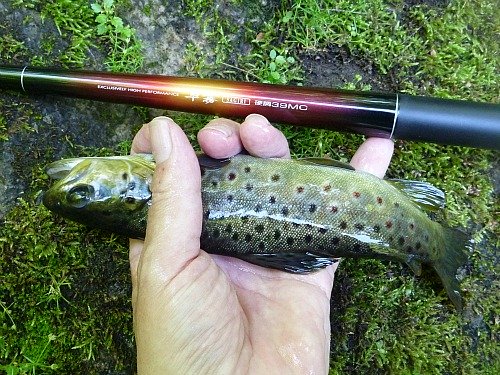 They would use a Sagiri when fishing for chubs or dace. I looked through all my Sagiri photos and couldn't find one chub or dace. Lots of trout, though! Lots of trout.

The Daiwa Sagiri is a wonderful trout rod for fish up to about 16". Larger fish, particularly in fast current, will tend to break the 6X tippet. For American tenkara anglers, the tippet limitation may be the most significant difference between a seiryu rod and a tenkara rod. Tenkara rods are generally rated for tippets up to 4X, while seiryu rods are generally limited to 6X or 6.5X.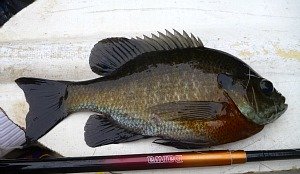 If you are fishing for fish that are not likely to break 6X tippet, then the Sagiri is a wonderful rod.

It is a truly superb panfish rod. A good sized bluegill will give you a tremendous fight, but isn't going to break the tippet, let alone the rod. You don't need a heavy, expensive rod and 4x tippet to catch a few 'gills! And if you are like thousands of American anglers and want to catch both sunfish and trout with the same rod, then the Daiwa Sagiri should be pretty high on your list.
Daiwa Sagiri Features

The tip plug is wooden, as it is on the high end Daiwa tenkara rods, and like them it is fluted so you can insert the tip plug with the line still attached. The grip screw cap is plastic, , it is cushioned on the inside so the collapsed rod doesn't click as you walk to and from the stream. There is also a ventilation hole.

The "zooming" section is held very securely in both the 11'5" position and the 13' position. It is difficult to get the zooming section out when disassembling the rod after use. Because the grip section is flared much more than the zooming section, those two parts should have enough air to dry effectively, as long as the grip screw cap is removed. I would still recommend pulling out all the other sections, though.

Daiwa Sagiri 39MC
Length extended: 11'5" or 13'0"
Length collapsed: 23"
Weight (with tip plug): 2.0 ounces
Sections: 8
Percent Carbon: 98%
Recommended Tippet: 6X
Made in Thailand

Daiwa Sagiri 39MC - $135
---
Shipping
A shipping charge of $10 will be added to all orders.
If you live outside the US, you must add more postage!

---
Where do you live?


Add this amount for shipping


---

USA


---

No additional postage required.
(Total charge $10)

---

Canada or Mexico


---

Additional $6 postage required. (Total Charge $16)

---

Other Countries


---

Additional $13 postage required. (Total Charge $23)
---
Payment
Payment is processed by PayPal but you don't need to have a PayPal account. You can use your credit card.
---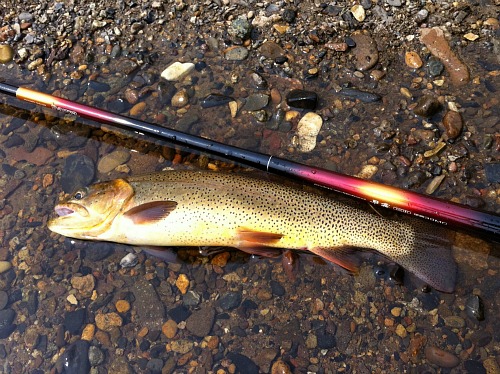 TenkaraBum Home > Rods > Daiwa Sagiri


Walk softly and carry a long stick. - Teddy Roosevelt (almost)

"The bitterness of poor quality remains long after the sweetness of low price is forgotten" – Benjamin Franklin
---
Warning:
The hooks are sharp.
The coffee's hot.
The fish are slippery when wet.

---