43M Strikes Again............and again and again
by Rob Ruff
(Wichita Falls, TX )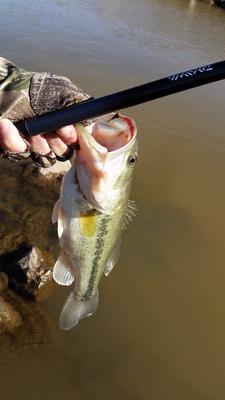 Fishing around town with the Daiwa Kiyose 43M. Great rod, plenty of fish fighting power. The largemouths put a decent bend in the rod but were quickly subdued. The trout, although small, fought well and I was able to easily detect them taking the fly. I caught them at a community fishing lake which is stocked with trout during the winter months thanks to Texas Parks and Wildlife.
Join in and write your own page! It's easy to do. How? Simply click here to return to Your Tenkara Stories.

Walk softly and carry a long stick. - Teddy Roosevelt (almost)

"The bitterness of poor quality remains long after the sweetness of low price is forgotten" – Benjamin Franklin
---
Warning:
The hooks are sharp.
The coffee's hot.
The fish are slippery when wet.

---