Tenkara with my brother.
by Michael Kreate
(Kentucky)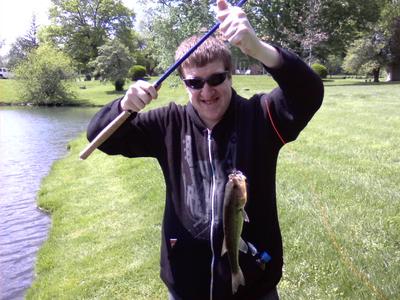 It was a beautiful day here in Northern Kentucky so I decided to pick my not so little, little brother up and take him fishing. Dustin had never fly fished before today; mostly I believe because he is Autistic and doesn't have the fine motor skills to mend line and cast a western style fly rod effectively. Well, not any more. I put an eleven foot Tenkara rod in his hand and off he went! It took about 15 minutes to teach him how to cast effectively and another 5 to explain how to retrieve the fly in a manner that made fish want to eat it! On his 5th or 6th cast BAM! Fish on! He successfully landed this nice large mouth bass all on his own, although he had me take the fly out of its mouth and let it go. Let this be a testament to the simplicity and ease that is Tenkara. Anybody can do it successfully as long as they are willing to try!
Walk softly and carry a long stick. - Teddy Roosevelt (almost)

"The bitterness of poor quality remains long after the sweetness of low price is forgotten" – Benjamin Franklin
---
Warning:
The hooks are sharp.
The coffee's hot.
The fish are slippery when wet.

---