Suntech Keiryu Sawanobori 63 can throw poppers
by Sean Rooney
(Marquette, Upper Peninsula of Michigan)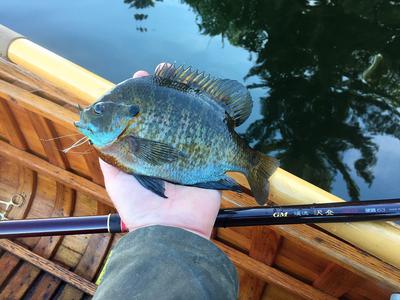 First Sawanobori fish.
There was a bit of a hatch on the lake and the bluegills and bass were rising.

I caught at least a dozen bluegills and a couple rock bass on a rubber legged popper.

Using a 20 foot #4.5 level line and a few feet of 5X tippet the Sawanobori 63 cast the popper beautifully and I could make it pop with just a flick of the wrist, holding the rod one handed.

I'm really enjoying this rod. Next outing to the lake I"m going to target the smallmouth and pike!

Here's a photo of my first Sawanobori fish.
Walk softly and carry a long stick. - Teddy Roosevelt (almost)

"The bitterness of poor quality remains long after the sweetness of low price is forgotten" – Benjamin Franklin
---
Warning:
The hooks are sharp.
The coffee's hot.
The fish are slippery when wet.

---