Suntech Field Master

The All Around Rods
The Suntech Field Master is a contender for the best all around rod. It is certainly one of the most versatile. The Field Master 39 can be fished at 3.2, 3.6 and 3.9m. The Field Master 44 can be fished at 3.6m, 4m and 4.4m. If you do not fish extremely overgrown streams, where you might want a rod even shorter than 3.2 meters (10'5" by actual measurement), the Suntech Field Master 39 may cover all the lengths you'll ever need. Similarly, if you don't fish small overgrown streams but do fish wider streams, the Field Master 44 might cover all the lengths you need. Given the moderate action of either rod, you'll be able to fish anything from midges to muddlers, and even if you only fish sakasa kebari, you'll be able to fish them very well.

For quite some time I had been looking for a rod that has all the sensitivity and feel you get from a rod that does not have a cork grip, but also has bend characteristics that place it squarely in the middle of the "tenkara rod" range. These rods do all that - and they even zoom so they do all that at three different lengths! I couldn't have asked for more.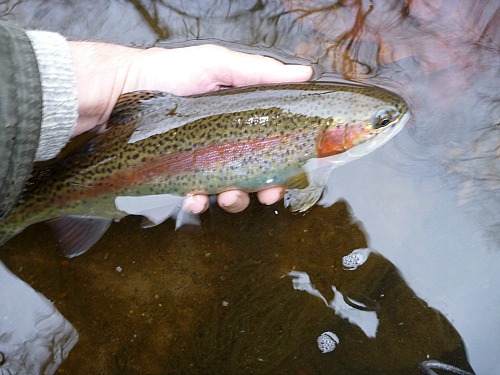 Not bad for the first fish on a new rod!
The Field Master is just a bit on the stiff side. It is thus a bit better at fishing nymphs than the average tenkara rod. It is only a bit stiffer, though, so you are not giving up the ability to make delicate presentations with dry flies. It is just stiff enough that I would fish a size 3.5 line rather than a 3. The rod will also do very nicely for those who prefer furled lines.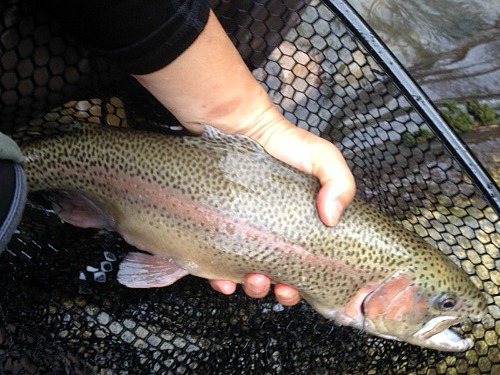 Andrew K's rainbow. You can tell why he loves the rod.
The rod is not too stiff to have fun with more modest fish! Small bass and fair sized bluegills will definitely put a bend in the rod.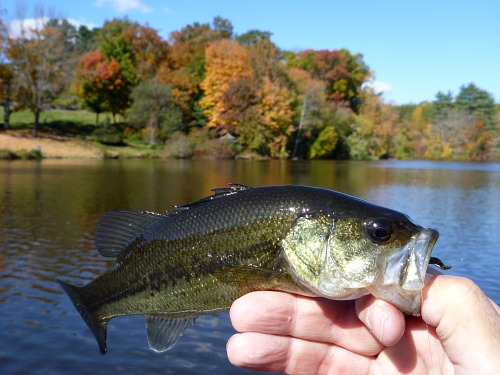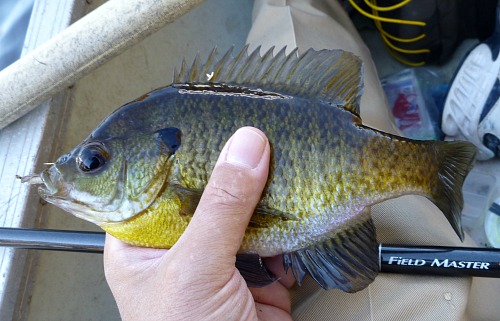 This year's Field Master model has different graphics than the rod shown.
The most unique thing about the rods is clearly the zoom function that allows you to fish them at three different lengths. The Field Master 39 was the first rod available in the US to provide that capability.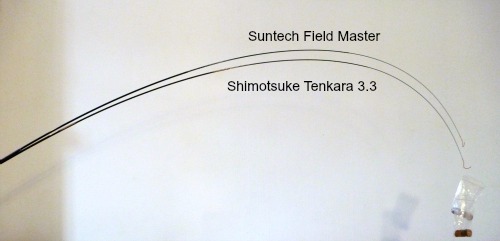 The photo above shows that the Suntech Field Master 39 is just a bit stiffer than the Shimotsuke Tenkara 3.3, which is itself very similar to the 11' Iwana. The photo below compares the Field Master 39 with the Shimotsuke Tenkara 3.6, which is also quite similar to the 12' Iwana.
This photo adds credence to the concept that there is no clear dividing line between tenkara rods and keiryu rods (just as the Sagiri - Ayu photo did for seiryu rods and tenkara rods). The Field Master is a keiryu rod and the Shimotsuke is a tenkara rod but they are close enough to be almost the same rod - they're certainly both appropriate for the same type of fishing.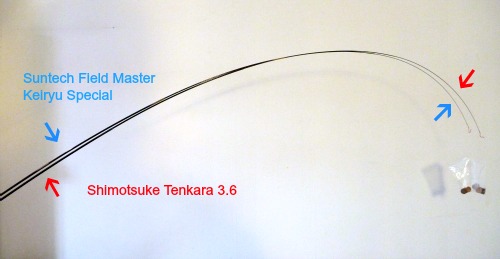 The photo below highlights the big difference, though, which is the ability to extend the Suntech Field Master 39 out to 3.9 meters. If you've been waiting for a rod like this you need wait no longer. Similarly, people who like the idea of a three-position zoom rod and have been waiting for a longer version need wait no longer. The Suntech Field Master 44 fills that need.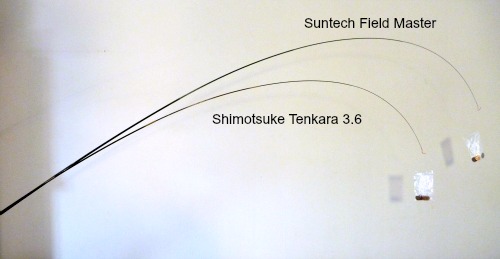 Personally, I like the Field Master 39 better in the 3.2m and 3.6m lengths. I have found with most of the (one handed) zoom rods I've fished, I like the shortened length better. That's not because the rod doesn't fish well at full extension, it's just that the center of gravity is closer to your hand at the shorter lengths, making the rod feel a bit lighter.
I suspect that people will fish the Field Master 39 at 3.6m most of the time, with the 3.2 and 3.9 lengths there when they need them. Being able to extend the rod when you have a nice fish reduces the amount of line you have to bring in by hand and makes it much easier to net the fish. That by itself can save fish that otherwise would be lost. Also, because the rod is designed to collapse to a shorter length for tighter streams, it eliminates any need to choke up on the rod or to fish a rod that rattles loosely from being partially collapsed.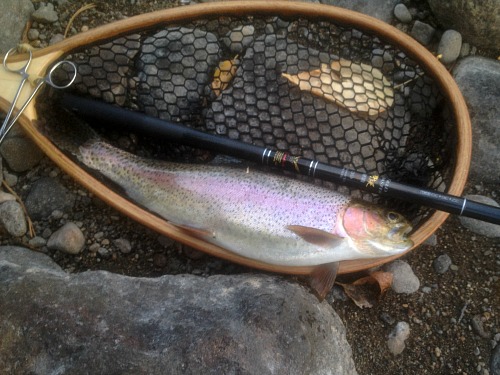 Tommy F's Field Master 39 rainbow.
I have had a chance to fish with the Field Master 44 a couple times. When wiggling the rod in the apartment, it gave me the impression that the two shorter lengths, 3.6 and 4 meters, will be comfortable for one hand casting but the fully extended 4.4m length might be better with a two handed cast. The rod is just a little stiff and the grip just a little thin for one handed casting at full extension. The first time I actually fished with the rod, though, I cast one handed almost all the time. The second time I fished it, I cast it one handed the whole time.

For a wide range of rods, the 4.5m length really does seem to be the dividing line for one handed casting and two handed casting. At the 4.4m length, the Field Master 44 will be a remarkably light, responsive two handed rod, though.
The Suntech Field Master 44 is exactly the same weight as the Daiwa 43M and has almost the exact same penny ratings. With three lengths rather than two, it is slightly more versatile.
The first time I fished the 44 I was keiryu fishing rather than tenkara fishing, and found the ability to fish the rod at three lengths to be very handy indeed. I probably fished it a bit more at 4 meters than 3.6 or 4.4, but I definitely used all three lengths. For a moderately small stream, the 3.6, 4.0 and 4.4 meter lengths proved to be ideal. There were very few spots where I would have wanted a shorter rod, and none where I wanted a longer rod. For a small stream keiryu rod, the Suntech Field Master 44 is very nice.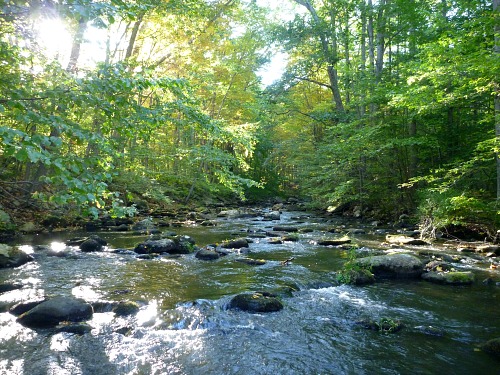 The Field Master 39 and 44 feel very similar, which shouldn't be too surprising seeing that the 39 can be fished at 3.2, 3.6 and 3.9m, while the 44 can be fished at 3.6, 4.0 and 4.4m. The Field Master 53 feels very different, starting about where the 44 leaves off, with settings for 4.5, 4.9 and 5.3m. It is a bigger, beefier rod and I would not even think of using it on the stream shown above.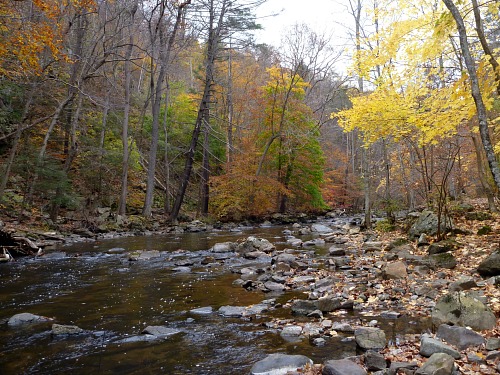 For a stream like this, however, it would be ideal. The stream is wide enough that you would certainly appreciate the length, but it is not so wide that you'd need a 63 rather than a 53. There is little in the way of overhead branches so casting and landing fish would not be a problem.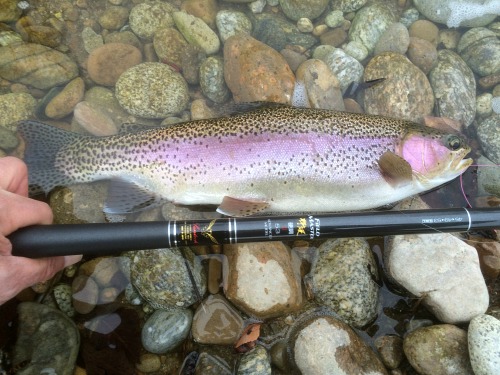 Robert J's Field Master 53 rainbow.
I've only fished a Field Master 53 a few times, but if you are looking for a two handed rod for either flies or bait, the Field Master 53 is a fine choice. It has the same fit and finish as the shorter Field Masters (as all the Suntech rods for that matter).
There seems to be a general consensus that zoom rods are more pleasant to fish with at their shorter lengths rather than fully extended. When it comes to two handed rods, though, I think the opposite is true. I believe the Suntech Field Master 53 and the Nissin 2-Way 540ZX and 620ZX are all nicer at full extension.
Rods don't feel tip heavy when casting two handed, and the extra length provides substantially more inertia, making the rod slower and giving you a lot of tactile feedback. Whereas I fished the Field Master 44 at all three lengths, I have fished the 53 at full extension most of the time.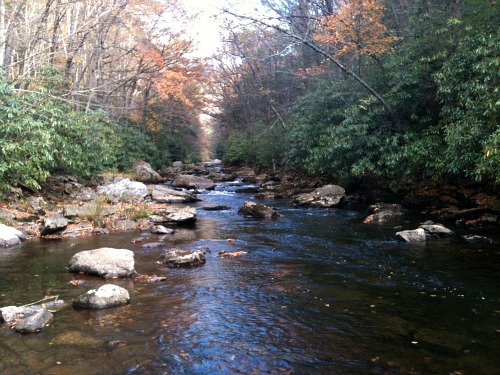 Not always, though. The last time I fished the Field Master 53 was on a fairly small stream that didn't have much in the way of overhead canopy. I fairly frequently switched between the shortest setting, 4.5m, and the longest, 5.3m, depending on the stream width and cover. At 4.5m I fished the rod as a one hander and at 5.3m as a two handed rod.
I know a lot of tenkara anglers would fish the above stream with a 360 or even 320 rod. There is room for a 450, though, and the drifts will be much better. Where the stream opens up even a little, the full 530 length will give you better drifts than you can get with a 360.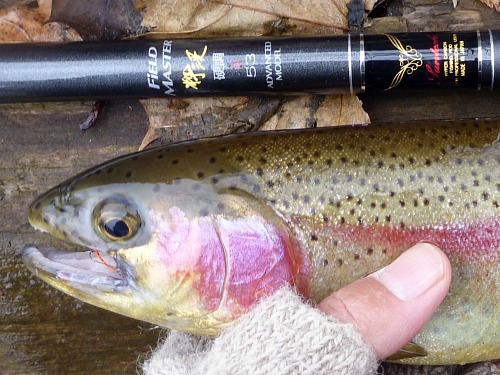 Despite being a big, beefy rod, the Field Master 53 can protect a light tippet. The above rainbow was caught on a size 30 hook and 8X tippet.

In general, I would recommend light tippets - lighter tippets than most rod manufacturers recommend and lighter tippets than most anglers fish. Most tenkara anglers fish 5X tippets. I truly believe you will catch more fish with 6X than you will with 5X. I only know of one time when I lost fish to tippet breaks with 6X and then landed a similar size fish with 5X. Most of the fish most tenkara anglers hook will not break 6X tippet!

The Field Master 62 is bigger and beefier than the 53 and should do well with a wide range of fish sizes. The upper sections are the same as those of the 39 that was still fun with bluegills. The extra length comes from additional stiff butt sections, though, so you have quite a bit of backbone for larger fish. The smallmouth below didn't even come close to maxing out the rod. The Field Master 62 is available by special order.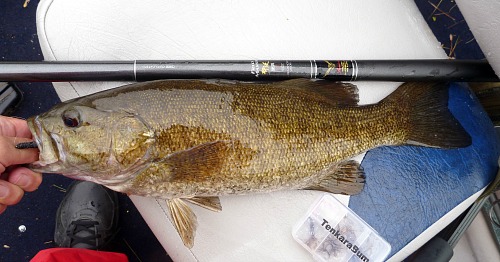 Rod Details
Like all Suntech rods, the Field Master is made in Japan - and it shows. The "fit and finish" are excellent. The finish is a metalic gray on the grip and zooming sections, and on the accents at the tip end of the black painted smaller sections. The Field Master II grip is smooth to the touch, yet it is still an effective non-skid grip. Because your fingertips are right on the blank itself, it provides unmatched sensitivity so you can feel what's going on with your line and your fly.
After you have fished with corkless grips for a while, you will realize that cork grips on tenkara rods must have been copied from Western fly rods where you have yards of fly line laying on the water and lots of slack in your line -  and thus no need for sensitivity.  After fishing a light, tight line for a while, staying in contact with your fly, you will not want cork grips.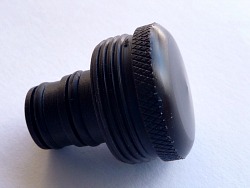 The Field Master grip screw is made of a plastic material, is beveled for comfort is knurled to provide a positive grip. The grip screw also holds the rear ends of the zooming sections when the rod is not fully zoomed. The plugs and O rings hold the sections securely, with no hint of rattling. The fit is pretty snug, and I find it helpful to twist the sections as you are seating them. They almost snap into place. Be sure to twist them to the right (clockwise if you were looking directly at the grip screw cap). If you twist them to the left, it may loosen the grip screw cap, increasing the chance for it to get lost. Be sure to check the grip screw cap to see that it is tightly screwed in each time you extend the rod.
The tip cap for the Field Master 39 is a Fuji KTC-12 (KTC-16 for the Field Master 44 and 53). The band is just tight enough that it is definitely not going to come off unexpectedly.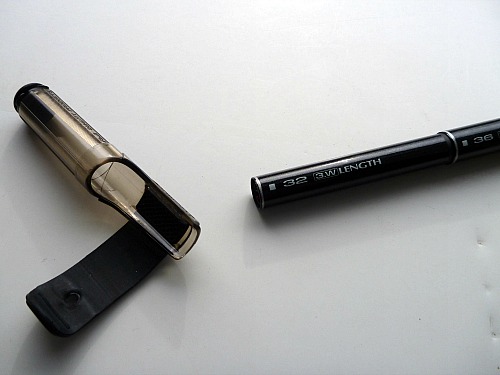 The lillian is held on with the same swivel mechanism used in the Suntech Kurenai rods. It is very small and unobtrusive but it does lessen line twist. It is thin enough to go through the #2 section so the rod can be fully disassembled for drying between uses.

---
Field Master II 39

Length extended: 10'5", 11'8" 12'8"
Length collapsed (with tip cap): 21" (fits a standard Ebira)
Weight: (with tip cap) 2.8 oz (without tip cap): 2.5 oz
Sections: 9
Recommended Tippet: 7X - 6X
CCS penny measurement: 3.2m: 24; 3.6m: 26; 3.9m 28
Suntech Field Master II 39 - $180
Field Master II 44

Length extended: 11'11", 13'2" 14'2"
Length collapsed (with tip cap): 21" (fits a standard Ebira)
Weight: (with tip cap) 3.1 oz (without tip cap): 2.8 oz
Sections: 10
Recommended Tippet: 7X - 6X
CCS penny measurement: 3.6m: 27; 4m: 29; 4.4m 29.5
Suntech Field Master II 44 - $190
Field Master II 53

Length extended: 14'11", 16'2" 17'4"
Length collapsed (with tip cap): 21" (fits a standard Ebira)
Weight: (with tip cap) 4.7 oz (without tip cap): 4.3 oz
Sections: 12
Recommended Tippet: 7X - 6X
CCS penny measurement: 4.5m: 33; 4.9m: 33; 5.3m 33
Suntech Field Master II 53 - $230
---
Shipping
A shipping charge of $10 will be added to all orders.
If you live outside the US, you must add more postage!

---
Where do you live?


Add this amount for shipping


---

USA


---

No additional postage required.
(Total charge $10)

---

Canada or Mexico


---

Additional $6 postage required. (Total Charge $16)

---

Other Countries


---

Additional $13 postage required. (Total Charge $23)
---
Payment
Payment is processed by PayPal but you don't need to have a PayPal account. You can use your credit card.
---
TenkaraBum Home > Tenkara Rods > Suntech Field Master



"The bitterness of poor quality remains long after the sweetness of low price is forgotten" – Benjamin Franklin
"Study to be quiet." - Izaak Walton 1653

"Be sure in casting, that your fly fall first into the water, for if the line fall first, its scares or frightens the fish..." Col. Robert Venables 1662

---
Warning:
The hooks are sharp.
The coffee's hot.
The fish are slippery when wet.
Beware of the Dogma

---