Son's first fish!
by Chris Lynch
(Montgomery, AL)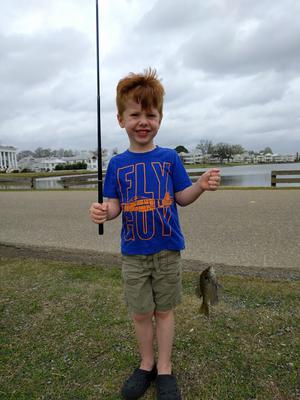 Wyatt's first fish
I've taken my son, Wyatt, fishing several times already with my various tenkara/keiryu rods. Today he was actually patient enough and cooperative enough for the killer bug to do its trick.
Caught a nice bluegill with his Kosasa 150 on ~3.5' of 3.5LL and 2' of 5X.
He was so happy about it. I hadn't even caught anything yet at that point, but later got a cute crappie with my kiyotaki.
Walk softly and carry a long stick. - Teddy Roosevelt (almost)

"The bitterness of poor quality remains long after the sweetness of low price is forgotten" – Benjamin Franklin
---
Warning:
The hooks are sharp.
The coffee's hot.
The fish are slippery when wet.

---