Nissin Pro Spec

The Nissin Pro Spec rods are very light, very versatile "zoom" tenkara rods designed by a Japanese company for the demanding Japanese home market and actually made in Japan.
The Pro Spec 360 is designed to be fished at either 3.1 meters (just over 10') or 3.6 meters (just under 12').  With the shorter length for smaller, brushier streams with low tree branches, and a longer "all-around" length for larger, more open streams and rivers, this could be the only tenkara rod you need.
Similarly, the Pro Spec 320 may be the small stream aficionado's ideal tenkara rod. You can fish it at a short 8' 10" for the really tight, brushy spots and also at 10' 3" for when there's just a bit more casting room. You will find that the choice of two lengths, 17" apart, is sufficient for your small stream needs.

Nissin Pro Spec 360

The softer 6:4 version is remarkably light for a 12' rod at just 2.3 ounces without the tip plug. The Pro Spec 6:4 is well suited to either the 6" brookies in the headwaters or the 10-14" trout in small mountain streams.
It is a very sensitive, softer rod perfectly suited to fishing unweighted wet flies - tenkara as practiced in Japan. It is not too soft for modestly weighted nymphs, though. Coach's first fish caught with the 6:4 rod is shown below, along with the tungsten bead head nymph he caught it on.
Coach's first trout on the Pro Spec

The 7:3 model, with a penny rating of 15 and 14.5 (10'3" and 11'9", respectively) has a bit more backbone. It has the same penny rating as the Daiwa LL36SF and the TUSA Ito, both of which have caught some very nice sized fish. I'd use the 7:3 version in mountain streams where most of the fish are about 10-12" but where there's always a chance of hooking an 18 incher. If you fish streams where controlling fish in faster currents is an issue, choose the 7:3 rather than the 6:4.
Either rod, because of the ability to fish with the rod at 3.1m or 3.6m, is extremely versatile, and will allow you to fish both small and medium sized streams equally well.
When people ask me what rod should they get for fishing Rocky Mountain National Park, this is the rod I recommend. For the smaller  streams in the park, the 3.1m length is just about ideal. For more wide open streams, like the Big Thompson, the 3.6 length is what they'll want.

Nissin Pro Spec 320

The Pro Spec 320 is a newly released rod created specifically for small stream anglers. It can be fished at two different lengths, 17" apart. The 8' 10" and 10' 3" lengths are ideal for "blue lining," finding and following the little blue lines on the topographic maps (or Google Earth for those who are too young to remember paper maps).
When the stream is hemmed in by bushes or rhododendrons or willows, or has low overhead branches, the 2.7m length will still allow you to cast - or at the very least, shoot in a fly with a slingshot cast. Even the smallest streams do have openings, though, where you'll wish you had a longer rod. That is the beauty of a zoom rod, which is arguably more valuable in a shorter rod than it is in a longer rod.
There have been 2.7m tenkara rods in Japan before this but it has been years since they were available. In the US, though, starting with the Soyokaze 27SR, they have been extremely popular. Nissin doesn't know how many Soyokaze rods were sold, but they know exactly how many Kosansui 270 rods I've ordered (not to mention the Air Stage 290 and 240 rods)! They've also seen the media blitz surrounding TUSA's short tenkara rod and Patagonia's short rod. Don't think for a minute the Japanese rod companies don't see what's going on in foreign markets.
Just as the Soyokaze 27SR and the Kosansui 270 have been quite popular here, I am confident that the Nissin Pro Spec 320 will be also. We have a lot of small streams and a lot of small stream anglers. This rod is made just for them.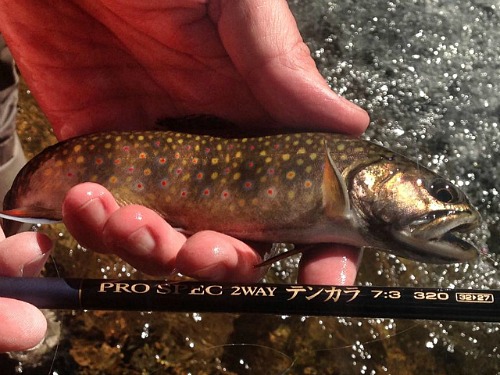 What it's all about. Courtesy Peter Brath

The 6:4 version is the one to choose if the stream you are fishing is home to the little 4-8" wild brookies or 'bows. It can certainly handle a 10 or 12 incher, but it is still a fairly soft rod, measuring 9.5 pennies at both lengths. If the small streams you fish are home to 14-16 inchers, though, or are pretty high gradient, you might want the 7:3 version. Like all the other Nissin tenkara rods, they are both rated for 4X tippets. If you happen to hook a larger than expected fish, well, the Nissin engineers built some capability into their rods.

Nissin Pro Spec Features


The Nissin Pro Spec grip may be the most comfortable you will ever use. With two distinct "humps" it fits your hand perfectly in either position, allowing you to fine tune both the length and the balance to your taste. For anglers who grip the rod at the very butt to get every last inch of length, the rounded grip screw cap is a very welcome feature.

The Pro Spec 360 tip plug is rubber, and is fluted so that you can insert the plug while you still have your line attached to the rod. The plug is quite snug but it goes in very easily if you "screw" it in. It is not going to fall out when you least expect it, which has happened to me with the more standard wood and rubber tip plugs.
The photo above shows the rod fully collapsed. The section above the grip is the zooming section and does not collapse into the grip section.


The tip plug on the Pro Spec 320 is plastic and is not fluted (it is similar to the plugs on the Nissin Air Stage seiryu rods. There is not room to insert the tip plug if the line is still attached.

The 2way mechanism holds the rod securely at either the 3.1 or 3.6m length. There is a narrow band of material around the front end of the zooming section that holds it firmly in the grip section. The back end of the zooming section slides over a protrusion in the grip screw, which has an "O" ring to hold it securely. Held snugly in two places, it doesn't rattle. The grip screw itself is plastic with a gold metal accent band.

The Nissin Pro Spec 360 is lighter and has a much better feel when casting than any of the Chinese made rods. I can tell you that the people who rave about the Sato have never cast a Pro Spec. The difference is obvious immediately. And if you are considering the Rhodo - wait until you see the Pro Spec 320, which zooms from 270 to 310, costs only $170 or $175, and is made in Japan!

Nissin Pro Spec Specs


Pro Spec 320
Length extended
Length collapsed
Weight with plug
Weight without plug
Sections
Max. Tippet
Pennies

6:4 Rod

8'10" and 10'3"
22 3/8"
2.1 oz
2.1 oz
7
4X
9.5 and 9.5


7:3 Rod

8'10" and 10'3"
22 3/8"
2.2 oz
2.1 oz
7
4X
14.5 and 15.5


Pro Spec 360
Length extended
Length collapsed
Weight with plug
Weight without plug
Sections
Max. Tippet
Pennies



10'3" and 11'9"
22 1/8"
2.4oz
2.3 oz
8
4X
11.5 and 11



10'3" and 11'9"
22 1/8"
2.6oz
2.5 oz
8
4X
15 and 14.5
Rods made in Japan.
$10 from every sale will go to fisheries conservation.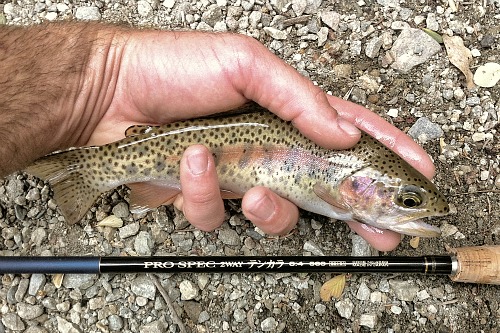 Jason F's Pro Spec 'Bow

---
| | |
| --- | --- |
| Nissin Pro Spec Tenkara 6:4 | Nissin Pro Spec Tenkara 7:3 |
| 320 - $180 | 320 - $190 |
| 360 - $190 | 360 - $200 |
---
---
Shipping
A shipping charge of $10 will be added to all orders.
If you live outside the US, you must add more postage!

---
Where do you live?


Add this amount for shipping


---

USA


---

No additional postage required.
(Total charge $10)

---

Canada or Mexico


---

Additional $6 postage required. (Total Charge $16)

---

Other Countries


---

Additional $13 postage required. (Total Charge $23)
---
Payment
Payment is processed by PayPal but you don't need to have a PayPal account. You can use your credit card.
---
---
TenkaraBum Home > Tenkara Rods > Nissin Pro Spec 2Way

Walk softly and carry a long stick. - Teddy Roosevelt (almost)

Tenkara has no strict rules. Enjoy tenkara in your own way.
- Eiji Yamakawa
"The bitterness of poor quality remains long after the sweetness of low price is forgotten" – Benjamin Franklin