Nissin Pro Spec

The Nissin Pro Spec rods are very light, very versatile "zoom" tenkara rods designed by a Japanese company for the demanding Japanese home market and actually made in Japan.
The Pro Spec 360 is designed to be fished at either 3.1 meters (just over 10') or 3.6 meters (just under 12').  With the shorter length for smaller, brushier streams with low tree branches, and a longer "all-around" length for larger, more open streams and rivers, this could be the only tenkara rod you need.

The Pro Spec 6:4 is remarkably light for a 12' rod at just 2.3 ounces without the tip plug and is well suited to either the 6" brookies in the headwaters or the 10-14" trout in small mountain streams.
It is a very sensitive, softer rod perfectly suited to fishing unweighted wet flies - tenkara as practiced in Japan. It is not too soft for modestly weighted nymphs, though. Coach's first fish caught with the 6:4 rod is shown below, along with the tungsten bead head nymph he caught it on.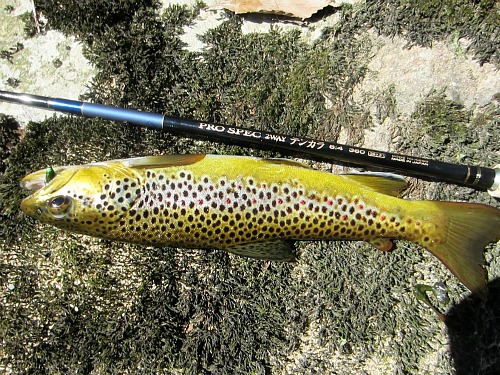 Coach's first trout on the Pro Spec

Nissin Pro Spec Features


The Nissin Pro Spec grip may be the most comfortable you will ever use. With two distinct "humps" it fits your hand perfectly in either position, allowing you to fine tune both the length and the balance to your taste. For anglers who grip the rod at the very butt to get every last inch of length, the rounded grip screw cap is a very welcome feature.

The Pro Spec 360 tip plug is rubber, and is fluted so that you can insert the plug while you still have your line attached to the rod. The plug is quite snug but it goes in very easily if you "screw" it in. It is not going to fall out when you least expect it, which has happened to me with the more standard wood and rubber tip plugs.
The photo above shows the rod fully collapsed. The section above the grip is the zooming section and does not collapse into the grip section.
The 2way mechanism holds the rod securely at either the 3.1 or 3.6m length. There is a narrow band of material around the front end of the zooming section that holds it firmly in the grip section. The back end of the zooming section slides over a protrusion in the grip screw, which has an "O" ring to hold it securely. Held snugly in two places, it doesn't rattle. The grip screw itself is plastic with a gold metal accent band.

The Nissin Pro Spec 360 is lighter and has a much better feel when casting than any of the Chinese made rods. I can tell you that the people who rave about the Sato have never cast a Pro Spec. The difference is obvious immediately.

Nissin 6:4 Pro Spec Specs

Pro Spec 320
Length extended
Length collapsed
Weight with plug
Weight without plug
Sections
Max. Tippet
Pennies

Pro Spec 360
Length extended
Length collapsed
Weight with plug
Weight without plug
Sections
Max. Tippet
Pennies


 
8'10" and 10'3"
22 1/8"
2.1 oz
2.0 oz
7
4X
9.5 and 9.5


 
10'3" and 11'9"
22 1/8"
2.4 oz
2.3 oz
8
4X
11.5 and 11

Rods made in Japan.
$10 from every sale will go to fisheries conservation.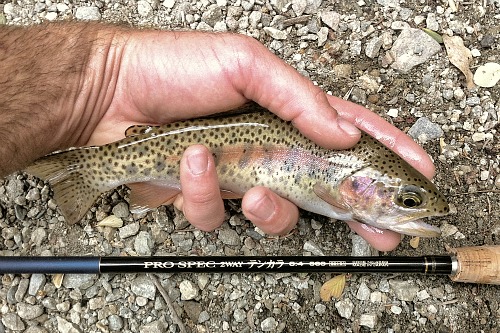 Jason F's Pro Spec 'Bow

---
Nissin Pro Spec 6:4 320 - $180

Nissin Pro Spec 6:4 360 - $190

---
---
Shipping
A shipping charge of $10 will be added to all orders.
If you live outside the US, you must add more postage!

---
Where do you live?


Add this amount for shipping


---

USA


---

No additional postage required.
(Total charge $10)

---

Canada or Mexico


---

Additional $6 postage required. (Total Charge $16)

---

Other Countries


---

Additional $13 postage required. (Total Charge $23)
---
Payment
Payment is processed by PayPal but you don't need to have a PayPal account. You can use your credit card.
---
---
TenkaraBum Home > Tenkara Rods > Nissin Pro Spec 2Way

"The bitterness of poor quality remains long after the sweetness of low price is forgotten" – Benjamin Franklin
"Study to be quiet." - Izaak Walton 1653

"Be sure in casting, that your fly fall first into the water, for if the line fall first, it scares or frightens the fish..." Col. Robert Venables 1662

---
Warning:
The hooks are sharp.
The coffee's hot.
The fish are slippery when wet.
Beware of the Dogma

---