Micro Fishing Weights
Micro fishing weights are small to very small split shot or other weights that will get your bait or fly down to where the fish are but aren't too heavy to use with micro fishing floats.
There are a number of different weights used in Japan for tanago fishing. Until I can research what to buy and get them in, I did get a small supply of the Dinsmore micro split shot packs.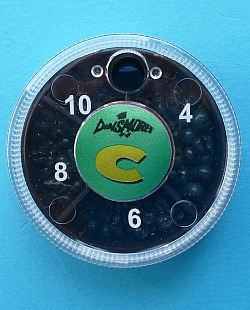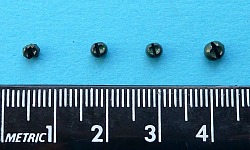 Each pack contains four different sizes of micro shot, ranging from size 4 down to size 10. The environmentally friendly tin shot can be used in places that ban the use of lead split shot.
What I find truly bizarre, though, is that while tin shot is widely hailed as being safe for the environment, each package has a label which says, in capital letters, "WARNING This product contains a chemical known to the state of California to cause cancer and birth defects and other reproductive harm."
So, I guess it's safe for the ducks but for heaven's sake don't apply the shot by biting it. I suppose you should wash your hands after you use it (assuming the water you're fishing in doesn't also cause cancer and birth defects in California.)
Realistically, the same warning should probably be given to people using lead split shot, and lead shot has been used for generations. I do sometimes wonder how we as a species could possibly have survived for four million years without having all those government warnings.
Like anything else, use reasonable caution and you should be fine.



Dinsmore Micro Shot - $9 Domestic US, $11 International
Dinsmore #10 shot
These are single size packs, containing just #10, which is the smallest size in the 4-packs above. I got these in after getting the Unibobbers, for which the #10 is just the right size. The #10 is also just enough weight to make the tanago floats set properly.
Dinsmore #10 shot - $7 Domestic US, $9 International
Return from Micro Fishing Weights to TanagoBum
Return from Micro Fishing Weights to TenkaraBum Home
Follow me on Twitter