Kurenai works well!
by Martin
(okieflier@att.net)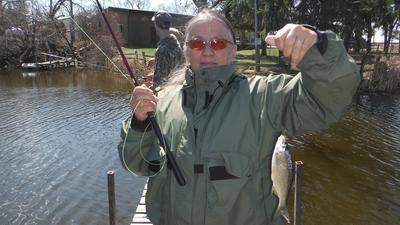 I bought the Kurenai HM33R for my wife while at the Sowbug Roundup in Mountain Home, AR from Chris. We were in Wisconsin last week fishing off a small dock on the south side of Lake Mason. She wanted to test her new Tenkara rod and caught this Golden Smelt with a grey killer bug I made. She caught a bunch of bluegill and one looked like 13" large mouth bass with the Kurenai and killer bug combo in about a hour and a half fishing. I obviously won't be able to wrestle this rod from her. It has great action and is very light so is not tiring like her regular fly rod.
Walk softly and carry a long stick. - Teddy Roosevelt (almost)

"The bitterness of poor quality remains long after the sweetness of low price is forgotten" – Benjamin Franklin
---
Warning:
The hooks are sharp.
The coffee's hot.
The fish are slippery when wet.

---