Killer Kebari
The Killer Kebari is the fly I tied for the first tenkara fly swap held in the US, which requested each participant's best tenkara fly. I had created the pattern in 2011 by adding a sparse soft hackle to Sawyer's Killer Bug.

For the swap I used hen pheasant but it turns out that a hen pheasant skin doesn't have many feathers that are small enough to tie Killer Kebari. I now use Hungarian Partridge. And although I still often fish the standard killer bug, tied pretty much the way Frank Sawyer tied them, I've had very good luck with the Killer Kebari.
I have now seen photos and even "how to" videos that purport to show a Killer Kebari. Many are so far off that they should carry a different name. I do not believe in trademarking fly names, so I have no recourse other than to suggest that if you can't trust the website on that, perhaps you cannot trust them on other things as well. A Killer Kebari, first and foremost, is NOT a sakasa kebari!

Most American anglers, when they think of tenkara flies, probably think of the reverse hackled sakasa kebari. However, the excellent work that Yoshikazu Fujioka has done in cataloging the various tenkara patterns (Tenkara Fly Patterns), indicates that not all tenkara fly patterns used in Japan have reversed hackles.
One of the Hida Takayama flies is just a fairly thick wool body with a soft hackle of hen or hen pheasant.
Although the Hida Takayama pattern calls for black yarn and black hackle, a soft hackled, yarn bodied fly is about the perfect description of what you would get if you added a soft hackle to a killer bug. The standard killer bug is very effective as is, but before I even learned of the Hida Takayama pattern, I had been fishing hackled killer bugs and doing well with them.
There is a lot to be said for fishing a hackled fly - particularly when fishing a tenkara rod. One of the central themes of tenkara fishing is that the presentation is more important than the fly choice, and a hackled fly can give you just a little bit more flexibility with respect to presentation.
A scud or nymph imitation can be fished dead drift, pulsed to mimic the swimming action of a scud, or manipulated with a Leisenring lift or other induced take method to mimic a mayfly nymph rising to the surface to hatch. With a bit of soft hackle, though, pulsing the fly causes the hackle to open and closes and give additional evidence of life. Also, a hackled fly kept on or near the surface can also mimic an emerger. With a fat body and sparse soft hackle, which the Killer Kebari has, the fly also makes a very nice caddis pupa imitation. We'll never know what the fish think it looks like - but evidently they do think it looks like food.
---
Killer Kebari Step by Step

1. Because copper wire wrapped around a bare hook shank will slip pretty easily, put a drop of super glue on the hook shank. I find a brush applicator works a little better but the more common tube applicator works, too.
2. Start wrapping the wire a little further back from where you'll want the hackle to be - maybe a third of the way down the shank. Wrap in touching turns towards the bend, stopping opposite a point about halfway between the hook point and the barb.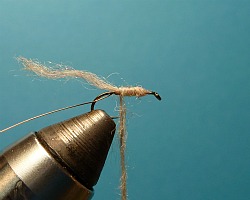 3. The yarn I use is Jamieson's Shetland Spindrift (the color is Sand #183), which is a two-ply yarn. This fly is a bit small to use both plies, so separate the two plies and just use one. I generally cut a couple feet at a time to separate. Start the yarn (just like you would tying thread) just behind where the hackle will go. After about 5 tight wraps, cut off the tag end. The photo shows just before it was cut.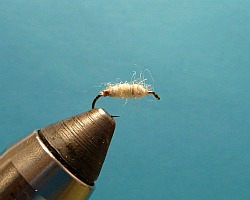 4. Wrap the yarn fairly tightly in touching turns to a little before the bend of the hook, then back to your starting point and back again to just past where you stopped wrapping the first layer. Trap the yarn with one turn of the copper wire, then do a 4 turn whip finish with the copper wire, with each wrap of the whip finish in front of the previous one. Break off the copper wire and cut the tag end of the yarn.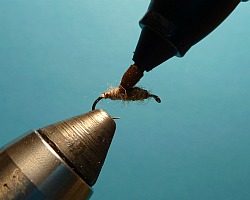 5. Color the yarn lightly with a Sand (#70) Prismacolor marker. At first, the yarn will look too dark, but the color sinks in and also fades a bit after your first cast. When wet, the fly will have nice pinkish tan hue. After you've colored the yarn, you can touch the copper wraps with head cement. Even though I never used to use "head" cement and I've never had either a killer bug or killer kebari come apart, it's probably not a bad idea.
6. Tie in a small feather from a hen pheasant or partridge and make one wrap of hackle. For this fly, I prefer tying in the feather by the stem. The feather shown is a hen pheasant neck feather, but a partridge feather of about the same size will work just as well.

7. Tie off the hackle, trim, form a neat head and whip finish. I use a dark brown thread, which complements the body color nicely.
The same fly can be tied with Little Dark Kebari yarn, a starling feather and black thread. In black it makes a nice winter fly.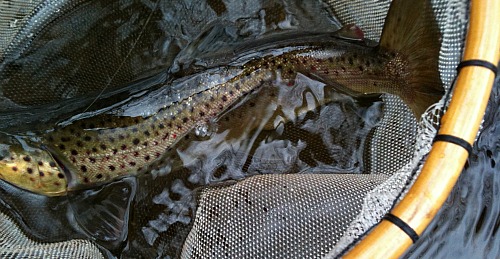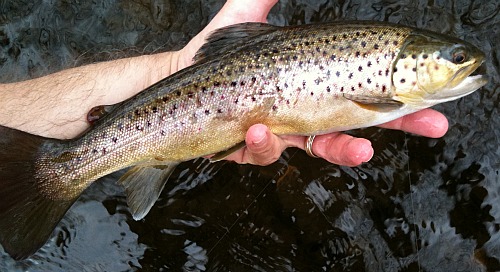 ---
TenkaraBum Home > Tenkara Flies > Killer Kebari

Walk softly and carry a long stick. - Teddy Roosevelt (almost)

Tenkara has no strict rules. Enjoy tenkara in your own way.
- Eiji Yamakawa
"The bitterness of poor quality remains long after the sweetness of low price is forgotten" – Benjamin Franklin