Keiryu Rigs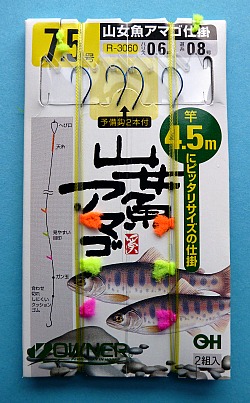 Keiryu Rigs give you hook, line and sinker - and markers - ready to go.
Each package has two fully rigged lines, two extra snelled hooks and six split shot. The package indicates that the rigs are intended for 4.5m rods. The line is about 1' longer than a 4.5m rod, so I think it would work quite well for 5.3-5.4m rods as well.

To use these rigs, you will want a knot in lillian (which I take out at the end of the day when I disassemble the rod to let it dry overnight). Attach the line as you would a furled line.

The markers can be moved up or down the line. Space them a few inches apart, with the lowest one above the water's surface when your hook is at the depth you want.
Add a split shot (two if the water is deep and the current is swift) perhaps 8" above the hook. The packages come from Japan with lead shot. It is illegal to sell lead shot in New York, so I replace the lead shot that came with the rigs with Dinsmore's Lead Free BB shot.

The back of the package suggests either a pair of salmon eggs, a small worm or a nymph taken from under a rock on the stream you are fishing. Meal worms and wax worms work well also.
Please note: The Keiryu Rigs use size .6 line, which is stronger than recommended for the Suntech ZPRO and Kurenai, the Nissin Air Stage seiryu rods and the Nissin 2-Way 450ZX soft.

Keiryu Rigs - $5.00
---
---
Shipping
Standard shipping is via USPS First Class mail.
A shipping/handling charge of $4 will be added to all orders.
If you live outside the US, you must add more postage!
---
Where do you live?


---

USA


Add this amount for shipping.


---

No additional postage required for First Class mail.
(Total charge $4)

---

Canada or Mexico


---

Additional $6 postage required. (Total charge $10)

---

Other Country


---

Additional $10 postage required. (Total charge $14)
---
---
Priority Mail Upgrade - U.S. Only

2-3 day shipping (U.S. only)
First Class might be just as fast!
Do Not click if you purchase a rod, wader gaiters or vise. They already go Priority Mail.
Domestic Priority Mail Upgrade - Additional $3
---
---
Payment
Payment is processed by PayPal but you don't need to have a PayPal account. You can use your credit card.
---
TenkaraBum Home > Keiryu Accessories > Keiryu Rigs

---
"The bitterness of poor quality remains long after the sweetness of low price is forgotten" – Benjamin Franklin
"Study to be quiet." - Izaak Walton 1653

"Be sure in casting, that your fly fall first into the water, for if the line fall first, it scares or frightens the fish..." Col. Robert Venables 1662

---
Warning:
The hooks are sharp.
The coffee's hot.
The fish are slippery when wet.
Beware of the Dogma

---