Happy New Year
by Terry Farmer
(Albuquerque)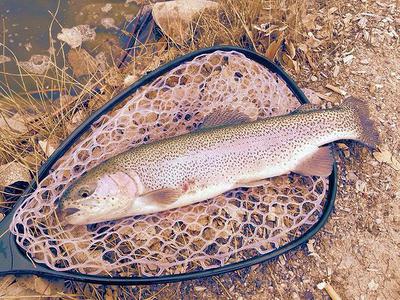 I started 2016 at our local Catch and Release pond. Brrrrr, 25 degrees and wind! The first fish broke my 5x tippet. I landed the next one, a nice 19" Rainbow. My Tenkara Bum 36 handled it with ease. 12' of 2.5 LL, 5' 5x tippet and a gold ribbed hares ear tied on a #12 wide eye hook. I really, really like the new TB36. The balance, action, strength, versatility and weight are right up my alley. It casts dries, nymphs (weighted and unweighted) with equal ease and I don't have to worry about hooking a bruiser from time to time. Happy New Year All!
Walk softly and carry a long stick. - Teddy Roosevelt (almost)

"The bitterness of poor quality remains long after the sweetness of low price is forgotten" – Benjamin Franklin
---
Warning:
The hooks are sharp.
The coffee's hot.
The fish are slippery when wet.

---