Fly Tying Materials
Offering fly tying materials is a natural extension of the "One Fly" Tying Kits™, which are great for people who want to try out a new pattern without having to buy a large supply of new materials. If you know you are going to be tying a lot of the same flies, though, it does make sense to buy your fly tying materials in larger quantities.
International shipments require additional postage. Please click on the appropriate button at the bottom of the page.
Feathers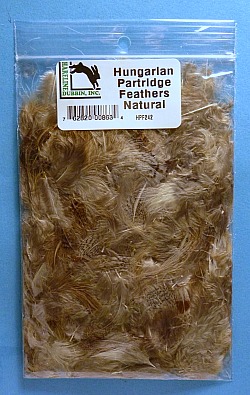 Partridge Feathers - $3.25
Everyone recommends buying a whole partridge skin instead of a package of partridge feathers. With the skin, you do get more feathers and you get the smaller feathers around the head that people like for tiny flies. Most tenkara anglers don't tie really tiny flies, though.
I'd rather you actually try them, and if it takes buying a package or two before jumping in with a whole skin, so be it. Partridge is a very nice choice for tenkara flies. Had the original tenkara anglers had access to partridge, I am sure they would have used it. If anything, it wraps better, and more of the feathers are the right size.
(Cannot be exported.)
Fibers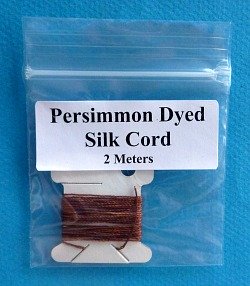 Persimmon Dyed Silk Cord - $2.50
By now, everyone has probably seen the video of Amano-san tying kebari in hand. He ties flies on eyeless hooks, first tying on a loop of silk cord treated with persimmon. The persimmon does two things, it stiffens the cord and it also dyes it a reddish brown color. People here in the US have generally used silk bead cord dyed a bright red, but now actual persimmon treated cord is available. It is slightly stiffer so it won't be so likely to collapse or twist.
(The current batch of cord is a little lighter than that shown in the photo.)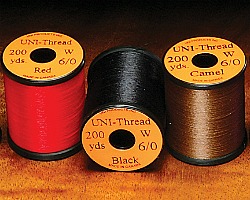 UNI-Thread - $2.75
Black, gray and brown, etc. are natural and expected colors for trout flies, but of course you'll want pink for tying the Utah Killer Bug and the Pink Chenille Worm.

Miscellaneous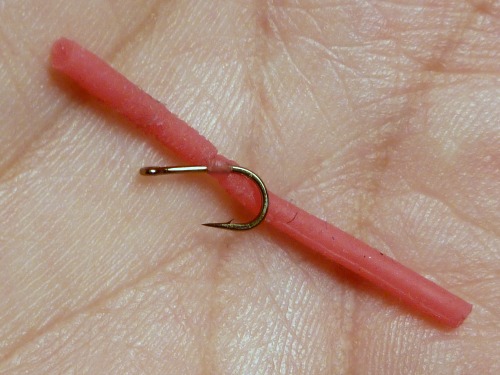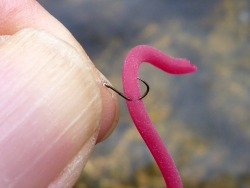 Squirmito - $4.00
I have been waiting for some time to get this material. Soft and stretchy, it looks quite a lot like a real worm and fish hit it readily. They also seem to hold onto it a bit longer than they do an artificial nymph. There are a number of methods of attaching it to a hook, but you have to be aware that tight thread wraps can cut it and some head cements will melt it. My solution? The Overhand Worm! Cut the worms into thirds and tie them on the hook with an overhand knot. Pull it tight. The material does not break easily and the worm does not slide down the hook.
Of course, you could just hook it as shown, but then it isn't a "fly," which needs to be "tied" on the hook. If you are fishing a stream that is "artificials only" but not "fly fishing only" it would be legal.

Need weight? Put a split shot 8-10" above the worm.
Squirmito material comes in more colors than you need. I carry the Blood Worm color. It works.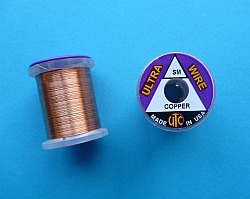 Ultra Wire, Small, Copper - $1.75
The killer bug is tied with copper wire instead of tying thread. It provides a bit of extra non-toxic weight and holds up well to trout teeth.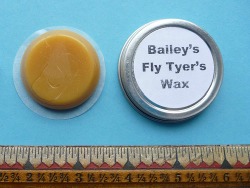 Bailey's Fly Tyer's Wax - $5

Bill Bailey has been working on the formula for this wax for years. While most dubbing waxes are quite soft and come in a tube, this one is formulated so that pulling your thread through the wax softens it just enough to coat the thread. Unlike the soft tube waxes, Bailey's Fly Tyer's Wax will make your fly more durable in addition to making it easier to dub tricky materials. It is effective for touch dubbing as well as for use with dubbing noodles. Siliconized paper keeps the wax from sticking to the tin. This wax does not require refrigeration between uses.

Hooks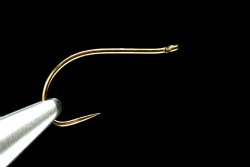 Please click for:
Daiichi, Tenkara and Eyeless Hooks

---
---
Shipping
Standard shipping is via USPS First Class mail.
A shipping/handling charge of $4 will be added to all orders.
If you live outside the US, you must add more postage!
---
Where do you live?


---

USA


Add this amount for shipping.


---

No additional postage required for First Class mail.
(Total charge $4)

---

Canada or Mexico


---

Additional $6 postage required. (Total charge $10)

---

Other Country


---

Additional $10 postage required. (Total charge $14)
---
---
Priority Mail Upgrade - U.S. Only

2-3 day shipping (U.S. only)
First Class might be just as fast!
Do Not click if you purchase a rod, wader gaiters or vise. They already go Priority Mail.
Domestic Priority Mail Upgrade - Additional $3
---
---
Payment
Payment is processed by PayPal but you don't need to have a PayPal account. You can use your credit card.
---
Please note: Because of US Government regulations, I cannot ship some fly tying materials outside of the US. Bird skins, deer hair, and partridge feathers are restricted to US addresses.
---
TenkaraBum Home > Fly Tying > Fly Tying Materials

Walk softly and carry a long stick. - Teddy Roosevelt (almost)

Tenkara has no strict rules. Enjoy tenkara in your own way.
- Eiji Yamakawa
"The bitterness of poor quality remains long after the sweetness of low price is forgotten" – Benjamin Franklin
---
Warning:
The hooks are sharp.
The coffee's hot.
The fish are slippery when wet.

---