Fly Tying Materials
Offering fly tying materials is a natural extension of the "One Fly" Tying Kits™, which are great for people who want to try out a new pattern without having to buy a large supply of new materials. If you know you are going to be tying a lot of the same flies, though, it does make sense to buy your fly tying materials in larger quantities.
International shipments require additional postage. Please click on the appropriate button at the bottom of the page.
Feathers
#1 Partridge skin natural - $29.00

Partridge is not the traditional hackle for tenkara flies, but it works very nicely. It is a traditional feathers for the North Country soft hackle flies tied in England and Scotland for hundreds of years, and North Country wets work quite nicely with a tenkara rod. These skins are a bit smaller and much nicer than any of the ones I've ever bought on eBay.
(Cannot be exported.)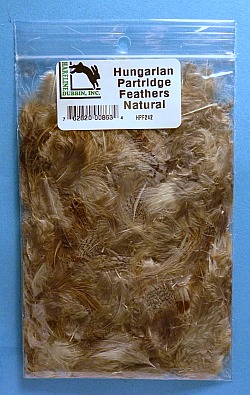 Partridge Feathers - $3.25
Everyone recommends buying a whole partridge skin instead of a package of partridge feathers. With the skin, you do get more feathers and you get the smaller feathers around the head that people like for tiny flies. Most tenkara anglers don't tie really tiny flies, though.
I'd rather you actually try them, and if it takes buying a package or two before jumping in with a whole skin, so be it. Partridge is a very nice choice for tenkara flies. Had the original tenkara anglers had access to partridge, I am sure they would have used it. If anything, it wraps better, and more of the feathers are the right size.
(Cannot be exported.)
Starling Skin - $7.00

One of the most underappreciated fly tying materials, starling is fabulous for soft hackle flies. Small, dark and iridescent, something about these feathers really attracts fish.

There are lots of feathers that are just the right size and color for a size 14 Stewart Black Spider. Because starlings have lots of small to very small to impossible-to-tie-they're-so-small feathers, you could tie size 26 spiders if you wanted to.

(Cannot be exported.)
Peacock Eyed Sticks - $3.50
Natural only. The herl from the stick is much better than in the packages of strung herl. You really won't believe the difference. Even just a little peacock herl will give your Sakasa Kebari an iridescent "hot spot" thorax.

Pheasant Tail Pair - $3.00
Natural only. I use Pheasant tail for Sakasa Kebari. jd_smith uses it for his Mino Gujo. Frank Sawyer used it for nymphs. I think it catches fish no matter how you use it. Two center feathers, not complete tail as shown in the photo.
(Cannot be exported.)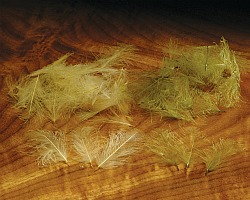 CDC - $2.50
CDC floats naturally, so no waxy or chemical floatant is needed. The fibers are so wispy that they move with the slightest current or line twitch. Natural Dun.

(Cannot be exported.)
Natural Dun
Woolly Bugger Marabou - $2.50
I've heard it said that you can catch any fish that swims with a black woolly bugger. I don't think that's true (but almost). Use with the Black Killer Bugger Yarn yarn to tie Killer Buggers.
Hair
Mule Deer Hair - $2.25
Like CDC, deer hair floats naturally. Why is the CDC & Elk tied with deer hair? That is a story for another day. All that really matters is that it works - and very nicely indeed.
Because of government restrictions, I cannot ship this out of the country.
Brown Barred Rabbit strips (olive only) - $4
Together with the crosscut rabbit strips below makes an excellent sculpin imitation for the stiffer keiryu rods.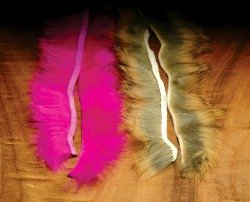 Crosscut Rabbit Strips (olive only) - $2.50
For use with the brown barred rabbit strips above to make a sculpin immitation.


Fibers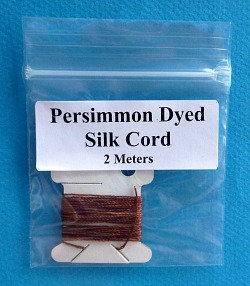 By now, everyone has probably seen the video of Amano-san tying kebari in hand. He ties flies on eyeless hooks, first tying on a loop of silk cord treated with persimmon. The persimmon does two things, it stiffens the cord and it also dyes it a reddish brown color. People here in the US have generally used silk bead cord dyed a bright red, but now actual persimmon treated cord is available. It is slightly stiffer so it won't be so likely to collapse or twist.
(The current batch of cord is lighter than that shown in the photo.)

Persimmon Dyed Silk Cord - $2.50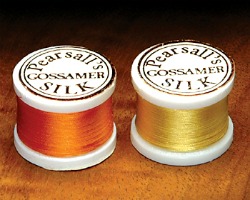 Pearsall's silk thread - $5.00
The classic thread for British soft hackle patterns. Silk has a translucent quality that cannot be matched by polyester or nylon threads. Plus, silk darkens when it is wet, the hot orange turns almost a mahogany brown. The bright colors are only bright when the silk is dry. (Note: the spools are much smaller than standard spools.)
I now have Bill Bailey's cobbler's wax. See Miscellaneous section below.

UNI-Thread - $2.75
Black, gray and tan, etc. are natural and expected colors for trout flies, but if you tie flies for bluegills (and bluegills love sakasa kebari) do not ignore the chartreuse. And of course you'll want pink for tying the Utah Killer Bug and the Pink Chenille Worm.

Veevus 16/0 - $3.00
This is the thread that all the buzz is about. Very thin, surprisingly strong. Just what you want for the size 26 Daiichi 1100 or Tiemco 518 size 32.

Glo Brite Floss - $3.00

David Southall ties his Utah Killer Bugs with lead wire, Glo Brite Floss over the wire, and a single layer of Utah Killer Bug yarn over the floss. This floss is so bright it shows through the wet yarn, giving the fly a orange or pink hue.

Flourescent Orange


Flourescent Pink

Killer Bug Yarn - $9.75

Enough for about 600 Killer Bugs.




Killer Bug Yarn Package - $2.50
Don't need enough for a whole sweater? Handy package contains about 4 yards of yarn, sufficient for at least 25 Killer bugs.
International shipments require additional postage. Please click on the appropriate button at the bottom of the page.
Utah Killer Bug Yarn - $9.75

This is the yarn used for the Utah Killer Bug variation developed by Tenkara Guides LLC in Salt Lake City. Darker, pinker, with some blue fibers, this is the "spectrumized" version. No Prismacolor Marker is required for this yarn. Enough for about 600 Killer Bugs.
Utah Killer Bug Yarn Package - $2.50
About 4 yards, enough for 25 Killer Bugs
Black Killer Bugger Yarn - $9.75

This is a very dark charcoal yarn with light fibers running through it. Not being a uniform color, it presents a more lifelike image. It makes a great Killer Bugger but can be used for any wet fly or nymph for which a dark, fuzzy appearance is desired. Goes very nicely with starling hackle or black woolly bugger marabou.
Black Killer Bugger Yarn Package - $2.50
About 4 yards, enough for 25 Killer Buggers.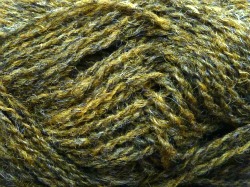 Bracken Yarn Package - $2.50
Very few things in nature are a single uniform color. There is almost always a blending of colors or at least different shadings of color. I like to choose yarns that have different colored fibers running through the yarn. Bracken is primarily a light yellowish green with black fibers running through it. (It is quite a bit more yellow and less green in real life than the photo shows.) Like all 100% wool yarns, it darkens when wet, but the presence of black fibers makes the yarn a very dark olive when wet. However, it isn't as uniform dark olive, there are subtle darker and lighter areas, with some light stray strands. About 4 yards.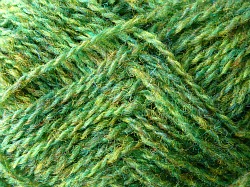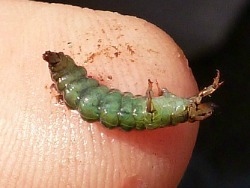 Green Rock Worm Yarn Package - $2.50
Mostly green with a little yellow mixed in. As with all the other yarns, it gets darker when wet and is actually pretty close to the real thing.
About 4 yards.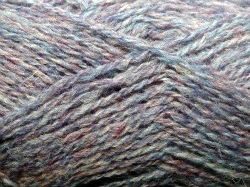 Mist is another yarn that I learned about from the Tenkara Guides. I haven't fished with this one but the Guides swear by it. I do know that blue works in flies and have wondered why there weren't more blue flies after Andrea Scalvini told me that they work quite well with his pesca mosca Valsesiana. Try the Mist yarn when you want a slightly lighter body than the Purple Haze will give you. Like all 100% wool yarns, it will darken when wet. About 4 yards.
Mist Yarn Package - $2.50
About 4 yards, enough for 25 Killer Bugs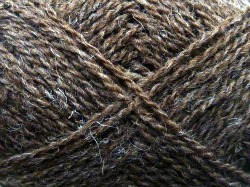 Moorit Yarn Package - $2.50
This is another yarn that comes recommended by the Tenkara Guides. I had known of this one before. Moorit is the brown strand of the brown and gray Moorit-Shaela (nymph yarn) but I had never used it by itself. It makes a very nice body to go with either a hen pheasant feather or a partridge back feather. It is really more of a uniform brown than the photo makes it appear. About 4 yards.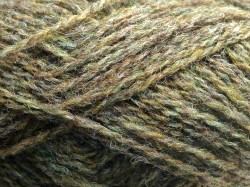 Olive Killer Bugger Yarn Package- $2.50
What you see is not quite what you'll get. I could not capture the color exactly with my camera and light (and photography skills). It's kind of an olive green with a hint of gray, and maybe a touch of yellow. It is more olive than the Bracken and not nearly as yellow.  About 4 yards.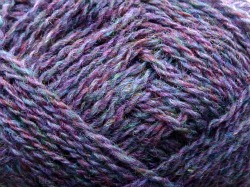 Purple Haze Yarn Package - $2.50
This is a yarn that I learned about from the Tenkara Guides in Salt Lake City. They swear by it and now I do, too. The first fly I tied with it, a simple soft hackle with a Purple Haze yarn body and a partridge back feather, was surprisingly effective for both trout and bluegills. About 4 yards.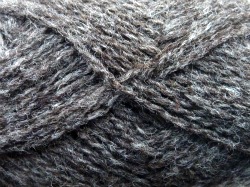 Shaela Yarn Package - $2.50
Shaela yarn is the gray strand within the Moorit-Shaela (nymph yarn). It is a medium gray, but unlike most gray yarns, it is not spun and then dyed a uniform gray. It is spun from a mixture of very dark gray fibers and very light fibers. The color is much more interesting and is more lifelike when wet. It makes a very nice body to go with a partridge breast feather. About 4 yards.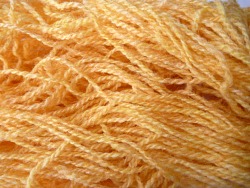 Sucker Spawn Yarn Package - $2.50
This yarn is a golden yellow color and should be a good match for sucker spawn.  About 4 yards.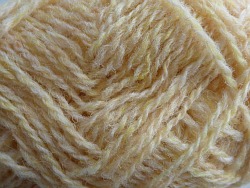 Sulfur/PMD Yarn Package - $2.50
This yarn is a light yellow color and would work very nicely for a yarn bodied sulfur if you are a hatch matcher or an Amano Kebari if you aren't. About 4 yards.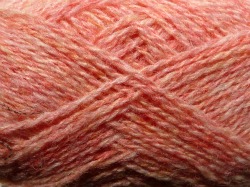 Tupps Yarn Package - $2.50

Try this one. It makes an excellent Killer Bug and a passable Tups. I am certain that an Amano Kebari with a thorax of this yarn would be a very good fly. About 4 yards.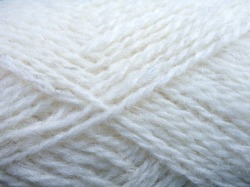 White Killer Bugger Yarn Package- $2.50
Use the White Killer Bugger Yarn along with white woolly bugger marabou to make white killer buggers, which will imitate small shiners about as well as anything. The natural white yarn isn't bleached or dyed. It's just the way the sheep made it. About 4 yards.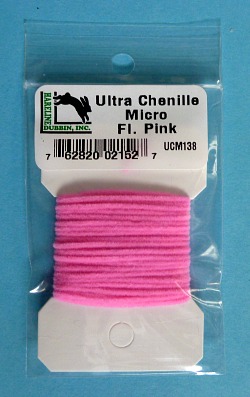 Ultra Chenille Micro, Fl. Pink - $2.00
Shortly after I started fishing with a tenkara rod I also started fishing a  pink chenille worm. I caught a lot of fish, but I also missed a lot of strikes and stopped fishing it. Recently I've experimented with a pink chenille worm again, but this time using much smaller hooks - size 20 and smaller. My hook up percentage improved. When I tied the worms with two size 26 hooks, my hook up percentage improved again. The Micro sized Ultra Chenille is very well suited to the smaller hooks.
Given that one package will tie well over 100 flies, and that all you need for a pink chenille worm is the chenille, a hook and some thread, this is one of the biggest bargains in fly tying.
For the Overhand Worm, you have to use larger hooks so the chenille doesn't take up the whole hook gape. The Owner Mainstream Tenkara hook works well. For the Overhand Worm, you don't even need thread!
Temporarily out of stock

Miscellaneous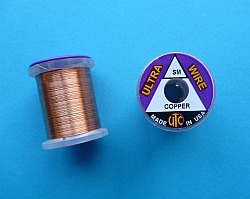 Ultra Wire, Small, Copper - $1.75
The killer bug is tied with copper wire instead of tying thread. It provides a bit of extra non-toxic weight and holds up well to trout teeth.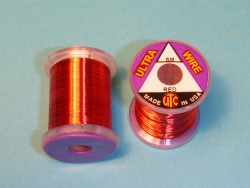 Ultra Wire, Small, Red - $1.75
I tie the Utah Killer Bug and the white Killer Bugger with red copper wire.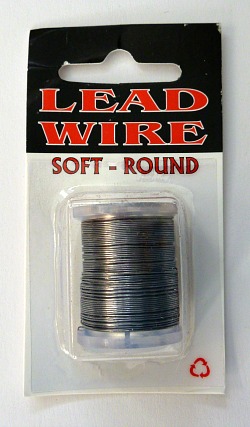 Lead Wire .015" - $2.50
If you want your Killer Bugs, Utah Killer Bugs or Killer Buggers to fish deeper, use lead wire instead of copper, and use thread. The wire is a relatively thin .015" to give more flexibility on the weight. Use two layers for added weight.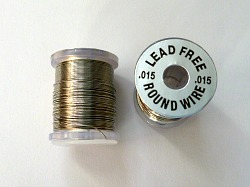 Lead Free Wire .015" - $3.25
For those anglers who do not want to use lead, the lead free wire will still give you more depth than copper wire. Use two layers for more weight.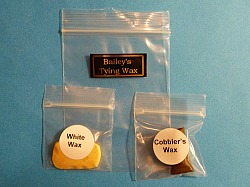 Cobbler's wax and white wax - $5
These waxes, produced by Bill Bailey, are tying waxes, not dubbing waxes. Used for hundreds of years to prepare silk thread for tying. Waxed thread holds the materials in place as you tie (critical for tying in hand), makes the fly more durable, and changes the color of the silk (particularly when using the cobbler's wax). They do make the silk a bit tackier, so a separate dubbing wax is not necessary. One piece of cobbler's wax and one piece of white wax per package. Store in a cool place.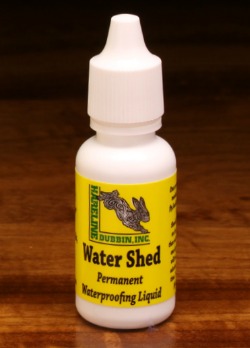 Water Shed - $4.50

Permanent Waterproofing Liquid. Work a drop into your fly just after you tie it. Not greasy or sticky. Apply 24 hours before using the fly. Works very nicely on CDC & Elk.

Gold Tungsten beads for micro buggers. The 1.5mm beads fit the Daiichi 1110 #26 and the 2.0mm beads fit the Daiichi 1110 #20. Both are excellent for micros and the #20 will also take trout. Package of 25.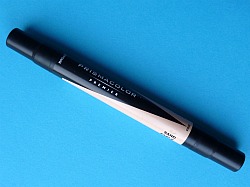 Prismacolor Marker, Sand - $5.00
This marker transforms the killer bug yarn from a light oatmeal color to the tan that creates the crucial pinkish tan color when wet.
Hooks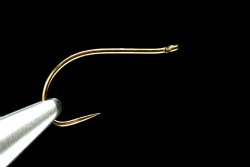 Please click for:
Daiichi, Tenkara and Eyeless Hooks

---
Payment
Payment is through PayPal but you don't need to have a PayPal account. You can use your credit card.
Domestic Shipping

Domestic shipping  is via USPS First Class mail (2-5 day delivery). The $3 charge is automatically added to each order. Most small items can be combined and shipped together without additional charge.
International Shipping

International shipping is via USPS International First Class mail (2-5 week delivery). Additional postage is required but is not added automatically. Please click on the button below to add international postage. Postage is based on weight, so please add postage for the largest or heaviest item.
Please note: Because of US Government regulations, I cannot ship some fly tying materials outside of the US. Bird skins, deer hair, bleached elk, pheasant tail feathers and natural dun CDC feathers are restricted to US addresses.
---
TenkaraBum Home > Fly Tying > Fly Tying Materials

Speak softly and carry a long stick. - Teddy Roosevelt (almost)

Tenkara has no strict rules. Enjoy tenkara in your own way.
- Eiji Yamakawa