Crane Creek
by Rob Ruff
(Wichita Falls, TX )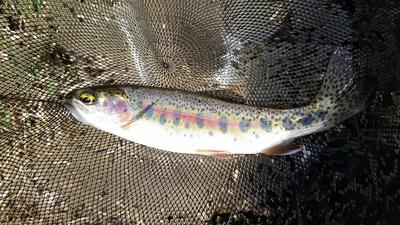 I was in Crane Creek the weekend of March 5th and had the opportunity to fish for McCloud 'bows. I had 4 rods with me and ended up using a Kurenai HM33R, Nissin Air Stage Honryu 380 and a Nissin Air Stage Fujiryu 410. The upper part of the creek was low and clear which made the fishing challenging. I did manage to catch 6 to 8 inch rainbows. I had better results fishing the lower creek around the baseball fields. A true treasure of a stream and the fish were lively. I did lose one as it darted under a submerged log. I used a few different flies but had the best results on a pheasant tail bead head nymph and an Ishigaki Kebari. Those McClouds are very beautiful and spirited!
Walk softly and carry a long stick. - Teddy Roosevelt (almost)

"The bitterness of poor quality remains long after the sweetness of low price is forgotten" – Benjamin Franklin
---
Warning:
The hooks are sharp.
The coffee's hot.
The fish are slippery when wet.

---