Tenryu Fly Rods

Tenryu Fly Rods? Why not? Tenryu is known for excellent quality rods. Their Furaibo tenkara rods are truly excellent. Their spinning and baitcasting rods are the nicest I've seen anywhere.
Tenryu makes several series of fly rods, from 3 weight small stream rods up through the more standard 9 footers in 5-8 weights and on to Spey rods.
The Tenryu Rayz spinning and baitcasting rods have "Learn a lesson from the past" painted on the blank. That sentence is not on the Tenryu fly rods, but that same philosophy is evident.
After fly rod makers switched from fiberglass to graphite, they gradually made their rods faster and faster, eventually getting to the point that the average fisherman had to overline the rods and still had a hard time with them. Fly fishermen who wanted a pleasant day on the stream rather than a macho exercise to see who could cast the furthest finally rebelled. The pendulum then swung all the way to the other side, and glass rods became all the rage.
Tenryu learned a lesson from the past and makes the Tenryu fly rods with a composite of graphite and glass. The Fates StreamWalker rods are 79% carbon and 21% glass. The Fates Packer rods are 70% carbon and 30% glass. The rods aren't pool cues and they aren't noodles. They are soft enough that you will be able to feel the rod load and unload. They'll be fun with the 6-7" brookies you'll find in small streams, but they'll handle the unexpected fish three times that size.
I have one each of three different small stream 3-weight Tenryu fly rods. Two are 4-piece Fates StreamWalker rods, one is a 6-piece Fates Packer travel/backpacking rod.
To date, I have not had a chance to even put a line on them, so I cannot yet give you a review - either on stream or just lawn casting.
I decided to put them on the site now because I know some tenkara anglers fish with western rods as well, and this is the time of year people start gearing up for the coming season.

---
Tenryu Fates StreamWalker


The Tenryu Fates StreamWalker comes in four lengths: 6'6", 7'3", 7'9" and 8'2". All are 3-wt rods. I currently have one each of the 7'3" and 7'9" in stock. The 7'3" model weighs 1.9 ounces. It is 22 7/8" broken down (24 3/4 inside the hard case, which comes with the rod). The 7'9" model is 2.1 ounces. It is 24 1/2" broken down (27 1/2" inside the hard case).
The two rods differ not only in their length - they have very different actions. The shorter rod is described by Tenryu as having fast action for pinpoint casting. The longer rod is described as bending from the middle part into the butt to prevent hooked fish from coming off. (At least, that's how Google Translate interprets it). The 7'3" rod is noticeably stiffer, and a faster casting stroke would indeed develop the pinpoint accuracy Tenryu promises. The 7'9" rod is pleasantly full flex and despite having the same carbon/glass percentage as the shorter rod, is more reminiscent of glass or bamboo.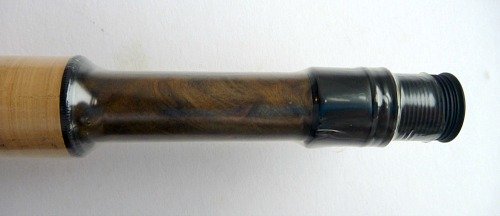 The reel seat hardware appears to be black colored anodized aluminum. The hardwood spacer is the same exotic hardwood used in their premium Specta and Alter spinning rod reel seat spacers. On the spinning rods I've seen that without the plastic shrink wrap (above) and it is very nice indeed.

Tenryu Fates StreamWalker FSW733-4 - $350
Tenryu Fates StreamWalker FSW793-4 - $355
---
Tenryu Fates Packer

Tenryu offers two rods in their Packer series, both 3 wts. One is 7'0" and one is 7'6". I only have one of the 7 footers in stock.
The rod has a breakdown length of 15 7/8" (16 1/4" inside its 6-compartment cloth rod sock and 18 1/2" inside it's rigid case). The rod weighs 2.2 ounces by itself and 4.0 ounces inside the cloth sock.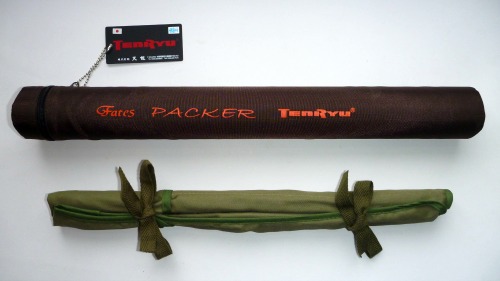 The rod fully packed inside the rigid case weighs 8.9 ounces. You might not want to take the case with you if you are backpacking, but this case would have saved the trip for a friend of mine. On the first day of a pack trip, the mule carrying the gear fell and broke his only rod.

Inside the sock but without the hard case, the rod would make a compact, light package that will easily fit in a backpack or carry-on bag.

The reel seat hardware appears to be gold colored anodized aluminum with a hardwood spacer. I am not a wood expert and cannot identify the wood. I am not a photography expert either, and have a hard time capturing the wood pattern through plastic shrink wrap.
Tenryu does not describe the Fates Packer action as being either fast or slow. They say the blank has the same supple curve as a one piece rod, helping anglers cast their flies accurately.

Tenryu Fates Packer FP703-6 - $325
Tenryu Fly Rods: Made in Japan
After carrying JDM rods for years now, I am convinced that they provide the best quality you can find. More and more rods these days are made in China to hold down costs. Making rods in Japan does cost more, but I believe the quality control and the attention to detail more than make up for the higher cost. Tenryu rods in particular are excellent quality. I've had their tenkara rods for a couple years now and their spinning and baitcasting rods for over a year.
American fly fishermen may not look to Japan for fly rods, but perhaps they should.

---
Ever since experiencing how well a level fluorocarbon line works with a tenkara rod, I have wondered why fly fishermen don't use it when they need a stealthy delivery and want to keep as much line off the water as possible. With that in mind, I just had to try it (indoors - it's raining cats and dogs outside and our apartment has a high ceiling). These rods will cast a level fluorocarbon line without a problem. I don't yet know how far you can cast fluorocarbon (our apartment isn't that big and it is half full of industrial shelving), but these are small stream rods so I doubt you will be casting very far. I also don't yet know or what line size works best, but if you want to experiment I would suggest the size 3.5 Sanyo Valcan as a start.
Tempting Fates - very tempting, I'd say.
---
---
Daiwa Lochmor SLA Reel
With a fly rod you do need a reel. Gotcha covered.
The Daiwa Lochmor SLA is a large arbor, machine cut aluminum, disc drag fly reel. The drag is a one-way clutch (no resistance when reeling in). The reel is set up for left hand reeling when it is shipped, but it can be converted to right hand (and the instruction sheet is in English as well as Japanese, German and French).
The handle knob is wooden, and there is a counterbalance.
The reel weighs 3.9 ounces. It is 3 5/16" in diameter.
With DT3F line, there is room for 55 yards of backing.
The reel case is included.
Reel made in Korea.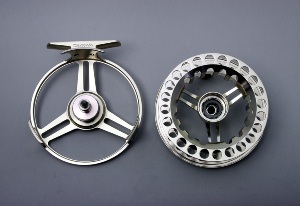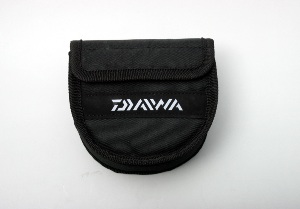 Daiwa Lochmor SLA 3/4 - $165
Please note: if you purchase the rod and reel at the same time, the reel  and the Packer will be shipped in the same box. The reel and either of the Streamwalker rods will be shipped in separate boxes because of the length of the rod cases and the shape of the boxes.

---
Shipping
A shipping charge of $10 will be added to all orders.
If you live outside the US, you must add more postage!

---
Where do you live?


Add this amount for shipping


---

USA


---

No additional postage required.
(Total charge $10)

---

Canada or Mexico


---

Additional $6 postage required. (Total Charge $16)

---

Other Countries


---

Additional $13 postage required. (Total Charge $23)
---
Payment
Payment is processed by PayPal but you don't need to have a PayPal account. You can use your credit card.
---

"The bitterness of poor quality remains long after the sweetness of low price is forgotten" – Benjamin Franklin
"Study to be quiet." - Izaak Walton 1653

"Be sure in casting, that your fly fall first into the water, for if the line fall first, its scares or frightens the fish..." Col. Robert Venables 1662

---
Warning:
The hooks are sharp.
The coffee's hot.
The fish are slippery when wet.
Beware of the Dogma

---