Smallest Bluegills Ever
by Ted Naydan
(Charlton, NY)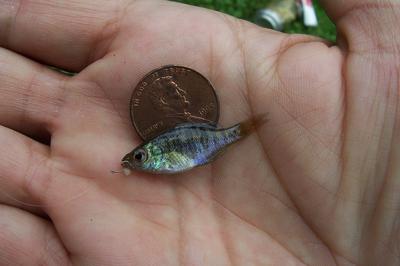 This year I've caught a nice number of very small bluegills, around 75 that were two inches and under. They are fast becoming one of my favorite fish to catch. Mostly because each one is so different, and they're really very beautiful, like living jewelery. It's like catching tropical aquarium fish. They also can be quite challenging and difficult to catch, not like the adults. Here are some pictures I think of some of my smallest ones.
Walk softly and carry a long stick. - Teddy Roosevelt (almost)

"The bitterness of poor quality remains long after the sweetness of low price is forgotten" – Benjamin Franklin
---
Warning:
The hooks are sharp.
The coffee's hot.
The fish are slippery when wet.

---