Hi-Vis Fluorocarbon
Hi-vis fluorocarbon - really hi-vis, is something I've been looking for since I first discovered that fluorocarbon is better than mono for making level tenkara lines. Eureka, I have found it!

Sunline Hi-Vis Fluorocarbon Tenkara Line
The line I found is just as bright as mono. It's fluorescent orange and it is so bright it almost glows. When I took it out the first time, I was very concerned that it might be so bright that it would scare the fish.
It doesn't. I had one of my best days ever - bringing 33 wild browns to hand, and missing at least that many. I think the reason for the good day was that it was so easy to see even subtle takes.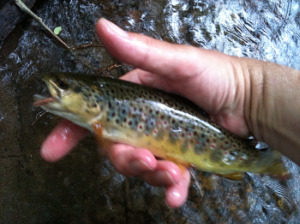 I'm still a bit slow, and I missed lots of fish, but I think I wouldn't even have seen most of those subtle takes with a less visible line. Twitches or hesitations that I would have thought were just variations in current speed or my own hand movements often turned out to be fish.
The key to fishing this line, or any tenkara line for that matter, is to keep the line off the water. I can't emphasize that enough.
And it's not just about minimizing drag. If you are fishing wet flies or nymphs and your line is in the water, you will not be able to see the subtle takes. They are often so subtle that the amount of line movement they generate is truly unnoticeable if the line is in the water.
| | |
| --- | --- |
| | |
| Sunline Tenkara Line | Sunline Tenkara Line - back view |
When I first started using the Hi-Vis line it was sold by Sunline as a salt water fishing line. To my knowledge no one else was using it as a tenkara line. However it is a fabulous tenkara line, better than any other line available anywhere. Apparently, not that many salt water anglers bought it so Sunline discontinued the line. Or rather, they decided to repackage it as a tenkara line.
The tenkara line Sunline introduced seems to be the exact same line as they had previously sold as salt water fishing line. It is now packaged on 30 meter spools and is available in sizes 3, 3.5, 4, and 4.5.
In general, I prefer the size 3 line, but in general I prefer softer rods. With a stiffer rod, while fishing in a breeze or with a wind resistant fly the size 4 will work better. You might even want to go to a size 4.5 line for rods like the Daiwa Kiyose, Shimano Kozuka or when fishing heavy nymphs.
Instructions for how to rig and attach the level line are now on my level line page.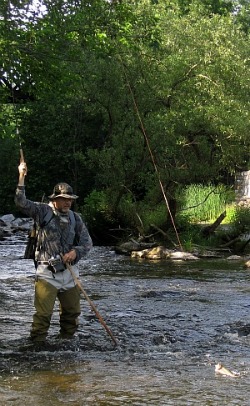 Sunline Fluorescent Orange Fluorocarbon Tenkara Line, 30 meters - $25
Yamatoyo Hi-Vis Line
I've actually had this line for quite some time. When I could no longer get the size 3 orange line (last spring, before Sunline repackaged it as a tenkara line) I sold this line as the size 3 Chartreuse TenkaraBum line. I also used it in my Bi-Visible Hand Tied lines. It is a very nice, very hi-vis fluorocarbon tenkara line.
It is a little softer than the orange Sunline, and has a little less memory. (Truly, though, I do not see people's obsession with removing the last little bit of coil from a line. The line still casts fine, and that little bit of coil is a wonderfully sensitive strike indicator). Still, some people will prefer this line because of it's lower memory.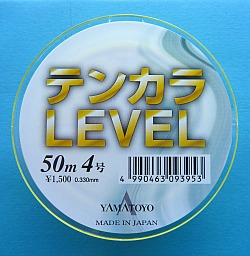 Against some backgrounds, this line is more visible than the orange line and against some, the orange line is more visible than this line. I don't think the difference is so great that you have to carry both lines with you, but depending on where you usually fish, one might be better than the other.
The biggest thing this line has going for it is that it comes on 50 meter spools rather than the 30 meter spools that the Sunline comes on. It is a bit more per spool, at $30, but it is less per meter.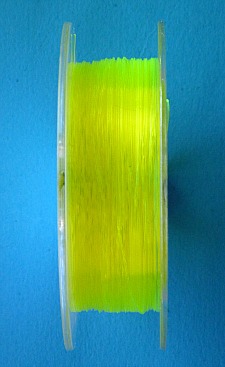 The Yamatoyo line comes in sizes 3, 3.5 and 4. It does not come in a 4.5, but I think that size is only needed for the stiffest of rods, and even for those I would recommend trying a size 4 instead.
Yamatoyo Hi-Vis Fluorocarbon Tenkara Line - $30 for 50 meters

Payment
Payment is through Paypal but you don't need to have a Paypal account. You can use your credit card. PayPal payments will be made to chris at tenkarabum dot com. Credit card statements will read CM Stewart.
Shipping
Domestic shipping is covered by the flat $3 shipping charge added to all orders.
International shipping is an additional $5 to Canada and $7 to other countries.

Return from Hi-Vis Fluorocarbon to Tenkara Lines

Return from Hi-Vis Fluorocarbon to TenkaraBum Home