Covid-19 Announcement
INTERNATIONAL: Shipments to Europe and Canada are still slightly delayed but are getting back closer to normal. Shipments to Australia are still much slower than normal.

DOMESTIC: Many deliveries are taking about a day longer than normal. A few deliveries are taking a lot longer than normal. If you are planning a trip, please order well in advance.

---
Utah Killer Bug Challenge
The Utah Killer Bug Challenge is really very simple. I am challenging you to try a Utah Killer Bug. I am almost certain it will become one of your favorite flies. I'm not a "one fly" proponent, but if you did want to pick one fly to fish with in the coming season, you could do a lot worse than to pick the Utah Killer Bug.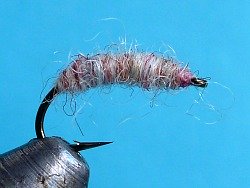 This fly was developed by the Tenkara Guides in Salt Lake City. The fly shown to the left was tied by Tenkara Guide Erik Ostrander. It is a variation of the Killer Bug that I have been tying and fishing for years (and catching lots of fish with ever since I first tied it).
The Killer Bug I tie is, in turn, a variation of the Killer Bug developed by Frank Sawyer (who is perhaps better known for developing the pheasant tail nymph). Although I have seen photos of Killer Bugs tied by Frank Sawyer's widow, Margaret, to my knowledge there are no surviving photos of one of Frank's own Killer Bugs.

Frank Sawyer was the river keeper on the Avon, where a part of his duty was to control the population of grayling. Just as many fly fishermen in the western US are disappointed when the tug on their line turns out to be a mountain whitefish instead of a trout, the anglers on the Avon wanted to catch trout, not grayling.
The yarn Sawyer used, Chadwicks 477, has not been produced in decades. He chose it because it had red fibers running through the grayish tan yarn, which turned the fly a pinkish tan when wet. Sawyer claimed that pinkish tan color was the reason for the fly's success.
| | |
| --- | --- |
| Killer Bug Yarn | Utah Killer Bug Yarn |
The Killer Bug Yarn I use also has red fibers running through it, but the overall color of the yarn is much lighter than Chadwicks 477, so I color it with a Prismacolor marker. The Tenkara Guides, seeking to simplify the process, chose instead to use a yarn I now call Utah Killer Bug Yarn, which is a bit darker and also quite a bit pinker, and does not need to be colored with the marker.
Recently, David Southall, a British tenkara angler (who by the way fishes in full camo and is a big proponent of fishing with a short line) published a step-by-step of how he ties the Utah Killer Bug. His variation uses lead wire rather than copper, allowing him to fish it deeper. He covers the lead wire with either pink or orange Glo Brite floss, and then wraps just one layer of yarn over the floss.
The floss is so bright that it shows through the single layer of wet yarn, giving the fly a very orange or very pink hue. In contrast, I have always used three layers of yarn, and the underlying copper or red wire does not show through. The pink fibers in the yarn do give my Killer Bug a pinkish tone, but it is not nearly as pink as David's Utah Killer Bug.
If indeed Frank Sawyer was right that the secret of the Killer Bug's success was the pinkish tone of the fly when wet, David's version with the Glo Brite underbody should be a killer indeed!

Utah Killer Bug tying sequence by David Southall. He now ties the Utah Killer Bug with two layers of lead, the top one half the length of the lower and set in the middle to produce a tapered body. The Utah Killer Bug in the lower right hand corner was tied with Glo Brite fluorescent orange floss. The photos are copyrighted and used with permission.

After reading David's comments and seeing his flies, I decided to carry the Glo Brite floss and lead wire so that tenkara anglers here can tie David's version of the Utah Killer Bug. 
So here's the Utah Killer Bug challenge: Tie this fly! Fish it! Win prizes!

---
Utah Killer Bug Challenge Rules

1. All fish entered into the Utah Killer Bug Challenge must be caught with a Utah Killer Bug. For the purposes of this contest, a Utah Killer Bug is a fly tied with Utah Killer Bug Yarn. It may be tied on any hook in any size, and may be tied with any wire and/or any thread and/or any floss. It must not have any hackle, legs, tail, dubbing, scud back, clouser-style eyes or bead head. The fly may have a tag and/or head of wire, thread or floss, but in overall appearance it must be predominantly a yarn bodied fly.
Fish caught with flies tied on hooks size 20 and smaller may also be entered into the TenkaraBum Winter Challenge (separate entry required).

2. Entries are made by posting a photo of the fish and a photo of the fly on the Appalachian Tenkara Anglers facebook group in the Utah Killer Bug Challenge thread. To be considered for "largest" or "smallest" fish, there must be something in the photo that shows the size of the fish. It doesn't have to be a tape measure, but there must be something. You can even keep the fish in the water when you photograph it, as long as there is a way to determine size.
3. The contest begins 12:01 AM Eastern Time February 1, 2015. The fish must be caught after that time and the entry posted after that time.
4. The contest ends 11:59 PM Eastern Time April 30, 2015. All entries must be posted before that time.
5. Prizes will be awarded for:
Largest Fish
Smallest Fish
Most Fish
Most Species
6. Each of the above categories is further subdivided by:
Rivers and Streams
Lakes and Ponds
Saltwater
Entries must state the category: rivers and streams, lakes and ponds or saltwater.
(With 12 different categories, and a prize for each, you ought to be able to win something!)
7. The overall winner will be the angler who places the highest in the four categories of part 5. A first place in each category would score 4 (1+1+1+1=4). A first, third, seventh and fifth would score 16 (1+3+7+5=16). Lowest number wins. A tie will be settled by an additional, short duration contest to be determined.

8. Prizes to be determined, with a grand prize for the overall winner. (Prizes have no cash value and cannot be exchanged or transferred).

9. Entries will be judged by a panel consisting of Erik Ostrander, Jason Sparks, Chris Stewart, John Vetterli and Rob Worthing. Decision of the judges is final.
10. No rules changes are anticipated, but face it, life sometimes gets in the way and the rules and contest duration are subject to change.
11. The Challenge is in no way sponsored, endorsed or administered by, or associated with Facebook.
12. All entrants and participants expressly release Facebook, the challenge organizers and judges from any and all liability.
---
The Utah Killer Bug Challenge is presented as a joint effort by TenkaraBum and the Tenkara Guides LLC in Salt Lake City, and is hosted by the Appalachian Tenkara Anglers facebook group. (The initial idea for the Utah Killer Bug Challenge came from Jason Sparks, who administers the Appalachian Tenkara Anglers group.)

The one thing about the Utah Killer Bug Challenge that did not sit at all well with the Tenkara Guides was the use of lead wire. As it turns out, most lead free wire contains zinc, which may even be worse than lead.  Because David Southall's version of the fly was the spark that triggered the very idea of the Utah Killer Bug Challenge, I have chosen to present it as is, lead and all, and can only suggest that you make your own decision on how to tie your flies.

---
TenkaraBum Home > Tenkara Flies > Utah Killer Bug Challenge

---
"The bitterness of poor quality remains long after the sweetness of low price is forgotten" – Benjamin Franklin
"Be sure in casting, that your fly fall first into the water, for if the line fall first, it scares or frightens the fish..." Col. Robert Venables 1662
As age slows my pace, I will become more like the heron.

---
Warning:
The hooks are sharp.
The coffee's hot.
The fish are slippery when wet.
Beware of the Dogma

---