Tippet Fly Pouch
The Tippet Fly Pouch is BW Sports' entry into the minimalist chest pack field. Although simplicity and minimalism are not the same, many American anglers attracted to the simplicity of tenkara are realizing that they do not need all the gear they carried as fly fishermen. More and more are abandoning their vests in favor of small chest packs. The pouch comes on a lanyard that has several clips for nippers, an emergency whistle, etc., and the pouch itself holds a small fly box, tippet, and all the tenkara lines you could possibly want.
Let me rephrase that. It holds all the tenkara lines even I could possibly want. On any given day I usually test several different lines with a variety of rods, and I rarely have fewer than half a dozen lines with me.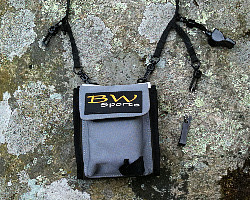 For some time I'd been looking for a leader wallet to hold the lines I do carry. I had seen a number of different small bags or pouches or chest packs, but they all seemed too large for what I wanted.
The main reason I chose the Tippet Fly Pouch was that it incorporates a leader wallet in the bag. There are five zip closure envelopes that can be removed (as a unit). Each envelope is 4.25" by 4.75" inside the zip part.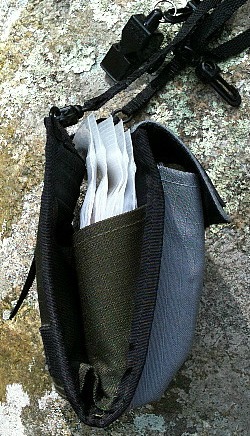 Although BW Sports makes a fly box to go with the Tippet Fly Pouch, I do not stock it and sell the pouches without the fly box. I much prefer the Easy Grip box, which just barely fits in the pouch, or the small Morell Fly Box, which slides into the fly box pocket with enough extra room to hold a Varivas tippet spool.
The TenkaraBum minimalist fly box leaves enough room for two Varivas spools. There is room for a bottle of floatant, too, if like me you enjoy fishing a CDC & Elk.
On the back side of the main compartment, and also on the back of the pouch itself are three pockets that will easily hold flat items (like a Tip Grip) but will also hold a Varivas tippet spool.
When I first got the Tippet Fly Pouch, and before I actually used it, I was a little concerned that the main part of the pouch doesn't fully close. It's an open pocket that is held tight by a velcro strap, but I thought it might not be secure for carrying small items. After using the the pouch for quite some time now, that has never proven to be a problem. I don't carry any small items that don't fit on the lanyard clips.
Tippet Fly Pouch - $20
---
---
Shipping
Standard shipping is via USPS First Class mail.
A shipping/handling charge of $4 will be added to all orders.
If you live outside the US, you must add more postage unless the items on this page are mailed with a rod!
Please note: The buttons below only add the postage, they are not for the product AND the postage. You must click on the product button above also.

TenkaraBum.com does not sell to residents of Norway or any other county of the European Union or the European Economic Area.

---
Where do you live?


---

USA


Add this amount for shipping.


---

No additional postage required for First Class mail.
(Total charge $4)

---

Canada or Mexico


---

Additional $6 postage required. (Total charge $10)

---

Other Country


---

Additional $10 postage required. (Total charge $14)
---
---
Priority Mail Upgrade - U.S. Only

2-3 day shipping (U.S. only)
First Class should be just as fast for people living east of the Mississippi.
Do Not click if your order includes a rod, wader gaiters, 3x5 Photo Tank or Daiwa Keiryu Damo. They already go via Priority Mail.
Domestic Priority Mail Upgrade - Additional $4
---
---
Payment
Payment is processed by PayPal but you don't need to have a PayPal account. You can use your credit card.
---
---
---
"The bitterness of poor quality remains long after the sweetness of low price is forgotten" – Benjamin Franklin
"Study to be quiet." - Izaak Walton 1653

"Be sure in casting, that your fly fall first into the water, for if the line fall first, it scares or frightens the fish..." Col. Robert Venables 1662
As age slows my pace, I will become more like the heron.

---
Warning:
The hooks are sharp.
The coffee's hot.
The fish are slippery when wet.
Beware of the Dogma

---