TenkaraBum Winter Challenge
2 inch Ozark Sculpin
#26 bead head Utah Killer Bug
by Alan Luecke
(Kansas City, MO)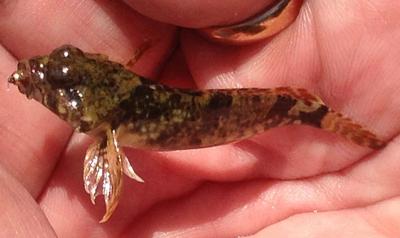 1.5 inch Ozark Sculpin
I played hooky on Friday and went down to the Roaring River Trout Park near Cassville, Mo. This was my first outing in quite a while. I had lots of plans for various flies and fish but things started slowly. The trout were not interested in much of anything so I decided to go after some shiners hanging out at the edge of the pool. The shiners would descend on the fly in a cloud but to little effect. Then I felt a solid take and popped this little guy out of the crowd. I did not see the take and had not noticed any sculpins till this one was on the hook.

Measuring the creases in my hand and using my ring as a gauge I feel pretty good about the 2 inch measurement. Roaring River is a spring fed stream in the White River drainage. This, along with the strong black bands make for a good ID.
---
"The bitterness of poor quality remains long after the sweetness of low price is forgotten" – Benjamin Franklin
"Study to be quiet." - Izaak Walton 1653

"Be sure in casting, that your fly fall first into the water, for if the line fall first, it scares or frightens the fish..." Col. Robert Venables 1662
As age slows my pace, I will become more like the heron.

---
Warning:
The hooks are sharp.
The coffee's hot.
The fish are slippery when wet.
Beware of the Dogma

---