TenkaraBum Winter Challenge
12 inch Rainbow, #32 UKB
by Alan Luecke
(Kansas City, MO)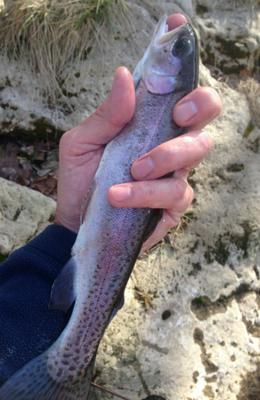 12 inch Rainbow Trout
By mid afternoon of my Roaring River expedition the action had improved considerably.

Having caught some fish, I decided to rig up the 32 and see what would happen. In the past I've been resistant to split shot simply because I didn't like dinking around with it, especially in the really small sizes. But with flies this small, no shot - no fish. A single 6 shot seems about right as far as casting and sinking goes.

The water was very clear and I set the hook by sight when the fish touched the fly. There wasn't much room for the fish to run, so rather than try to turn it, I just followed the fish with the rod tip and let it drive around for awhile before I tried to bring it in. The hook was set very solidly in the upper lip and did not come out easily. I think the 7X tippet was a weaker link than the small hook.

The fish is equal to the length of the handle on my Trailite net which is 12". Also the first two joints of my thumb in the picture are 3" long and the fish is 4 thumb lengths.

The rod was my Soyokaze 27 with size 3 level line.
---
"The bitterness of poor quality remains long after the sweetness of low price is forgotten" – Benjamin Franklin
"Study to be quiet." - Izaak Walton 1653

"Be sure in casting, that your fly fall first into the water, for if the line fall first, it scares or frightens the fish..." Col. Robert Venables 1662
As age slows my pace, I will become more like the heron.

---
Warning:
The hooks are sharp.
The coffee's hot.
The fish are slippery when wet.
Beware of the Dogma

---