---
Please note: I will be away the first week of June. If you think you might want something then please order soon so I can ship it before I go.
---
Buttons that offer a choice of size, color, etc. show the stocks condition for top choice only! Make your choice to see if the item is in stock.

---
TenkaraBum Store Books

The term most used to describe tenkara is "simple."

Fellow tenkara angler Morgan Lyle has gone one better and has written a book on simple flies. There are some tenkara flies in the book, the iconic Ishigaki and the Takayama Sakasa Kebari, and some, like the CDC & Elk on the cover and the Stewart Black Spider (the first of the 52 patterns) that are not Japanese tenkara flies, but are certainly simple flies that work very well with tenkara rods. And of course, my favorite, the Killer Bug, is in there as well.
Truth be told, I don't think you need 52 flies. I do think, however, that you will find flies in this book that you will want to tie, and if you tie them you will catch fish with them. You could easily pick a couple wets, a couple nymphs and a couple dries and have a six pack of flies that will catch fish for you just about anywhere (and give you enough variation that you don't get bored with just one fly). 
One of the things I really like about the book is that Morgan "gets it" with respect to yarn bodied flies. He has several in the book, including one that I'd never seen or heard of before. They're dead simple to tie and they WORK!

I did have to rib Morgan at least a little bit, though. He wrote that I was a graduate of Colorado State when actually it was the University of Colorado. Worse, even though I was indeed a stock trader, I did not trade "at the New York Stock Exchange," which would have required so much money I could have just retired and gone fishing every day instead. Still, it is very flattering to have been included in his book.
Buy the book. You'll like it - and you'll learn from it - and you'll catch fish, which after all, is what it's all about.

simple flies - $20
---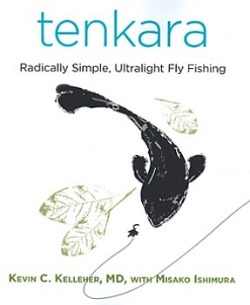 This was the first book on tenkara in English. I wish tenkara Radically Simple, Ultralight Fly Fishing had been written when I was starting out. Back then, very little information was available in English and the computerized translations of Japanese websites are really not very useful. Dr. Kevin Kelleher and Ms. Misako Ishimura (both tenkara anglers) have written an intro to tenkara for American anglers.
Tenkara Radically Simple Ultralight Fly Fishing - $20. More info...
---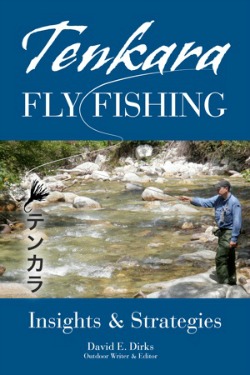 Reading Tenkara Fly Fishing Insights & Strategies is like sitting around a campfire and listening to a group of experienced tenkara anglers share some of their tips and tricks. You don't get to ask questions, but then again, you don't get smoke in your eyes, either.The book is a compilation of interviews with tenkara anglers. The interviews are not presented one by one, start to finish, but broken up so that it reads more like a panel discussion on various tenkara topics. It's a nice way to lay out the material and makes the book a more interesting read.
Tenkara Fly Fishing Insights & Strategies - $20. More info...
---
TenkaraBum Home > TenkaraBum Store > TenkaraBum Store Books
---
"The bitterness of poor quality remains long after the sweetness of low price is forgotten" – Benjamin Franklin
"Study to be quiet." - Izaak Walton 1653

"Be sure in casting, that your fly fall first into the water, for if the line fall first, it scares or frightens the fish..." Col. Robert Venables 1662
As age slows my pace, I will become more like the heron.

---
Warning:
The hooks are sharp.
The coffee's hot.
The fish are slippery when wet.
Beware of the Dogma

---