TenkaraBum No Vise Challenge - First Timer
by Roy Davison
(Prescott Valley)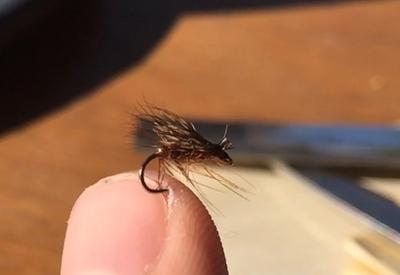 I made this fly similar to that of my last entry, since it was of the same batch. A dry fly hook, brown sewing thread, some separated yarn, partridge hackle, and deer hair. This one had the addition of some gold/bronze colored wire. I used it to catch 21 sunfish and bluegills, and 1 five-inch bass in my local lake. Although I catch plenty of fish to enjoy spending time there, I know I can catch much more, most of the fish I see are about 1/2 to 3/4 the size of the smallest one you see here. So I think I may have to add some tanago hooks or at least some 32s to my inventory soon.
Return to TenkaraBum No Vise Challenge.
---
"The bitterness of poor quality remains long after the sweetness of low price is forgotten" – Benjamin Franklin
"Study to be quiet." - Izaak Walton 1653

"Be sure in casting, that your fly fall first into the water, for if the line fall first, it scares or frightens the fish..." Col. Robert Venables 1662
As age slows my pace, I will become more like the heron.

---
Warning:
The hooks are sharp.
The coffee's hot.
The fish are slippery when wet.
Beware of the Dogma

---