TenkaraBum Events
The Fly Fishing Show
Somerset, NJ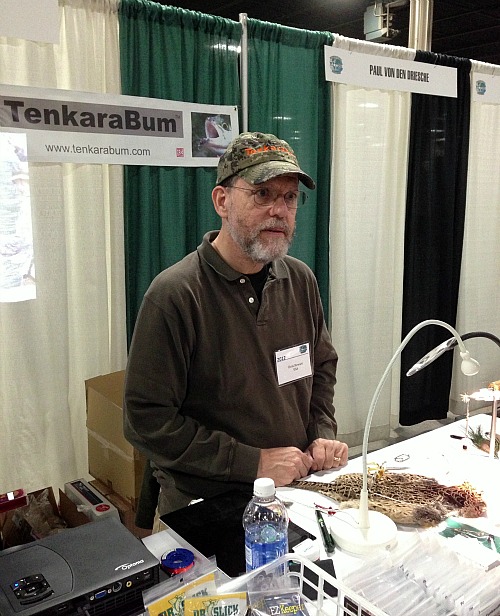 Photo courtesy Lou DiGena (at International Fly Tying Symposium 2012)

TenkaraBum will have a booth at the Fly Fishing Show in Somerset, NJ at the Garden State Convention Center January 25, 26 and 27.
Stop by to say "Hi", ask questions, see (and cast) some unique rods that you won't find anywhere else. Beginners Tenkara Kits, Kids Tenkara Kits, rods, lines, "One Fly" tying kits and selected tying materials will be available for sale at the booth.
And if you were ever thinking of getting a Soyokaze, this might be your last chance. I don't have that many left, and it would not surprise me if I sold the last one of them at the show.

Daiwa Nissin Shimano Shimotsuke Suntech

---
Trout Unlimited
Ridge and Valley Chapter
I will be giving a tenkara presentation to the Ridge and Valley chapter of Trout Unlimited on January 17. The meeting is at the Pequest Fish Hatchery, 605 Pequest Rd. Oxford, NJ. Email Fredy at ridgeandvalleytu dot org for details.

---
International Fly Tying Symposium
I will be tying tenkara flies at the International Fly Tying Symposium this coming weekend (November 17-18). The Symposium will be held at the Garden State Center, 50 Atrium Drive, in Somerset NJ. In addition to tying flies and answering any questions you may have about tying tenkara flies, I will have tenkara rods (as well as seiryu and keiryu rods) available to wiggle, cast and buy. I will also have lines, flies, DVDs, nets, etc.
This is the world's largest fly tying show, with over 100 tyers from around the world. Venders there will have all the materials you could possibly want, although I bet I'll be the only one with Utah Killer Bug Yarn and eyeless tenkara hooks.
Garden State Center
50 Atrium Drive
Somerset, NJ
Saturday Nov. 17, 9-5
Sunday Nov. 18, 9-4:30
For more information: International Fly Tying Symposium home page.
---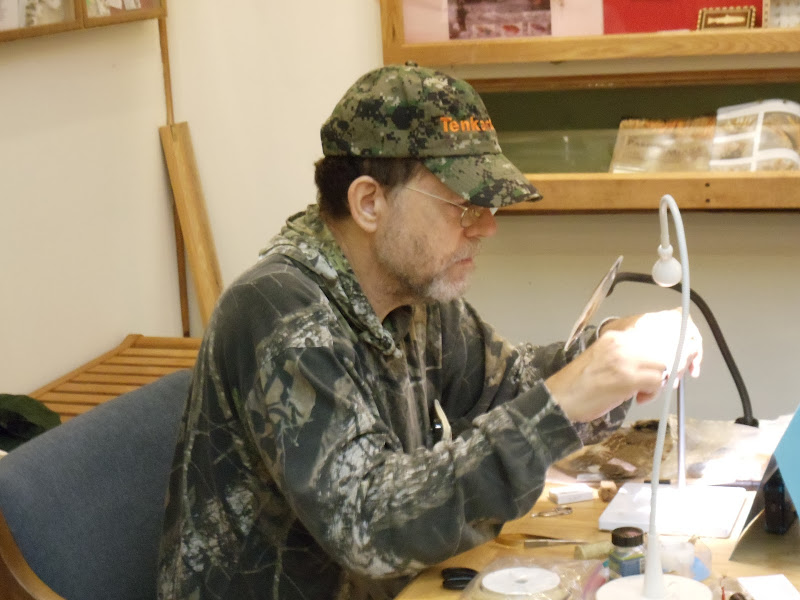 Tying at the Catskill Fly Fishing Center and Museum
Photo by Ray "letumgo" Tucker
Return from TenkaraBum Events to TenkaraBum Home
---
"The bitterness of poor quality remains long after the sweetness of low price is forgotten" – Benjamin Franklin
"Study to be quiet." - Izaak Walton 1653

"Be sure in casting, that your fly fall first into the water, for if the line fall first, it scares or frightens the fish..." Col. Robert Venables 1662
As age slows my pace, I will become more like the heron.

---
Warning:
The hooks are sharp.
The coffee's hot.
The fish are slippery when wet.
Beware of the Dogma

---