Some shipments are still delayed. If you are planning a trip, please order well in advance.
---
Tenkara Starter Kits
The Tenkara Starter Kits have been very popular ever since I first introduced them. They are an easy way for someone new to tenkara to get what they need to start out. The kits contain a rod, a matching line and a pair of line holders. Initially, I packaged flies and tippet with the kits, but most of the buyers had been fly fishing for years and already had both tippet and flies. The kits now have what you need to go from fly fishing to tenkara fishing. If you have never fly fished before, flies, tippet and streamside tools are also available to go with the kits.
---
Small Stream Starter Kit

The Small Stream Tenkara Starter Kit has what you need to start tenkara fishing in small streams. You don't need much, but for small brushy or overgrown streams you really do need a short rod.
It has been quite a while now since I wrote Rethinking Rod Choice - Many. Some things haven't changed - a short rod really does make a lot of sense if you want to fish small streams; and some things have changed - the outfit that insisted tenkara rods were 11' or longer now sells a 9' rod.
I was reminded of the value of short rods when Dave Hughes sent me a copy of his Trout from Small Streams, second edition. He included a chapter on tenkara, and in it wrote some very interesting things about what he calls "downsized tenkara" - tenkara fishing with downsized rods for really small streams.

The Suntech Keiryu Special 27 that the Small Stream Starter Kit is built around is a very nice rod for fishing small streams. It's very light and very sensitive, just the ideal rod for small streams.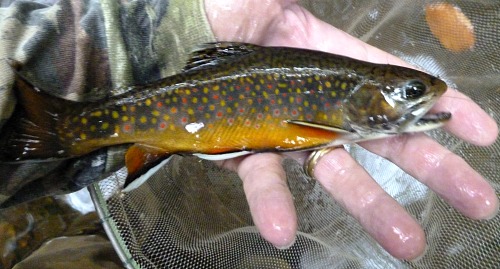 Brook Trout
---
Kids Tenkara Kit

Tenkara is definitely the easiest way for kids to learn fly fishing. Line management is probably the hardest thing to learn for a beginning fly fisher, but it couldn't be easier in tenkara. Need to take slack out of the line? Raise the rod tip.
Casting a tenkara rod is almost as simple. You can have your kid catching fish in minutes.
I have discontinued the Kids Tenkara Kit. Most buyers already have line, tippet and flies -  they just need rods that are appropriate for kids.
No sense buying stuff you don't need. The kid-sized rods, which you will need, are here: Kids Tenkara Rods.
---
Keiryu Starter Kit

---
I have discontinued the Keiryu Starter Kit and will discontinue the other kits as well. Basically, maintaining kits when the same items are available separately and as part of the kit is an inventory nightmare. Now, all the components are still available, but they will require separate purchases.
The Keiryu Starter Kit was built around a Nissin 2-Way 540ZX medium keiryu rod, which is a very capable rod that won't break the bank. Also included are a package of Owner Keiryu Rigs (two fully rigged keiryu lines, two extra snelled hooks, six lead-free split shot) and one package (on pair) of Tenkara Line Holders.

You'll still need to collect nymphs or caddis larvae from the streambed you are fishing (where it is legal), or bring red wigglers, waxworms, or salmon eggs. Nightcrawlers are much too large and are not recommended.
In Japan, where tenkara originated, keiryu fishing with bait remains probably ten times more popular. I have found it to be extremely effective but have also found that the same rig and fishing style is also extremely effective for use with weighted nymphs, whether heavily weighted like Czech nymphs or lightly weighted like Killer Bugs and Killer Buggers.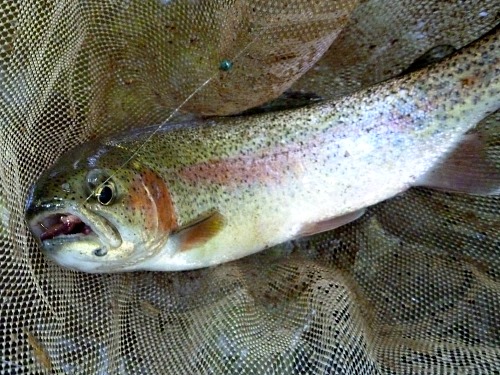 Rainbow caught while keiryu fishing.
---
TenkaraBum Home > Tenkara Starter Kits
---
"The bitterness of poor quality remains long after the sweetness of low price is forgotten" - Benjamin Franklin
"Be sure in casting, that your fly fall first into the water, for if the line fall first, it scares or frightens the fish..." -
Col. Robert Venables 1662
As age slows my pace, I will become more like the heron.

---
Warning:
The hooks are sharp.
The coffee's hot.
The fish are slippery when wet.
Beware of the Dogma

---