Tenkara Jam Review
The first Appalachian Tenkara Jam was held Oct. 11-12, 2014 in Foscoe, NC. It was so well received that I'm sure there'll be more Jams! Kudos go to Jason Sparks, Lance Milks and Bob Ivins for organizing and pulling off an event that has been talked about for several years now: the first open, multi-vender gathering of tenkara enthusiasts in the US.
I suppose one could argue that the summits have been multi-vender: one rod vender, one pack vender, one book vender, etc. At the Jam there were six rod venders! There were more tenkara rods, keiryu rods, seiryu rods, tanago rods and kit rods under one roof than there have ever been in the US. Anyone at all curious about different rods had an unmatched opportunity to try them out. And, of course, you could still get packs from ZimmerBuilt and books from me.
The Jam was a two day event, with the first day being a number of presentations at the Grandfather Community Center in Foscoe, NC. The second day was outdoors at the community park in Valle Crucis, NC a few miles away.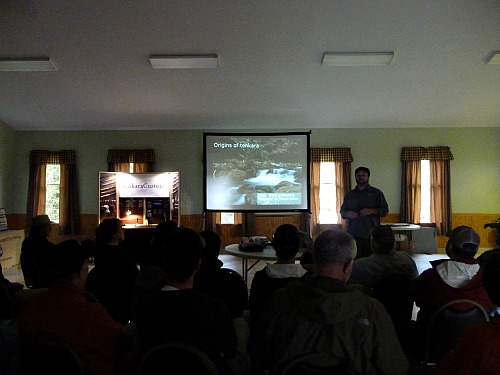 Jason Sparks kicked things off with an intro to tenkara for the few attendees who were completely new to it. Very much by the book, and with no hint that things were soon going to stray from the presentations one could have heard at any summit.

Adam Omernick then gave a presentation on tenkara lines, and I suspect some people may have been surprised to learn that there are more lines than just level and "traditional." To be honest, I'm not sure he even mentioned the word "traditional." He covered level lines and furled lines, to be sure, but then strayed into horsehair lines and hybrid lines - topics I'm guessing were not covered a couple weeks earlier in Boulder.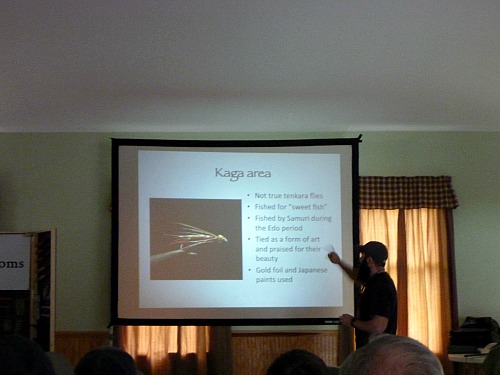 Lance Milks took us further afield with his discussion of flies. The Ayu fly shown on his slide is about as far as you can get from an Ishigaki Kebari. He passed around some of the flies he tied, and his Kaga area ayu fly did look mighty nice. Whether or not you'd call it a kebari, it certainly looks like it would catch fish. Brookies would be all over it.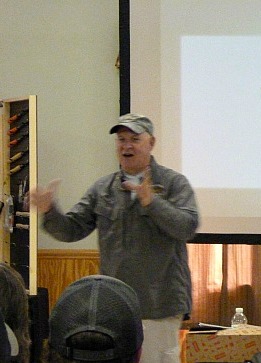 I couldn't get a good shot of Tom Sadler. He wouldn't stop moving. The light was a bit low so my camera may have been shooting at 1/30 second, but I am very sure there was never 1/30 of a second during his whole presentation when he was stock still.
Tom is a fabulous spokesman for tenkara. His enthusiasm is contagious. If it wasn't for that he probably would have been kicked out of the Certified Tenkara Guide program because he insists on using, and publicly advocating, PVC coated floating lines for tenkara.

During his presentation, Tom explained that the flies they fished - including big ugly hoppers rather than cute little kebari - required the heavier line to cast. The goal was to drop the fly just off the grassy bank so it looked like a hopper that had misjudged it's jump or lost it's grip. He said you had to do it from far enough away that the cast just was not possible with a level line or a furled kevlar line.
It would have been horribly impolite to interrupt, but you don't need a floating line, you just need a rod that as a Certified Tenkara Guide you're not allowed to use. Discussing the needed cast with Rob Worthing, who as one of the Tenkara Guides in Salt Lake City actually designed the Certified Tenkara Guide program, we both agreed that we'd made casts of that length with big ugly hoppers and level lines. We just used rods that were up to the task. The Tenkara Guides are no longer part of the Certified Tenkara Guide program, largely because they will not limit themselves to using one brand of rods when others better meet their needs.

And that truly illustrates the groundbreaking nature of the Appalachian Tenkara Jam. Anyone who wanted to try a longer or beefier rod had that opportunity on the second day - and more than a few people tried some longer, beefier rods than they've ever cast before! I am sure more than a few people who've never fished anything other than a TenkaraUSA rod had their eyes opened - trying out a Nissin Zerosum or Daiwa Kiyose 43M or a Suntech Kaname 63 for the very first time - not to mention Badger, Zen, Riverworks and Custom rods!

There were other presentations on the first day but the lighting was tricky and I did not get good photos. Al Alborn gave a nice talk about a few streams he really likes - nothing like some local knowledge when fishing a new area. I do wish they weren't so far away. They sounded pretty nice. He also talked about Project Healing Waters and the benefits that fly fishing - and tenkara - can have for wounded veterans.
John Cianchetti of Tenkara Customs built a custom tenkara rod while we watched (and no, it was NOT like watching glue dry)! I later ordered one of his Winn grips to experiment with.

Matt Sment talked about reading water, and about the Driftless region of Wisconsin (and supported Tom Sadler's use of floating lines). I may have to get out to the Driftless region some time. It sounds very nice. The Appalachian Tenkara Jam may not make it that far west, but I would not be surprised to hear of an open, multi-vendor tenkara gathering in the Driftless area next year or the year after. You can be sure that if I do go, though, I'll fish my hoppers with level lines

Rob Worthing gave an excellent presentation on catching big fish on fixed line rods, and had photos that proved he knew what he was talking about. The lighting wasn't good enough to get a shot of some of his fish, but "as long as your arm and big around as your leg" gives you the appropriate mental image. I am certain that a roomful of Japanese tenkara anglers would be absolutely astounded seeing the size of fish Rob's caught with a tenkara rod. As to where he caught them, it always sounded like "just down the road."

All in all, a tremendous amount of information was crammed (dare I say Jammed) into one afternoon and evening.

On the second day we gathered at a pavilion in the Valle Crucis community park. Jason gave us the rundown, which was pretty much "do whatever you want." It was a much less formal day, with some people immediately heading for the Watauga River (just out of view in the background of the photo above).
In addition to the vendors laying out their wares on the picnic tables, there were some informal lessons on rod set-up and casting, and quite a few people trying out different rods. Some of the more experienced tenkara anglers took newbies under their wings and got them casting - and catching - on the Watauga.
I realized after the fact that I hadn't taken any photos on the second day, other than Jason giving his opening remarks. The day seemed to go by very fast and before I knew it the time had come to break down the display and pack up the rods.
There was a bit of time after we had packed up and before all the vendors and organizers were getting together for dinner. Jason had mentioned that in addition to the Watauga River at one edge of the park there was a tiny little stream, rarely fished, at the other edge of the park. When Lance happened to mention that it held Warpaint Shiners I new where I was going to fish. If the choices are hatchery trout or wild shiners, especially shiners I've never caught before, I'll choose the shiners most of the time.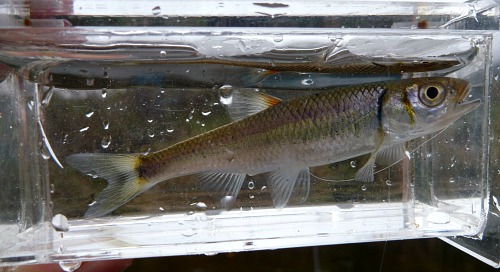 I caught a Warpaint Shiner that was larger and much more brilliantly colored than this one, but it was too large to fit in my photo tank and slipped out of my hand while I was trying to get a photo. Still I caught the fish I wanted to catch - one I can't catch at home.
All in all, it was a wonderful weekend. If you get a chance to go to a Tenkara Jam, go! 

---
TenkaraBum Home > Trip Reports > Tenkara Jam Review

---
"The bitterness of poor quality remains long after the sweetness of low price is forgotten" – Benjamin Franklin
"Study to be quiet." - Izaak Walton 1653

"Be sure in casting, that your fly fall first into the water, for if the line fall first, it scares or frightens the fish..." Col. Robert Venables 1662

---
Warning:
The hooks are sharp.
The coffee's hot.
The fish are slippery when wet.
Beware of the Dogma

---