Some shipments are still delayed. If you are planning a trip, please order well in advance.
---
Tenkara Creel
The wizards at TrailLite Designs have done it again. The Tenkara Creel is the most innovative thing to come along since they developed the Ebira Rod Quiver. And for backpackers, it's just about as handy.
If you are a dedicated catch and release angler, you need read no further. No point in elevating your blood pressure.
If, however, you are a backpacker who will rely on the protein and calories from fresh fish to supplement your freeze-dried diet, read on.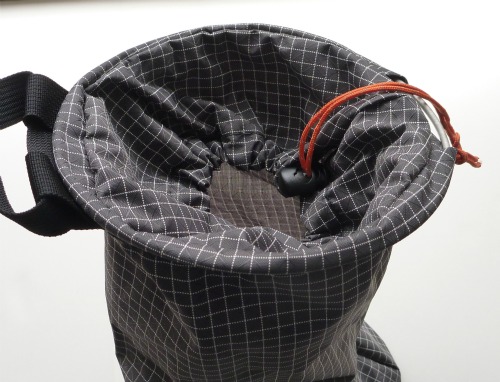 One of the great things about tenkara (and about the Ebira) is that it is so easy to fish for a few moments here and there when the trail follows or crosses a stream. The problem until now has been in how you keep your catch during that time interval between hook and cook.

Traditional creels are bulky and quite possibly may draw scorn from other hikers or from other anglers. The tenkara creel packs flat when not in use, holds your catch, can be dipped in the stream to keep it cool, and can be washed afterwards to keep it smelling fresh. (And you don't actually have to be a backpacker to use it, either.)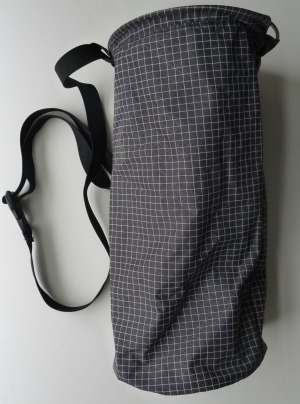 It has a nylon web belt with a quick release buckle, making it easy to carry and easy to take off to dip in the stream, keeping your catch cool. The bottom of the creel is mesh to allow it to drain and to provide plenty of ventilation.
At the top of the creel is titanium ring of about 6" in diameter, which together with gravity causes it to hold its shape. There is a very cleverly designed funnel shape to the top of the creel, making it easy to slide fish in. The opening of the funnel can be adjusted with a drawstring so you can open it completely to get your fish back out.
From top to bottom, the creel is about 13" deep, providing plenty of space to keep several good sized fish if you are planning on dinner for more than one. Despite the size and functionality of the creel, it weighs just 3.2 ounces.
International shipments require additional postage. If you do not live in the US you must add shipping. Please click on the appropriate button below.
Tenkara Creel - $65
---
Shipping
Domestic shipping is $4, via USPS First Class Mail (unless ordered with an item that must go via Priority Mail, and which has a higher shipping charge). The charge is added to your order automatically.
Please note: All packages are shipped via USPS. If you have a PO Box, please list ONLY the PO Box in your address, not the PO Box and your street address.
If you live in an apartment, please put the apartment number on the same line in the order form as the your street address, for example
John Doe
123 Main St Apt 4
Yourtown, XX 12345
Just leave the second line blank! Please! It takes you more time to put something in it and it takes me more time to take it back out. If you need it for a business name, use it. Otherwise, please leave it blank. No dashes, no nothing.
The charge for international shipping depends on the destination country, the weight of the package, the overall length of the package and the value of the package.
International purchases may be subject to import duties and taxes. I cannot keep track of all import regulations in all countries written in all languages. Understanding and paying import duties and taxes are the responsibility of the buyer.
---
TenkaraBum Home > Tenkara Accessories > Tenkara Creel

---
"The bitterness of poor quality remains long after the sweetness of low price is forgotten" - Benjamin Franklin
"Be sure in casting, that your fly fall first into the water, for if the line fall first, it scares or frightens the fish..." -
Col. Robert Venables 1662
As age slows my pace, I will become more like the heron.

---
Warning:
The hooks are sharp.
The coffee's hot.
The fish are slippery when wet.
Beware of the Dogma

---