Tacky Fly Boxes
I first heard of Tacky Fly Boxes in late 2014 when they launched a Kickstarter campaign to get their new business up and running. It's up and running now, though, and from the look of their fly boxes I'd say it's running on all cylinders.
After that first look a year ago I have to admit they kind of fell off my radar. I carry a number of other fly boxes - both in the store and on the stream - and there's lots of boxes I don't carry.
Then I got an email from John Vetterli of the Tenkara Guides in Salt Lake City. Over the years, I have come to trust his views. What he had to say about the Tacky Fly Boxes was: "Have you checked out the Tacky Fly Boxes yet? I have been field testing the new smaller size box and it is fantastic. Perfect for tiny flies. The silicone insert does not develop memory deformation like the slit foam boxes."
That was good enough for me. I contacted Tacky Fly Fishing, got their dealer packet and became a new Tacky dealer. I must say, everything about the company was impressive, from their website to their dealer packet to the phone and email interactions I've had with the company.
If anything, that feeling was increased by actually seeing the boxes.
I decided to carry both the Tacky Original and the smaller Tacky Day Pack, although I suspect the Day Pack will be more popular among tenkara anglers. It is their smaller box, yet it still holds 180 flies. You hear a lot about "one-fly" anglers, but neither you nor I have ever heard of a 181 fly angler! 
The Tacky Day Pack is actually a little bigger than I had expected at a full 5 inches long.  Still, it fits in the BW Sports Tippet Fly Pouch, which is pretty much how I decide if a fly box is the right size. If you wear one of those long sleeve fishing shirts, the Day Pack will fit in the pocket, and you can still button the flap so it won't fall out when you bend over to unhook a fish.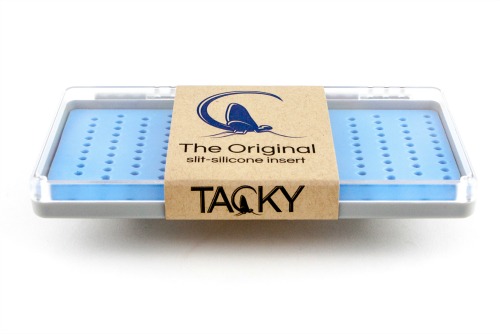 The Tacky Original box is a bit big for the Tippet/Fly pouch, and it won't fit in a shirt pocket, but a lot of tenkara anglers do wear fishing vests. For some reason, tenkara has become associated with no-vest minimalism here in the US, but a few Japanese anglers (Dr. Ishigaki, Tenkara no Oni, Hiromichi Fuji, Yoshikazu Fujioka - basically most of the guys you've ever heard of) actually do wear vests. If you wear a vest, the Original box fits beautifully.

Tacky Fly Boxes - Features

Durable Polycarbonate construction
Clear lid for visibility
Blue background for contrast
Slit silicone material hold flies tightly
Magnetic closure
Day Pack has double lanyard loops
Original - 7" X 3.5" X .75", 5.4 oz
Day Pack - 5" X 3" X .75", 3.1 oz

Tacky Day Pack - $20
Out of stock
Tacky Original - $25
Out of stock
---
---
Shipping
Standard shipping is via USPS First Class mail.
A shipping/handling charge of $4 will be added to all orders.
If you live outside the US, you must add more postage unless the items on this page are mailed with a rod!
Please note: The buttons below only add the postage, they are not for the product AND the postage. You must click on the product button above also.

TenkaraBum.com does not sell to residents of Norway or any other county of the European Union or the European Economic Area.

---
Where do you live?


---

USA


Add this amount for shipping.


---

No additional postage required for First Class mail.
(Total charge $4)

---

Canada or Mexico


---

Additional $6 postage required. (Total charge $10)

---

Other Country


---

Additional $10 postage required. (Total charge $14)
---
---
Priority Mail Upgrade - U.S. Only

2-3 day shipping (U.S. only)
First Class should be just as fast for people living east of the Mississippi.
Do Not click if your order includes a rod, wader gaiters, 3x5 Photo Tank or Daiwa Keiryu Damo. They already go via Priority Mail.
Domestic Priority Mail Upgrade - Additional $3
---
---
Payment
Payment is processed by PayPal but you don't need to have a PayPal account. You can use your credit card.
---
TenkaraBum Home > Tenkara Accessories > Tacky Fly Boxes

---
"The bitterness of poor quality remains long after the sweetness of low price is forgotten" – Benjamin Franklin
"Study to be quiet." - Izaak Walton 1653

"Be sure in casting, that your fly fall first into the water, for if the line fall first, it scares or frightens the fish..." Col. Robert Venables 1662
As age slows my pace, I will become more like the heron.

---
Warning:
The hooks are sharp.
The coffee's hot.
The fish are slippery when wet.
Beware of the Dogma

---