Some shipments are still delayed. If you are planning a trip, please order well in advance.
---
Suntech Kurenai HM39R

The Suntech Kurenai HM39R is the best rod nobody buys. That's not quite true. People do buy it, just not nearly as many as I would expect given the quality of the rod. I see a lot of rods (heck, I sell a lot of rods - if you count up all the lengths and all the actions of all the rods, it's over a hundred possible variations). The Suntech Kurenai HM39R is truly one of the best.
Of course, which rod is "best" is largely dependent on what you intend to use it for. I've never done a survey (and have strong doubts about the accuracy of most surveys anyway), but I suspect that most American fly fishermen (and tenkara anglers) mostly catch stocked trout.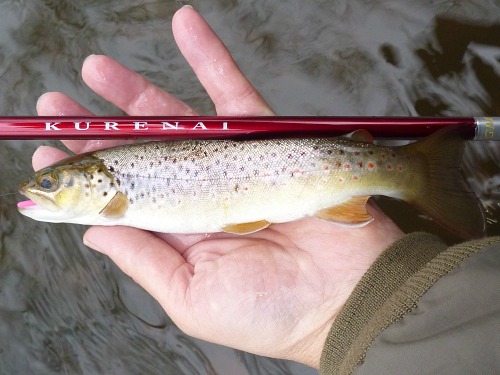 Different states stock different trout, but I believe most stocked trout are 9-10". Some states stock some two year old trout (about 14") but I think by far, most are one year olds, which are generally about 9 inches.
Holdover trout will be about 14-15" the second year. If they hold over to the third year, they've seen thousands of flies and lures and they probably eat mostly at night and you're probably are not going to fool them or at least not very often. Most anglers don't catch many trout over 15 inches.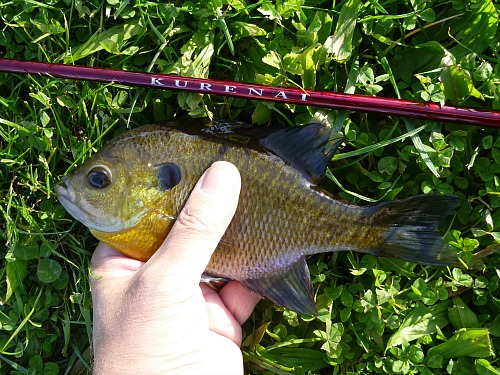 A lot of people in the US don't have trout streams nearby. Luckily, most places that don't have trout have a ready supply of sunfish. Fly fishing for sunfish doesn't get written up in the magazines that much, but a lot of people do it. (The not-so-secret secret is a lot of people who do have trout nearby fish for sunfish, too.)
The average stocked trout and the average sunfish are the ideal size fish for the Suntech Kurenai HM39R. For that matter, above average sized stocked trout and above average sized sunfish are also within the capabilities of the the rod.
Most readers of TenkaraBum.com know I often fish with a guy I call Coach. His "go-to" rod is the Suntech Kurenai HM39R, whether we are fishing for trout, sunfish or bass. We fish together often enough that he has tried nearly every rod I have in stock. None are horribly expensive, so he could fish with any rod he wanted. He almost always fishes with the HM39R.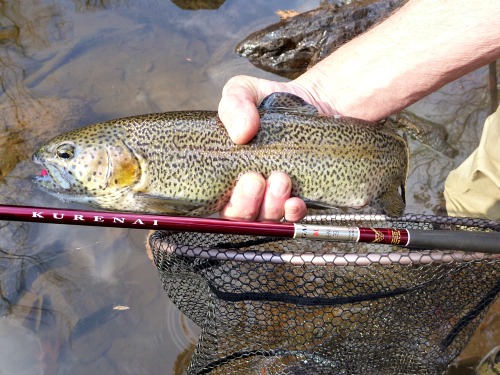 Most of the trout we catch, as well as most of the bass (and all the sunfish) are under a pound (roughly 12.5" for bass and 14" for trout). He has caught trout a bit longer than that, including the one pictured above, and had one much longer right up to his feet but couldn't get it into his net. He's caught bass that probably went two pounds.
The rod is a lot more capable than you would think, given its 6.5X max tippet limitation. I'm not sure the tippet limitation is what is limiting interest, though. The rod is very, very good at protecting light tippets. I fear people might think it is a small fish rod because my page on the Suntech Kurenai spends 80 percent of the time talking about little wild trout in little wild streams or about micros (which are even littler wild fish).
That part does hit home, though, and the much shorter HM30R is one of my biggest sellers. People absolutely love the rod. What is surprising (to me, at least) is the Suntech Kurenai HM39R is just as sensitive, damn near as light, more capable (because of it's length and the fact that the added sections are the stiffer ones near the grip so the rod has much more backbone), yet it doesn't get the love, or at least doesn't get the sales.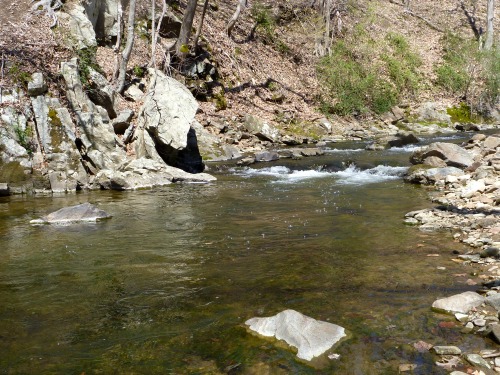 People buy the HM30R mostly for the tiny little streams, but most of the places most people fish are more open - places where you could easily use a 13' rod. The stream shown above is not large by any means, and Coach fishes it regularly with his Suntech HM39R. It's not stocked, but most of the fish we catch are the same 9-10" with a few up to 14".

I'm not complaining, I'm perfectly happy to sell the shorter HM30R, as well as the Nissin Royal Stages or Zerosums in the longer lengths. I'm just perplexed that the love affair with the HM30R doesn't extend to the HM39R as well. It really is an absolutely wonderful rod for the size stream most people fish and for the size fish most people catch.
You have a choice - you can fish with a rod that can easily handle the largest fish you're likely to hook, but will be overkill for 99% of the fish you'll actually catch, or you can maximize the fun factor for the overwhelming majority of the fish you do hook, while forever remembering the ones that got away. I know which one I'd choose!
Suntech Kurenai HM39R Features


The Suntech Kurenai grips are smooth to the touch but the covering is still a very effective non-skid finish. A grip that is smooth but not slick may not be what you expect, but it works.

The grip is narrower than on the tenkara rods you may be familiar with, but the rod is incredibly light. You grip it with you finger tips, not your palm. I have not felt the grip is too narrow, and I doubt you will either. In Japan, anglers who use similar rods for tenkara fishing occasionally build up the grip with the wrapping material used for tennis racquet grips, but I have never felt it was necessary.

The rod has a swivel attachment for the lillian similar to that that used by the high end Daiwa tenkara rods. It really does help reduce line twist and they are carefully engineered so that the tip section easily passes through the #2 section for disassembly.
The tip cap has a very snug fit and will not slip off by itself (as I have had happen with tenkara rods from more than one manufacturer). The grip cap has a hole for ventilation, but I would recommend taking the rod apart after each use to let it dry completely. Putting a rod away wet can ruin the finish. Be sure to keep it in a safe place while it is in pieces, though.

Weight
Length (extended)
Length (collapsed)
Sections
Tip Diameter
Butt Diameter
Tippet
Pennies

HM39R
1.5 oz
12' 10"
23.5"
8
.5mm
18.3mm
9X-6.5X
12
Suntech Kurenai HM39R - $215
TenkaraBum Home > Rods > Suntech Kurenai HM39R

---
"The bitterness of poor quality remains long after the sweetness of low price is forgotten" - Benjamin Franklin
"Be sure in casting, that your fly fall first into the water, for if the line fall first, it scares or frightens the fish..." -
Col. Robert Venables 1662
As age slows my pace, I will become more like the heron.

---
Warning:
The hooks are sharp.
The coffee's hot.
The fish are slippery when wet.
Beware of the Dogma

---