Some shipments are still delayed. If you are planning a trip, please order well in advance.
---
Suntech Kaname
The Suntech Kaname is a premium quality keiryu rod, made in Japan by a company that specializes in long rods. Suntech is known primarily for their ayu rods, but they also make truly excellent keiryu rods.
I got a Kaname 2H 63 several years ago and from the very beginning have absolutely loved the rod. At the time, I wasn't sure anyone would want a rod that long and decided not to import them. Of course, when I first got a 12' tenkara rod, back in 2008, I felt the exactly the same way. Boy was I wrong on that one.

In the past year, more people have become convinced of two things. First, they've realized that a longer rod really does offer significant advantages. A lot of people have told me that my "long rod - short line" essays have really opened their eyes to the benefits. Most of them are fishing with 4.5m rods, but I'm getting more and more questions about 5.4 and 6.3 meter rods.
Second, they have also discovered that keiryu fishing as it is done in Japan is interesting, challenging, very productive and just a lot of fun. That is something I have been more than a little nervous about. I was concerned that writing about fishing with bait (which is how the rods are used in Japan) might trigger a backlash among fly fishing purists, but at least to date I haven't noticed any.
If anything, it has been the opposite. People that had never mentioned it before are coming forward and saying that they occasionally fish with bait. A couple have said that now they've tried keiryu fishing, they'll probably concentrate on it rather than tenkara in the future.
Of course, the incredibly successful evening that Craig Thoreson and I had at last year's Midwest Tenkara Fest with our keiryu rods has greatly increased the interest in keiryu fishing in general and long rods in particular.

Dual Use - Tenkara

One of the things I particularly like about the Kaname rods is that they are versatile - not in the sense of multiple lengths, because they are not zoom rods, but in the sense that you can do both tenkara and keiryu fishing with them. (I think I just offended tenkara purists and keiryu purists BOTH.)

The Suntech Kaname 2H 63 casts a size 3 tenkara line so well you might think it was designed for it. Someone who does not and will not ever fish with bait can still find an awful lot to like with the Suntech Kaname rods.
The greater length of the rods compared to tenkara rods opens large rivers to tenkara techniques. Tenkara anglers in the US fish large rivers now, but there is a lot of the river that they can't fish - or can't fish effectively. "Long line tenkara" does extend the reach of a tenkara rod, but it is almost exclusively a technique for fishing across and down, using the force of the current against the fly to keep the line taught.
With long line tenkara, though, you can't keep the line off the water when fishing upstream and you will have to start hand lining a fish long before the fish is ready to come in. If you are catching the 9-10" fish they catch in Japan, that poses no problem. If you hook a 19-20" fish, though, which is a definite possibility in most of our larger rivers, it is no longer an easy undertaking.

If you want to fish upstream or up and across on big water, you'll want a longer rod, not just a longer line. To get the truly outstanding drag free drifts that are possible with tenkara rods, you cannot use long lines. If you use a long rod, rather than a long line, you can get those fantastic drifts further away.
If you use an even shorter line, with the line plus tippet several feet shorter than the rod, you would fish at distances you could fish with a long tenkara rod, but you could do it better with much better drifts. I recently had my best day ever on a stream I fish a lot - and I put that down to using a short line and a Killer Bug with a Suntech Kaname 63.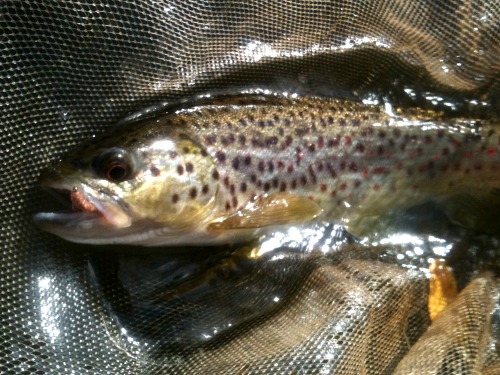 The Suntech 63 has an action that is about what a tenkara angler would expect from a 20' mid flex tenkara rod. It is neither particularly stiff nor particularly whippy (I do not have the capability of doing penny measurements on rods this long). The rod is much more mid flex than most of the other keiryu rods of that length that I have fished with. The Daiwa Kiyose 53M and Nissin Air Stage (keiryu) 53 and 62 are more tip flex (especially the Air Stage). The Nissin 2-Way 540 and 620ZX are also mid flex rods, but are much heavier. The relatively new Suntech Kieryu Sawanobori 63 is a bit more mid flex than the Kaname and feels just a bit stiffer overall.

The Kaname is rated for tippets up to 5X, which puts it squarely in the tenkara range. The largest fish I have caught with it was only 15-16", but I would not doubt that it could handle fish that are considerably larger. I wouldn't fish for steelhead with it, and there are beefier rods I would use instead of the Kaname for carp, but I certainly wouldn't shy away from any trout you could catch with a tenkara rod.

The rod also comes in a 54 (5.3 meters) and a 72 (7.1 meters). I haven't seen the 72 but I've had one Kaname 2H 54 in stock. It has a very different feel than the 63. It is noticeably lighter and feels like it has a much lower swing weight.

When casting, a long rod's own inertia helps to load the rod. The Kaname 54 is light enough that it doesn't feel like there is that much inertia. That, plus the tip flex design makes the rod feel noticeably stiffer when casting than the Kaname 2H 63.  In the 5.4m length, I much prefer the Keiryu Sawanobori.

Dual Use - Keiryu

As good as the rods are for tenkara fishing (and they're mighty good), they are really very good for keiryu fishing. Since I am not a purist, by any stretch of the imagination, I will define keiryu fishing as fishing with an extremely light line, markers on the line so you can see the line and strikes, and weight added to the line or the hook, which provides enough weight to cast and to get the hook further down in the water column. To me that style of fishing is the same whether the hook holds a live nymph or an artificial nymph.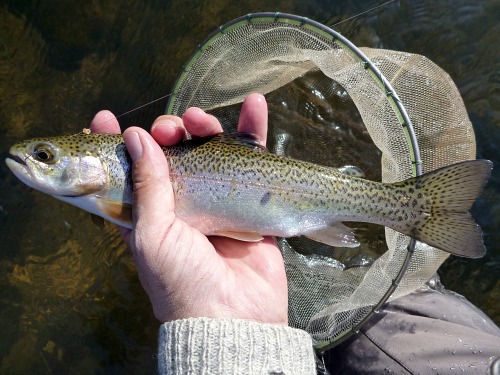 The rods are quite capable of casting (and protecting) an extremely light line. The Kaname is rated for anything from 5X down to 9X. One advantage of a lighter line is that you can get by with less weight. With a 7X line, you can cast a size 12 Killer Bug with no added weight. The wet wool and the copper wire underbody are sufficient. When using split shot and live bait, I've used anything from a single size 6 shot to two BB shot, depending on the water depth, current speed and the amount of breeze.
Despite being rated for a line as light as 9X, the Suntech Kaname is not one of the Zero Tension rods like the Suntech Suikei ZPRO or Daiwa Zero. It does not have the stiff tip of a Daiwa Kiyose but it is just stiff enough thoughout it's length to set the hook and to subdue fish that would be too much for the much softer ZPRO rods.
For keiryu fishing, you do want a longer rod than for tenkara fishing. With a split shot on the line, or with a bead head nymph, the line will definitely try to hang straight down from the rod tip. The reverse hackle of a sakasa kebari acts like a parachute under water, resisting the pull of the line. A split shot doesn't. The 5.4m or 6.3m (or even 7.2m) lengths are the popular lengths for keiryu rods in Japan for all but the smaller headwaters streams.
Tenkara rods start feeling tip heavy at about 4 meters. Longer keiryu rods are fished with two hands, which greatly reduces the feeling of tip heaviness. It is much easier on your wrist (and your shoulder).
Fred Krowchenko, one of the owner/instructors at Spey Casting North East, told me that a number of their students come to them to learn two handed casting after shoulder injuries prevent them from casting one handed. The long, heavy two handed Spey rods are easier on the shoulder than a 9' fly rod.
With two handed casting and keiryu rods, you not only get the great drifts at longer distances, the casting itself is much easier on your wrist and your shoulder. (And if you fish with Fred on his home water, you always have a chance of catching Atlantic Salmon (small Atlantic Salmon to be sure, like the one shown above left, but Atlantic Salmon nonetheless.)

And finally, don't think they're just for trout. The Kaname's length gives you a lot of reach, which certainly comes in handy when fishing lakes. Smallmouth bass put up a great fight, but the bend in the rod absorbs the runs and subdues the fish faster than you would expect.

Suntech Kaname Features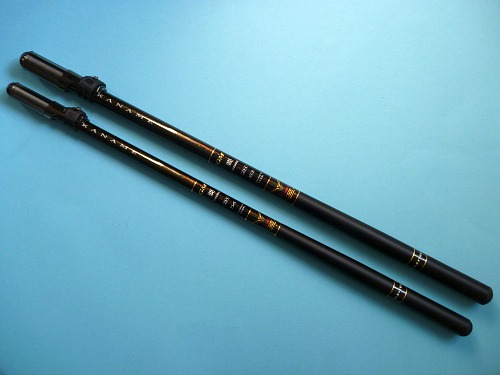 As with all the keiryu rods I've seen, the grip is just a widened out section of the blank itself, covered with an effective non skid coating. On the Suntech Kaname rods, the nonskid area is longer than on many other keiryu rods at 9 3/8".


The finish is also similar to many keiryu rods, with gold sparkles in a clearcoat finish on the grip section and black paint on the rest of the sections. All but the last three sections have thin gold bands at the section ends.
The lillian is attached with an extremely fine swivel, which does help reduce line twist, and which fits easily through the second section.

The Suntech Kaname 2H 63 comes with a Fuji KTC-20 Rod Cap. The grip screw cap is plastic, knurled for easy gripping, rounded for comfort, and have a ventilation hole.
Kaname 2H 63
Weight (without tip cap) 4.3 oz
Length (extended) 20' 5"
Length (collapsed) 23 1/2"
Tip Diameter - .75 mm
Butt Diameter - 22.5 mm
Sections - 13
Carbon % - 99
Tippet - 9X - 5X
Just to be clear, Suntech has (or at least has had) several "Kaname" rods. The rods on this page are the Kaname 2H rods. I have not seen their 3H rods.

The Kaname is not what most people would consider a "starter" rod. It is not the most expensive keiryu rod by any means, but there are a number of rods that are considerably less expensive. The saying "you get what you pay for" still applies though, certainly with respect the the Suntech Kaname. It is a seriously nice rod.
The Suntech Kaname 2H 63 is out of stock and is out of stock at Suntech as well. I hope to have the Suntech Keiryu Sawanobori 63 back in stock soon. They are quite similar rods and everything said about tenkara and keiryu fishing with e Kaname 2H 63 applies equally well to the Keiryu Sawanobori 63. The FMX Keiryu stiff 62 is similar, although a bit more full flex and a bit heavier. The Aoi ZPRO 63 is more of a tip flex rod and is quite a bit softer. It is rated for a maximum of 6X tippets. The Nissin 2-Way 620ZX stiff is both stiffer and heavier than the Kaname.

Shipping
A shipping charge of $10 will be added to all orders.
---
Payment
Payment is processed by PayPal but you don't need to have a PayPal account. You can use your credit card.
---
TenkaraBum Home > Tenkara Rods > Suntech Kaname

---
"The bitterness of poor quality remains long after the sweetness of low price is forgotten" - Benjamin Franklin
"Be sure in casting, that your fly fall first into the water, for if the line fall first, it scares or frightens the fish..." -
Col. Robert Venables 1662
As age slows my pace, I will become more like the heron.

---
Warning:
The hooks are sharp.
The coffee's hot.
The fish are slippery when wet.
Beware of the Dogma

---