Suntech Kaname H45
The Suntech Kaname H45 is a very interesting rod. It has an extremely soft tip but then firms up rapidly. The contrast between soft tip and firm midsection is greater than on any rod I've seen. The rod is somewhat reminiscent of the Suntech GMR Special 36NP, but the tip is softer and the midsection is firmer. Surprisingly, the rod is nothing at all like the Kaname 2H 53 and 63, which I am sure are later models.

The rod is a keiryu rod, and was sold in Japan as a bait fishing rod. To date, I have only used it for tenkara, fishing with flies and generally with a size 3.5 level line (although it will also cast a size 3 or a size 4 line). The brown trout below was caught with a killer bug. I have found that a lot of keiryu rods cast tenkara lines remarkably well. They are not as smooth as a 5:5 Daiwa or a 6:4 Nissin, but they are effective, and the increased backbone helps tremendously when fishing deep or when catching larger fish.
Not all keiryu rods have the stiff tips of the Daiwa Kiyose SF rods, the first keiryu rods that most American tenkara anglers had a chance to try. I have written a bit about "zero fishing," which is a subset of keiryu fishing that tries to come as close as possible to adding nothing to a nymph or salmon egg or worm that would alert a fish before it is hooked. It uses small hooks, extremely thin lines and a soft rod tip so the fish doesn't feel the tension of the line after it takes the bait. The rod tip gives easily, so that you can see the markers dip, indicating a take, but the fish can't feel the tension of the line and rod. The Suntech Suikei ZPRO and Daiwa EP Zero are examples of this type of rod.
I have had several cases in the last year where I was able to detect a take (and catch a fish) by watching the rod tip. I've had many cases where I was able to detect a take by watching my keiryu markers dip. I've had many, many cases where I was able to detect a take by watching tenkara line hesitate or twitch. The soft tip allows all those things.
Unfortunately, I've also had cases where the fish felt something wrong - whether it was tension on the line or the hard pointy hook I'll never know - something that caused them to spit it out before I could set the hook. I have to believe that a softer tip that reduced the tension on the line but still allowed me to see the line twitch or dip would have allowed me to catch some of those fish.
The extremely soft tip of the Kaname H45 could almost put it into the Zero category as well (which would make it the shortest Zero rod I know of). The transition from the soft tip to a firm midsection makes the rod very, very different than the Suntech Suikei ZPRO or the Daiwa Zero rods, though, which are soft overall.
The Suikei ZPRO, for example, is rated to use lines no stronger than 8X. With a line limited to 8X or less, big fish are going to be difficult to land with a true Zero rod. The Kaname H45 is rated for lines from 9X up to 6X, so you have a much better chance of landing a nice fish. The 26" brown trout in the following photo was not caught with a Kaname H45, but was caught with a keiyru rod on 6X tippet. Really, 6X is stronger than you think.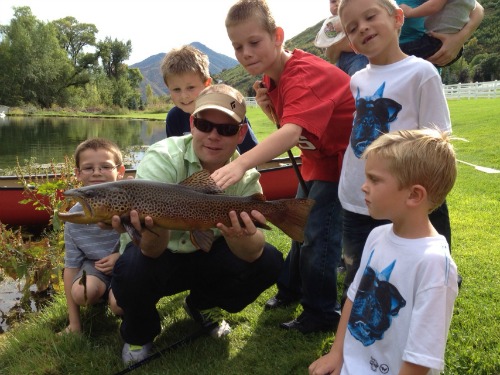 I've often written that tenkara rods don't have stiff enough tips to get good hook sets when fishing heavy nymphs deep, particularly in current. Upon further reflection, it isn't really the tip that matters nearly as much as the midsection of the rod (perhaps sections 4-6). When people strike on a fish, they tend to strike hard enough and to move the rod far enough that even if the tip is soft, or very soft, if the midsection is firm there will still be sufficient pull to remove any slack and set the hook.
I would not choose the Kaname H45 as a rod for Czech nymphing or fishing big tungsten bead heads, but for unweighted wets, modestly weighted nymphs, Killer Bugs or Buggers, salmon eggs, worms or nymphs taken from under rocks on the stream you are fishing, I think the rod would serve pretty well.
What I'm most intrigued with, though, is that it is a length that will work well on even modest streams, giving anglers the chance to use a soft tipped, zero-type rod even in close quarters. Plus, behind the extremely sensitive tip there is enough backbone to get good hook sets and to land just about any fish you're likely to find in a modest stream.
Suntech Kaname H45 Features

The grip is just a widened out section of the blank coated with a non skid finish that is effective either wet or dry. It seems to be a fashion in Japan to have a sparkly finish on the grip section. The finish on the Kaname H45 is more sparkly than most.

The rod comes with a Fuji KTC-12 rod cap. I have come to really like these caps much better than the better known tip plugs. They never come off when you don't expect it and they are big enough that they are hard to lose.


As with all the other Suntech rods I have seen, the lillian is attached by an extremely thin swivel, which easily passes through the #2 section for dissassembly.

The grip screw cap is reminiscent of the caps on the first Suntech Suikei rods I received. The threads are metal, the end cap is rubber and there is a rubber pad on the inside to keep the rod quiet. There is a ventilation hole.
Length extended - 14' 3"
Length collapsed - 23.5"
Weight with tip cap - 2.3 oz
Weight without tip cap - 2.0 oz
Sections - 9
Tip Diameter - .8 mm
Grip Diameter - 19.3 mm
Tippet recommendation 9X - 6X
Pennies - 17

All in all, this is an intriguing rod. I like the idea of a Zero Tension rod short enough to use on smaller streams. I liked the rod enough to get as many as I could even though it has already been discontinued by Suntech. I was able to get only a few rods and will not be able to get more. A this point, I only have none left in stock. I have checked, though, and I will be able to get replacement parts if they are needed.
Perhaps best of all is the price. This is an amazing rod for $175!

Kaname H45 - $175
Out of stock
---
Shipping
A shipping charge of $10 will be added to all orders.
TenkaraBum.com does not ship to the European Union or the European Economic Area.

---
Payment
Payment is processed by PayPal but you don't need to have a PayPal account. You can use your credit card.
---
TenkaraBum Home > Tenkara Rods > Suntech Kaname H45

---
"The bitterness of poor quality remains long after the sweetness of low price is forgotten" – Benjamin Franklin
"Study to be quiet." - Izaak Walton 1653

"Be sure in casting, that your fly fall first into the water, for if the line fall first, it scares or frightens the fish..." Col. Robert Venables 1662
As age slows my pace, I will become more like the heron.

---
Warning:
The hooks are sharp.
The coffee's hot.
The fish are slippery when wet.
Beware of the Dogma

---