Covid-19 Announcement
INTERNATIONAL: Shipments to Europe and Canada are still slightly delayed but are getting back closer to normal. Shipments to Australia are still much slower than normal.

DOMESTIC: Many deliveries are taking about a day longer than normal. A few deliveries are taking a lot longer than normal. If you are planning a trip, please order well in advance.

---
Soyokaze Gallery
The Soyokaze Gallery is a place to upload photos of fish caught with your Daiwa Soyokaze, Shimotsuke Kiyotaki, Shimotsuke Kosasa or tanago rods and to see what other anglers have caught. I plan to group them by angler and by species.

I hope the gallery will help more fishermen realize that there are a lot of fish out there that they haven't even thought of catching, let alone caught or even tried to catch. They don't have to be wild brookies or wily browns to be challenging, and they don't have to be measured in pounds rather than inches to be fun.
The Soyokaze, Kiyotaki and Kosasa rods are light weight, convenient, relatively inexpensive little rods that you can take with you about anywhere - and anywhere there is clean water there will be fish. The tanago rods will almost fit in your pocket! Neighborhood fishing, out of the way fishing, fishing in spots that most people don't even think to fish - what a wonderful way to spend an afternoon. Every time I pass or cross a body of water now, I wonder "What lives there?" Show us what you're found.

Each angler can have one photo per species. If you send in a new photo of a species already in your gallery, it will replace the previous photo.
Submit photos by attaching them to an email to chris at tenkarabum dot com. If it is your first submission, please also tell me the screen or user name you would like to use.
And please - I am no icthyologist or taxonomist. If you see a species misidentification please let me know.
Latest submissions
Common Carp - Jan W
Red Shiner - Mike S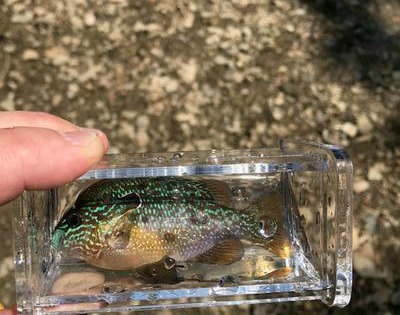 Longear Sunfish - Mike S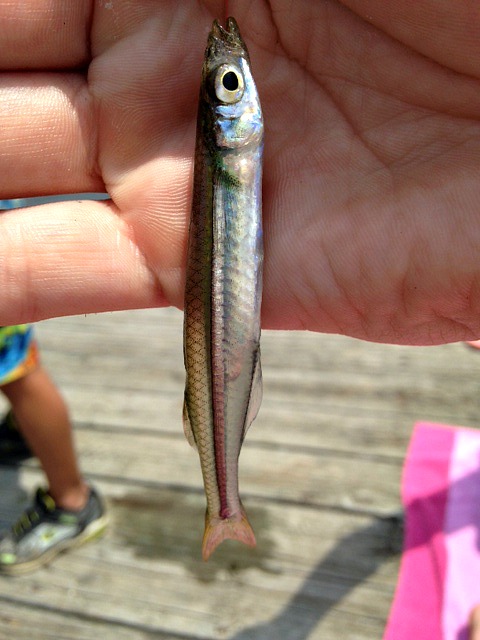 Brook Silverside - Jeff R

Red Shiner - Jeff R

Angler Galleries
Alan D.
Anthony
atenkley
Berlyn
Big M
BPencek
bpfrocket
Colorado Kid
Danny H
Daryl M
DavidL
DHutchinson
Doug
Dre
dwalker
D Weaver
Dylan
goneflyfishing
Graham Cracker
Heath
Henry from Salida
JanW
JChico
Jeff R
Jeff S
JTimblin
kayak_chris
Ken S
Kiwi
kkortemeier
Klags
Loften
Mike S
Noah S
Sage
T-Goat
TanagoBum
TheHugbot
TheLifeAmphibious
tnitz
TPalka

Species Galleries
Largemouth Bass
Rock Bass
Smallmouth Bass
Common Blenny
Black Bullhead
Yellow Bullhead
Bream
Bream/Roach Hybrid
Common Carp
Channel Catfish
African Jewel Chichlid
Mayan Chichlid
Bluehead Chub
Creek Chub
European Chub
Hornyhead Chub
Black Crappie
Dace
Blackbanded Darter
Fallfish
Crested Goby
Goldfish
Grayling
Gudgeon
Hitch
Banded Killifish
Stone Loach
Bluntnose Minnow
Common European Minnow
Eastern Mosquitofish
Western Mosquitofish
Perch
White Perch
Yellow Perch
Chain Pickerel
Northern Pikeminnow
Roach
California Roach
Rudd
Ruffe
European Sculpin
Gizzard Shad
Blacktail Shiner
Common Shiner
Dusky Shiner
Golden Shiner
Ironcolor Shiner
Red Shiner
Redside Shiner
Satinfin Shiner
Spotfin Shiner
Spottail Shiner
Striped Shiner
Warpaint Shiner
Weed Shiner
Yellowfin Shiner
Atlantic Silverside
Brook Silverside
Souffie
Three Spined Stickleback
Bluegill Sunfish
Dollar Sunfish
Green Sunfish
Longear Sunfish
Pumpkinseed Sunfish
Redbreast Sunfish
Redspotted Sunfish
Spotted Sunfish
Spotted Tilapia
Blackstripe Topminnow
Lined Topminnow
Brook Trout
Brown Trout
Cutthroat Trout
Rainbow Trout
Redband Trout
Snapping Turtle
Mountain Whitefish
Return from Soyokaze Gallery to TanagoBum

Return from Soyokaze Gallery to TenkaraBum Home


---
"The bitterness of poor quality remains long after the sweetness of low price is forgotten" – Benjamin Franklin
"Be sure in casting, that your fly fall first into the water, for if the line fall first, it scares or frightens the fish..." Col. Robert Venables 1662
As age slows my pace, I will become more like the heron.

---
Warning:
The hooks are sharp.
The coffee's hot.
The fish are slippery when wet.
Beware of the Dogma

---