Small Stream Tenkara
Starter Kit
I am "unbundling" the kits. Early on I thought kits would be a great idea but it turns out they make inventory control much, much more difficult (frequently having to switch some lines out of the "line inventory" and into the "kit inventory" or vice versa). It's just simpler to offer the rod and let you choose which line you want and whether you would prefer the round tenkara line holders or the flip up Fuji EZ Keepers.

---
It has been quite a while now since I wrote Rethinking Rod Choice - Many. Some things haven't changed - a short rod really does make a lot of sense if you want to fish small streams; and some things have changed - the outfit that once insisted tenkara rods were 11' or longer now sells a 9' rod.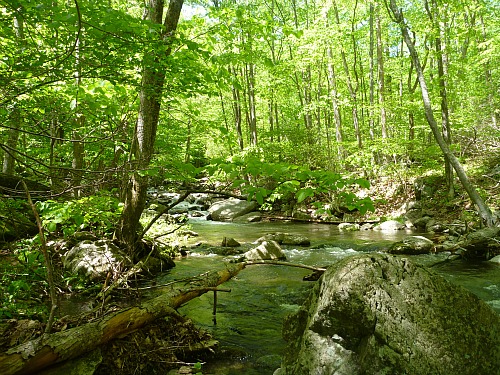 I was reminded of the value of short rods when Dave Hughes sent me a copy of his latest book, Trout from Small Streams, second edition. He included a chapter on tenkara, and in it wrote some very interesting things about what he calls "downsized tenkara" - tenkara fishing with downsized rods for really small streams.

Two of his favorite rods for small, brushy streams are a Soyokaze 27 and a Kiyotaki 24, both well known to TenkaraBum readers and customers. Both have now been discontinued by their manufacturers. A couple years ago, I introduced the Nissin Fine Mode Kosansui 270 as the best replacement I'd found for the Soyokaze 27 and built the Small Stream Tenkara Starter Kit around it.
I still wasn't satisfied, though, and wanted a rod that was a bit softer, had a more progressive bend profile and could cast a lighter line with ease. Not all fish from small streams are 7" eastern Brookies, though, so it had to have enough firmness in the mid and butt sections to handle fish that were 12" or a bit bigger.
Suntech GM Keiryu Special 27
Finally, I went to Suntech with a proposal for a 9' rod and they once again exceeded my expectations. The Suntech GM Keiryu Special 27 was an excellent rod and was very well received.
The rod has since gotten redesigned graphics and a new name - the TenkaraBum Traveler 27. The new styling solidifies the link to the TenkaraBum Traveler 39 and 44 keiryu rods, and the TenkaraBum 33, 36 and 40 tenkara rods. Just like those rods, the TenkaraBum Traveler 27 allows you to cast a very light line, is fun with small fish yet has enough backbone to give you positive hook sets with bead head flies and to handle just about any fish you'd hook in a stream small enough that you'd want a 9' rod.


In addition to the rod, the Small Stream Tenkara Starter Kit comes with a spool of size 2.5 Nissin Oni Line. That is quite a bit lighter than the size 3.5 line I packaged with the kit when it had the Kosansui 270. For small streams, particularly when the  water is low and clear, you want the lightest line you can get away with. (Actually, you always want the lightest line you can get away with, but particularly when the fish are going to be especially wary.) If your rod will cast a size 2.5 line, and the TenkaraBum Traveler 27 does, use it!

The Small Stream Tenkara Starter Kit also comes with a pair of the round tenkara line holders. I think you might want to have two lines - either a shorter one for very small streams and a longer one for slightly larger streams, or a second slightly heavier line if you are fishing in a bit of a breeze or if you are using a wind resistant dry fly. Keeping two lines is easy with the pair of line holders.
Order the Suntech TenkaraBum Traveler 27 here.
Order round Tenkara Line Holders here.
---
TenkaraBum Home > Rods > Small Stream Starter Kit

---
"The bitterness of poor quality remains long after the sweetness of low price is forgotten" - Benjamin Franklin
"Be sure in casting, that your fly fall first into the water, for if the line fall first, it scares or frightens the fish..." -
Col. Robert Venables 1662
As age slows my pace, I will become more like the heron.

---
Warning:
The hooks are sharp.
The coffee's hot.
The fish are slippery when wet.
Beware of the Dogma

---