Small Stream Keiryu Starter Kit
The Small Stream Keiryu Starter Kit is the result of a customer request. The reason there hasn't been one before is that I hadn't found an ideal rod. Kieryu fishing is too broad to have a single, "ideal" rod. The request was specifically for a Small Stream Keiryu Starter Kit, though, which narrows it down to a few good choices.

Although I started importing keiryu rods only a couple years after tenkara rods became readily available in the US, they remain much less well known. Most are purchased for backpacking, fishing with weighted nymphs or fishing for larger fish than most tenkara rods can handle.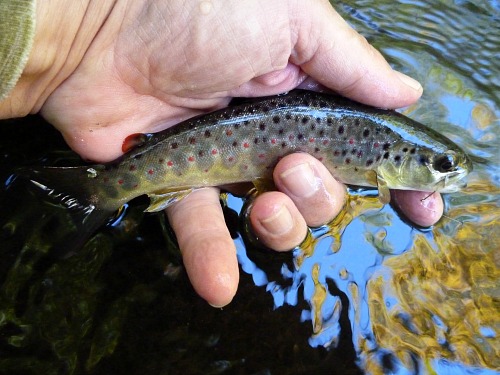 Initially, I was skeptical that many Americans would want to fish them as the Japanese do, with live bait, and to be honest I was a bit concerned that writing about bait fishing might alienate some existing or potential tenkara customers.
I don't think it has - business didn't fall off a cliff after my first few bait fishing trip reports. In fact, I have seen increased interest in some of the accessories that are used primarily with bait fishing. I don't think it will become more popular here than tenkara (even though it is in Japan), but I do think more people are trying it.

Perhaps the biggest concern (among people who haven't tried it) is that the fish will swallow the bait or that there will be a dramatic increase in mortality of released fish. However, considering the typical hooking locations of fish caught with keiryu techniques, I think those concerns are overblown. You do have to react quickly, but with a tight line and keiryu yarn markers, you can.

The Small Stream Keiryu Starter Kit has the rods, lines, markers - everything you need to catch fish and to catch them in such a way that they can be released safely.
The Rods

Aside from the fact that some keiryu rods can handle larger fish, and some keiryu rods fit in any backpack easily, one of the biggest advantages I've found is their greater length when extended. With a long rod (or a very long rod) and relatively short line, you get absolutely fantastic drifts. The length is only an advantage if you don't have an overhead canopy of tree branches, though. Small streams, certainly in the east but also in some other parts of the country, generally have enough stream side foliage and overhanging branches that longer rods are hard to use.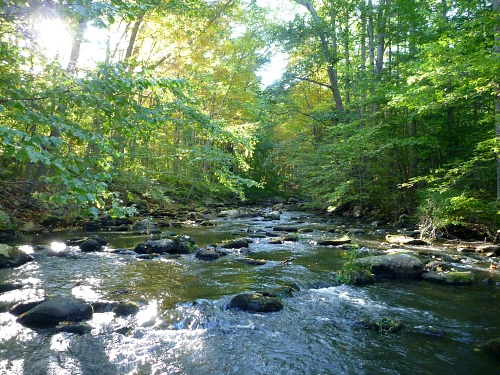 On a recent keiryu fishing trip, I used a Suntech Field Master 4.4m rod on the stream shown above. It is a zoom rod and I often fished it at the shorter 4m and 3.6m lengths.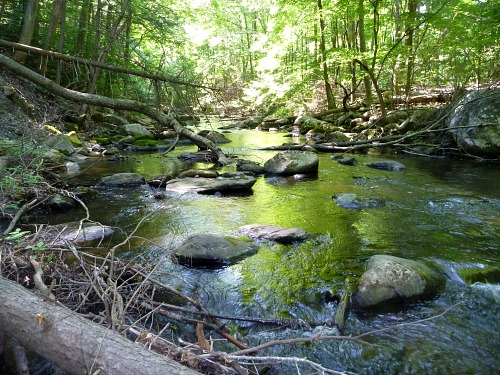 I've also used a 4.5m rod here (above photo). It was not a zoom rod and there were spots I couldn't fish because of the overhead branches. Where I could fish the drifts were wonderful and I caught a lot of fish - enough to really open my eyes with respect to the productivity of keiryu fishing. A rod that could have been fished at 4m and 3.6m would have allowed me to fish the entire stream - other than few extremely tight spots where even a slightly shorter rod would have been ideal.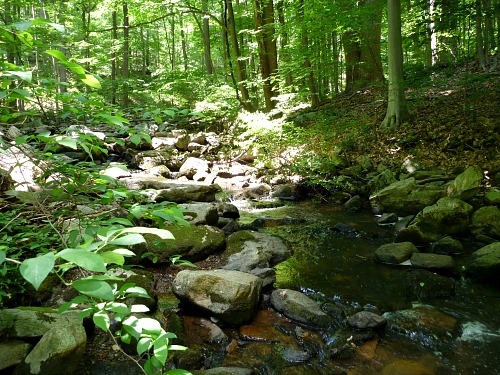 For this stream I found even a 3.4m rod to be too long. This particular stream is classified as a wild trout stream in NJ, and bait fishing is not permitted but there are countless streams of that size across the country where it is. I was fishing with flies and in many spots was not able to cast other than bow and arrow style. There were a number of spots where a pendulum cast with a 3.2m rod and a split shot would have worked, though.

The best keiryu rods I've found for really small streams are the Suntech Suikei 39 and Field Master 39. They can be fished at three lengths: 3.2m, 3.6m and 3.9m and I can assure you that in small streams you'll use all three. I like them better than any of the other shorter keiryu rods, particularly because of the zoom function.
The Suntech GM Suikei Keiryu Special 39 is a softer rod than the Field Master 39, and would be a better choice for those who prefer softer rods and for the small streams that hold mostly smaller fish (under about 15"). The Field Master 39 can handle slightly larger fish and being a firmer rod, is a bit better at transmitting the feel of a take (although most takes will be seen as well as felt).

For slightly larger streams I would chose the Suntech Field Master 44 or Suntech GM Suikei Keiryu Special 44. They can be fished at 3.6m, 4m and 4.4m and will work fine for medium to small streams that don't have much overhead canopy.

For streams as wide as the ones below, without an overhead canopy, you will want a rod longer than 4.4m. (I'd use the Nissin 2-Way 540ZX medium, the Suntech Field Master 53 or the Suntech Keiryu Sawanobori 53 or 63.)

By now there are a good number of tenkara anglers who already have keiryu rods, whether the Daiwa Kiyose 43MF or 43M, Suntech Field Master, Nissin 450ZX, etc, who may be interested in exploring bait fishing in streams. It is enough different than tenkara that it is a challenging and interesting fishing style all its own.

Rather than having several different kits, each packaged with a different rod, it is a lot simpler to have one Small Stream Keiryu Starter Kit, and match it with a rod you already have or whichever of the Suntech rods highlighted above would best fit where you normally fish.

The Kit

Line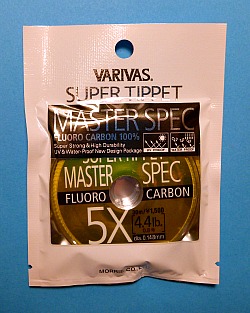 The Small Stream Keiryu Starter Kit comes with a spool of the Varivas 5X fluorocarbon tippet material to use as the keiryu line.

Markers

Because you will not be able to see 5X tippet in most lighting conditions, you will have to use markers to see where your line is and to indicate strikes. The Owner Pro Markers come pre-cut in a range of colors.
Although one marker alone will allow you to see your line, three markers are definitely easier to spot than a single one. Also, you will need three to show whether your line is tight or has slack in it. Instructions for how to tie on the markers are on the back of the package.

If your line is tight, you will be able to feel many of the takes. If it is slack you won't feel the hits but you will be able to see the slack go out of your line. Your hook catching on a rock will take out the slack, but the hit of a fish generally feels (and looks) different than your hook or shot hitting a rock. You will definitely want to see or feel hits so that you can react instantly, though. The fish will swallow the bait if you don't.

Tippet Rings

In Japan, they have some fairly elaborate methods of rigging a keiryu line, and attaching one section of the line to another. I have decided to simplify it by using a tippet ring to connect the main line to the tippet. It probably isn't better, but it is a method with which American anglers are more familiar, and which works quite effectively. With a tippet ring on the end of your line, your line doesn't get shorter each time you have to tie on a new tippet.

Tippet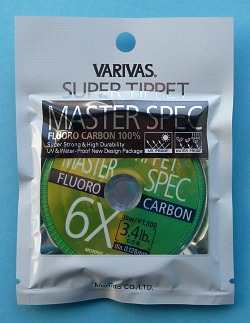 The Suntech Field Master is rated for Japanese line size .8 (equivalent to 5X tippet), so you could run the Varivas 5X all the way to the hook if you wanted to. I wouldn't recommend it, though. If (when) you get a snag at the extreme end of your cast and have to pull back on the rod to break off, there is a good chance that the line would break at the lillian rather than at the hook. At least, that is my experience. I would definitely use a tippet that is lighter than the line. Losing the hook is one thing, losing the hook line and sinker - not to mention the markers, is something else again.
Split Shot

Because you are not casting the weight of the line, you will need weight on the line. Dinsmore's four pack will give you a range of sizes so you can use just the amount of weight you need. I've used anywhere from a single size six shot up to two BB shot, depending on water depth, current, amount of breeze, and length of line and the length & number of markers. You want to be able to make the cast and keep your line relatively tight without the shot always hanging up on the bottom.
Depending on where you normally fish, you might not need all four sizes, but for the Small Stream Keiryu Starter Kit, I wanted to give you as much flexibility as possible.

Hooks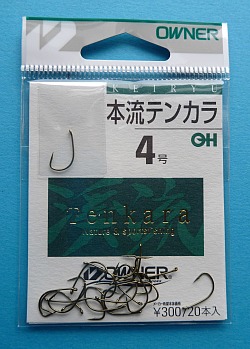 Choice of hooks often comes down to personal preference. There are a lot of very nice eyeless keiryu hooks that could be used. I decided to keep things simple and include a hook with an eye. After all, this is a starter kit. There will be plenty of time to get into the details of choosing specific hooks and snelling them yourself after you have become an accomplished keiryu angler.
Truly, though, you could use the Owner Mainstream hooks all the time and never mess around with snelling your own hooks.

Line Management

You will need a system for line management, both on stream and off. On the stream, I find the Fuji EZ Keepers to be a convenient way to wind up your line after your collapse your rod and before you walk up the streamside trail (if there is one) to your next spot.
Off stream, the Owner foam line winders work well, not only for keeping snelled hooks (when/if you get to that) but also for keeping your fully rigged line. They are small, light weight, and you can write the line length on them to avoid confusion later. They come 25 to a package.

With the Small Stream Keiryu Starter Kit you get both.

---
Small Stream Keiryu Starter Kit

Included in the Keiryu Starter Kit:
Varivas 5X Fluorocarbon Tippet (to use as the line)
Owner Pro Markers
Tippet Rings
Varivas 6X Fluorocarbon Tippet (to use as the tippet)
Dinsmore Spit Shot
Owner Mainstream Hooks
Fuji EZ Keepers
Owner Foam Line Winders
Small Stream Keiryu Starter Kit - $69
Add a Rod

Suntech GM Suikei Keiryu Special 39 - $185
Out of stock
Suntech Field Master 39 - $175
Suntech GM Suikei Keiryu Special 44 - $195
Suntech Field Master 44 - $180
---
Shipping
A shipping charge of $10 will be added to all orders.
TenkaraBum.com does not ship to the European Union or the European Economic Area.

---
Payment
Payment is processed by PayPal but you don't need to have a PayPal account. You can use your credit card.
---
TenkaraBum Home > Keiryu Fishing > Small Stream Keiryu Starter Kit

---
"The bitterness of poor quality remains long after the sweetness of low price is forgotten" – Benjamin Franklin
"Study to be quiet." - Izaak Walton 1653

"Be sure in casting, that your fly fall first into the water, for if the line fall first, it scares or frightens the fish..." Col. Robert Venables 1662
As age slows my pace, I will become more like the heron.

---
Warning:
The hooks are sharp.
The coffee's hot.
The fish are slippery when wet.
Beware of the Dogma

---