Covid-19 Announcement
Some shipments are still delayed. If you are planning a trip, please order well in advance.
---
Simms Wading Staff
The Simms Wading Staff is a very reasonable alternative to the better known Folstaf. A little while ago I had the opportunity to fish with a newly found friend. I hadn't brought my wading staff (a broomstick doesn't fit in the overhead bin or under the seat in front of you) so immediately after rigging my rod I picked up an appropriately sized stick.
It served its purpose well enough until I caught my second fish. Forgetting that I didn't have it tied to my belt, I dropped it as I usually do and the rebellious thing floated away! I found another stick and finished the day with it, but it was stout enough (and heavy enough) that I could have fought off bears with the thing, and at the end of the day I must have complained about it because we started talking about wading staffs.
It seems my favorable feeling towards the Folstaf is not universal. My friend said he had bought a Folstaf, tried it once and decided it wasn't for him. Apparently he had gotten the tip wedged in streambed rocks, and when he tried to lift the staff the internal bungee cord stretched and the staff sections separated. When he tried to plant it again, it was no longer rigid and provided no support. I forget his exact words, but he may not have actually said "provided no support." I think he might have said something closer to "nearly killed me."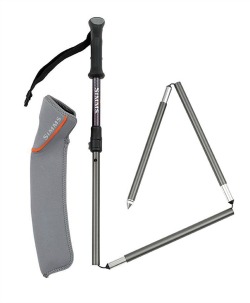 He then bought a Simms Wading Staff. Unlike the elastic bungee cord system used in the Folstaf, Simms uses an internal wire cable and a set of locking pins to keep the staff segments firmly together. It is more secure.
On the other hand, you actually need the other hand to deploy the staff. With the Simms wading staff it is a two hand job. The Folstaf system lets you pull the staff out of its holster, shake it, and it will straighten out and all the pieces will slide into place. You can deploy the staff as needed, at a moment's notice. If you've already started to fall, however, no matter how fast your draw, you'll be horizontal before the staff is vertical.
I firmly believe that the advantage of a folding staff is not so you can keep it at your belt, it is so that you can pack it along with your collapsed rod. If you're fishing with a tenkara rod, the staff doesn't get in the way. (And if you're not fishing with a tenkara rod, what is in the way is not the staff, it's all that excess line wrapping around things.) Your "other hand," freed from needing to manage excess line or to reel, holds either your staff or your net. Be sure to tie your staff to your belt so it won't float away when you drop it to get your net, though.
Whether you decide on the Simms wading staff or the Folstaf (or a broomstick, for that matter) you really should use a staff - and not just in deep water. As one fisherman put it on one of the forums, if you fall in knee deep water, you'll get wet. If you fall in ankle deep water you can break bones. With more places banning felt soles, having a wading staff just makes sense.
I do not sell the Simms Wading Staff, but I have an affiliate relationship with the North Platte Fly Shop in Wyoming, which does (and they offer free shipping on it). I will receive a small commission if you buy anything in their shop after clicking on the link.
---
TenkaraBum Home > Tenkara Accessories > Simms Wading Staff

---
"The bitterness of poor quality remains long after the sweetness of low price is forgotten" - Benjamin Franklin
"Be sure in casting, that your fly fall first into the water, for if the line fall first, it scares or frightens the fish..." -
Col. Robert Venables 1662
As age slows my pace, I will become more like the heron.

---
Warning:
The hooks are sharp.
The coffee's hot.
The fish are slippery when wet.
Beware of the Dogma

---