Covid-19 Announcement
Most international flights have been cancelled.
There is no ETA for out-of-stock items that come from Japan.
Shipments to overseas buyers will take longer than normal - possibly much longer. Patience is a virtue - especially in fishing.

---
Shimano Keiryu Damo Z
The Shimano Keiryu Damo Z is the net that Tom Davis has chosen for his tenkara fishing. It is a very nice net if you catch fish larger than about 10 inches.
Many people by now know that a tenkara net in Japanese is called a tamo. Fewer people know that the spelling can change from tamo to damo depending on what word precedes it. Similar examples exist in English. Consider the word "gotcha," which is easier to say than "got you." In Japanese, keiryu damo is easier to say that keiryu tamo. The spelling just reflects how the words are actually pronounced.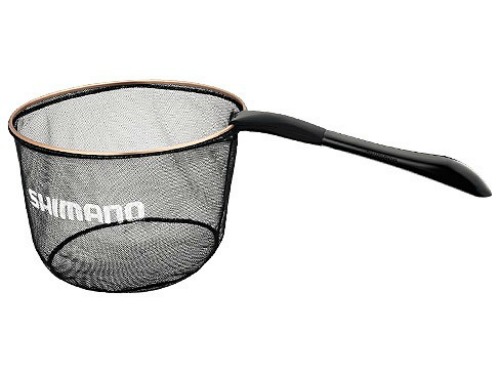 However you pronounce it, this is a very nice net. American anglers will definitely appreciate the 30cm diameter (roughly 12 inches). The earliest tenkara nets available in the US were about 9 1/2 inches in diameter. Many people thought they were probably fine for the 9 inch fish tenkara anglers catch in Japan but were really a bit small for the 12 or 14 or 16 or occasional 18 inch fish people catch here.
For some time now, I have carried the Shimano Folding Nets in 25 and 30cm diameters. More people have wanted the 30cm size, but by their very nature the folding nets flex. Some have asked me for a 30cm net that is rigid.

Like many of you, I watch Tom Davis' wonderful videos on his Teton Tenkara Blog, and I couldn't help but notice his Shimano net, which seems to scoop up the fish he catches in his fast flowing mountain streams extremely easily. It was a fairly simple matter to ask him what net he used, find it in Japan and bring some in. I should have done it sooner.
The hoop diameter of the Shimano Keiryu Damo Z is about 12" (the ID is just under and the OD is just over). The overall length is about 24 1/2" and the handle length is about 13 1/2". All in all, it is a larger net than most of the "tenkara" nets that have been available in the US. It won't be quite as convenient to travel with (although the hoop does fit in the BW Sports Fishing Backpack), but it will be easier to net your fish, particularly your larger fish.
The Shimano Keiryu Damo Z does not come with a screw eye in the end of the net handle as do many American fly fishing nets. The split ring that comes with the Gear Keeper will not easily attach to the net hoop.

The Shimano Net Leash (see below) would be an ideal mate for this net. There is a small hole on the bottom side of the net handle, near the hoop, through which a wire or thin cord can be inserted. The end of the Shimano Net Leash has just such a wire, which can be inserted through the hole and looped back over itself to form a girth hitch.
All in all, this is a very good choice for someone looking for a larger, rigid net.

Shimano Keiryu Damo Z 30cm - $85

The Shimano Net Leash is similar to a standard American net leash, but it has a very clever system for attaching the leash to your net. Most Japanese tenkara and keiryu nets do not have a screw eye in the end of the handle, as most  American nets do. Thus, a simple clip or split ring won't work well. the Shimano Net Leash has a cord loop with which to form a girth hitch around the net hoop (and through the fine netting if necessary). The thin wire allows you to thread the cord through the netting or through the small hole on the bottom of the Shimano Keiryu Damo handle (above).
The cord loop attaches to a secure clip on one end of the coiled leash. The other end of the coiled leash has a robust clip to attach to a D-ring on your vest. A belt loop is also provided for those anglers who do not wear vests.
Shimano Net Leash - $23
---
Shipping
Domestic shipping is $11 via USPS Priority Mail (2-3 day delivery).
Shipping to Canada or Mexico requires an additional $22. Shipping to Europe requires an additional $33 and to Australia an additional $38. I will send a PayPal invoice for the required postage.

Payment
Payment is processed by PayPal but you do not need a PayPal account. You can use your credit card.

---
TenkaraBum Home > Tenkara Accessories > Shimano Keiryu Damo Z

---
"The bitterness of poor quality remains long after the sweetness of low price is forgotten" – Benjamin Franklin
"Be sure in casting, that your fly fall first into the water, for if the line fall first, it scares or frightens the fish..." Col. Robert Venables 1662
As age slows my pace, I will become more like the heron.

---
Warning:
The hooks are sharp.
The coffee's hot.
The fish are slippery when wet.
Beware of the Dogma

---