Power Isome

Power Isome are artificial sandworms that are infused with scent to make them extremely attractive to fish. Unlike most "rubber worms" they are biodegradable and also digestible (by fish - I wouldn't suggest snacking on them). They are well known to British rock fishing enthusiasts but to my knowledge have been unavailable in the US - until now.
Rock fishing is inshore salt water fishing, generally for modest sized fish. Around the Chesapeake Bay, striped bass are called "rock fish," and although I suspect stripers would take the Power Isome pretty readily, that's not what is generally meant by the term rock fishing. I think rock fishing is fishing for the smaller fish that live around the rocks along the shore.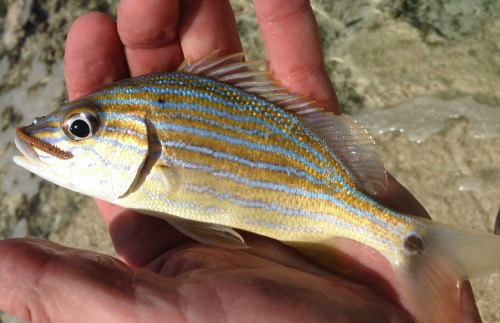 French Grunt caught by Alan L with Power Isome
It is something I have never done and know little about. I do know that Japanese rock fishing - mebaru - is done with rods similar to keiryu rods (as well as with spinning tackle). People are only beginning to use keiryu rods in the salt here in the US but I think it is a natural progression from mountain streams to rivers to the sea. I suspect that it also will be a natural progression from fishing for smaller rock fish to fishing for the Chesapeake "rock fish." There are rods than can handle schoolie stripers.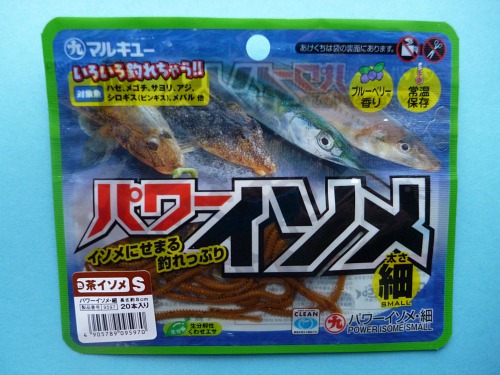 I am embarrassed to say that although I live on an island, within a couple blocks of the water (brackish, but still), I have not done any "rock fishing." I intend to change that this year. Wanting to play around with whatever smaller fish live among the rocks along the shore is only one reason for getting in the Power Isome, though.
A larger reason was to find an effective bait to use when keiryu fishing that can be kept from one trip to the next. Pound for pound, worms are more expensive than steak and a long line of Scottish ancestors have instilled in me a sense that throwing them away at the end of the day is just wrong. For some strange reason, my wife does not want me to keep worms in the refrigerator. (I have since started a worm farm, but not everyone wants to do that!)

I've tried finding nymphs under rocks on the stream, but I ended up spending a lot of time fishing for bait when I could have been fishing for trout. Time is precious. You can't make more of it.
One of the things that sold me on the these baits is that even though they are formulated for salt water fish, I have to think they will be a big hit with trout and smallmouth bass. Cut in half, they'll look an awful lot like a hellgrammite.

There is one other factor that is very nice about the Power Isome compared to something like the Berkley Gulp scented baits. They don't stink! They have a fruity smell that is way better than the truly nasty smell of the competition. Because they have a nice fruity smell, be sure to keep them out of the reach of children. "Not for human consumption" is about the only English on the entire package.

I had decided to stop carrying them because the resealable zip lock packages leak. However, enough people kept asking for them that I decided to bring them back. I would definitely keep the resealed pack inside another zip lock bag.
Even though I have not tried them in salt water, I have caught trout, bass, bluegills and micros with them. They work, and the people who have had them and kept asking for them when I ran out seem to think their effectiveness more than offsets the inconvenience of double bagging.

Warning!
This product has a very strong fruity smell.
DO NOT USE IN BEAR COUNTRY.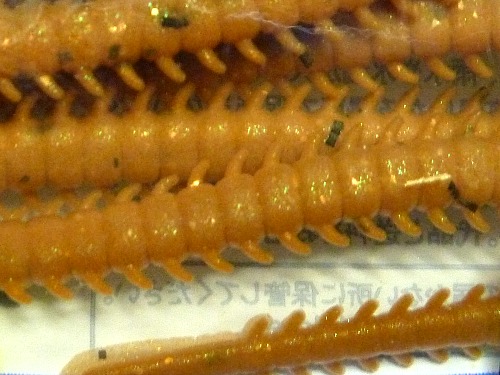 Medium Brown (4")
Power Isome (medium, brown)
Package of 15 - $10
---
Shipping
Domestic shipping is $4, via USPS First Class Mail (unless ordered with an item that must go via Priority Mail, and which has a higher shipping charge). The charge is added to your order automatically.
Please note: All packages are shipped via USPS. If you have a PO Box, please list ONLY the PO Box in your address, not the PO Box and your street address.
The charge for international shipping depends on the destination country, the weight of the package, the overall length of the package and the value of the package.
International shipments

International purchases may be subject to import duties and taxes. I cannot keep track of all import regulations in all countries written in all languages. Understanding and paying import duties and taxes is the responsibility of the buyer.
UK
TenkaraBum.com no longer ships to the UK. The new VAT regulations are too onerous for a one-man shop that rarely ships anything to the UK anyway. I apologize.

Australia
The USPS has suspended all shipments to Australia. UPS will deliver, but the shipping charge is more than $20 higher than the charge that will be calculated at checkout, requiring an additional payment.

---
TenkaraBum Home > Keiryu Accessories > Power Isome

---
"The bitterness of poor quality remains long after the sweetness of low price is forgotten" - Benjamin Franklin
"Be sure in casting, that your fly fall first into the water, for if the line fall first, it scares or frightens the fish..." -
Col. Robert Venables 1662
As age slows my pace, I will become more like the heron.

---
Warning:
The hooks are sharp.
The coffee's hot.
The fish are slippery when wet.
Beware of the Dogma

---