Owner BS-25 Linewinder

The Owner BS-25 Linewinder is a convenient method for on-stream line storage. It will fit most keiryu rods but almost no tenkara rods.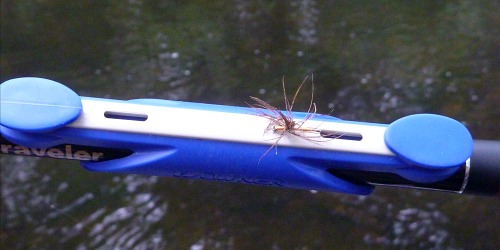 Using the Owner BS-25 Linewinder is really quite simple. The linewinder just snaps on the rod. Leave the line attached to the lillian. Hook the fly (or the hook if you are keiryu fishing) into either one of the slots.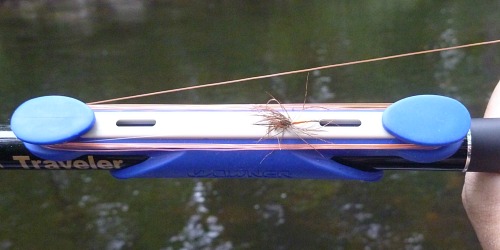 Then start winding the line around the two end posts.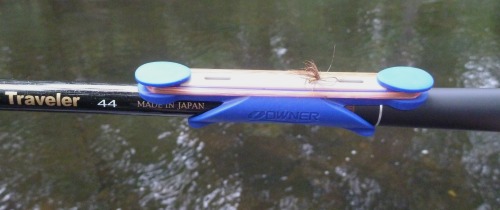 When you have wound as much line as you can, slide the linewinder towards the rod butt until the line is tight.
To be safe, insert the tip plug or put the Fuji Rod cap back on the rod. If you are walking through brush, a branch can catch the line. If you do not have the tip plug in or a Fuji Rod cap on, a branch catching the line will break your rod tip!

That's it.
When it is time to remove the line, slide the linewinder a little ways towards to the rod tip. You can then unwind the line, unhook the fly, and either leave the linewinder on the rod or take it off and put it in your pocket.
I have to reiterate - the Owner BS-25 Linewinder will not fit on most tenkara rods. In fact, the ONLY tenkara rod I have on which the Linewinder will fit as snugly as required is the Daiwa Expert LT H44.
It will fit on the TenkaraBum Traveler 44. It will fit on the Field Master 39 but not the TenkaraBum Traveler 39. It will fit on the Daiwa Seiryu X 35 and Sagiri 39 but not the Suntech Kurenai 39. If you want to know whether it will fit on any of the rods sold on TenkaraBum.com, ask. If you have questions about any rods not sold on TenkaraBum.com, the answer is I don't know, but if it is a tenkara rod, the safe bet is no.
Owner BS-25 Linewinder
Blue - $4.50
Owner BS-25 Linewinder
Orange - $4.50
---
Shipping
Domestic shipping is $4, via USPS First Class Mail (unless ordered with an item that must go via Priority Mail, and which has a higher shipping charge).

The charge for international shipping depends on the destination country, the weight of the package, the overall length of the package and the value of the package.
---
"The bitterness of poor quality remains long after the sweetness of low price is forgotten" – Benjamin Franklin
"Study to be quiet." - Izaak Walton 1653

"Be sure in casting, that your fly fall first into the water, for if the line fall first, it scares or frightens the fish..." Col. Robert Venables 1662
As age slows my pace, I will become more like the heron.

---
Warning:
The hooks are sharp.
The coffee's hot.
The fish are slippery when wet.
Beware of the Dogma

---