Nissin Zerosum Keikyokugi
---
I will be away from Tuesday, Oct 15 through Monday, Oct 21. Shipments will resume on Oct 22. Orders can be placed while I am away. After I return they will be processed in the sequence they were received.

---
The Zerosum Keikyokugi 620 is Nissin's top of the line keiryu rod. It is a big beefy rod that I know has been used to catch landlocked salmon that make the rainbow shown below look like a micro in comparison. Nissin recommends tippet no stronger than 5X, but the keiryu angler who caught the salmon says the rod can handle more.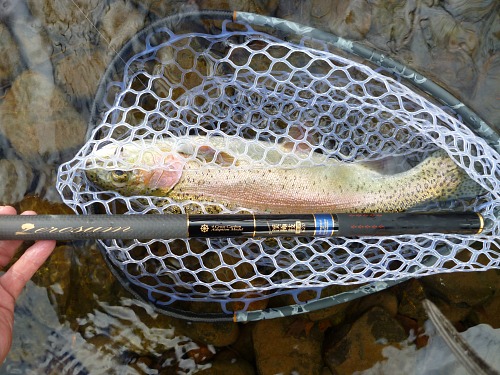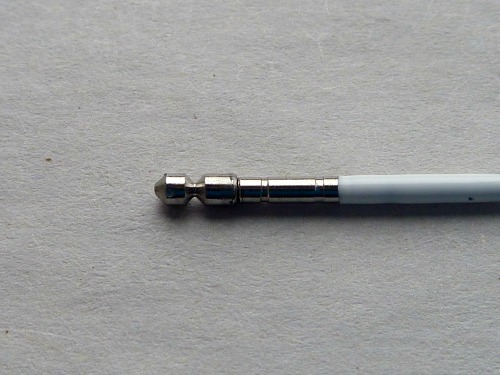 The Nissin Zerosum Keikyokugi rods to not have lillians. The line is attached directly to the swivel, as it is with the Suntech Grayce rods. Although the rod is intended for the extremely light keiryu lines, you can attach a size 3 level line with the standard arbor knot (slip knot). Most people who have fished the Grayce or the Keikyokugi have never had the line slip off (even with large salmon!), but one angler did. Personally, I have not had a problem with this line attachment mechanism. For a light keiryu line, this attachment method is more sensitive than using a lillian.
Nissin Zerosum Keikyokugi - Out of stock
---
Shipping
A shipping charge of $10 will be added to all orders.
TenkaraBum.com does not ship to the European Union or the European Economic Area.

---
Payment
Payment is processed by PayPal but you don't need to have a PayPal account. You can use your credit card.
---
TenkaraBum Home > Rods > Nissin Zerosum Keikyokugi

---
"The bitterness of poor quality remains long after the sweetness of low price is forgotten" – Benjamin Franklin
"Study to be quiet." - Izaak Walton 1653

"Be sure in casting, that your fly fall first into the water, for if the line fall first, it scares or frightens the fish..." Col. Robert Venables 1662
As age slows my pace, I will become more like the heron.

---
Warning:
The hooks are sharp.
The coffee's hot.
The fish are slippery when wet.
Beware of the Dogma

---