Covid-19 Announcement
Most international flights have been cancelled.
There is no ETA for out-of-stock items that come from Japan.
Shipments to overseas buyers will take longer than normal - possibly much longer. Patience is a virtue - especially in fishing.

---
Nissin SP

When I first got in the Nissin SP I called it a Special Panfish rod. That was a mistake. At the time, a new panfish forum had just started and the guy who started it wanted to do a joint promotion.
The Nissin SP is a soft rod and the casting is just as smooth as silk. I thought it would be a dandy rod for bluegills and crappies so I went along.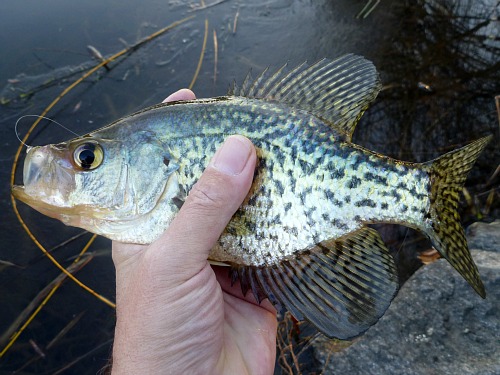 What I found out is that people don't buy panfish rods. They certainly do use tenkara rods and seiryu rods for panfish, but they don't buy panfish rods.
People also seem to think that a softer rod is only good for smaller fish. That is absolutely incorrect! I had reported that a customer told me he had caught 20" rainbows with this rod but it was a misunderstanding and he was talking about a different seiryu rod (also a Nissin, and also a 390, but not this one).
I wouldn't use this rod if I were specifically going after 20" fish, but I do tend to underestimate the capability of rods. A large fish would bend the Nissin SP 390 to the grip, but a soft rod can tire a larger fish than you would imagine.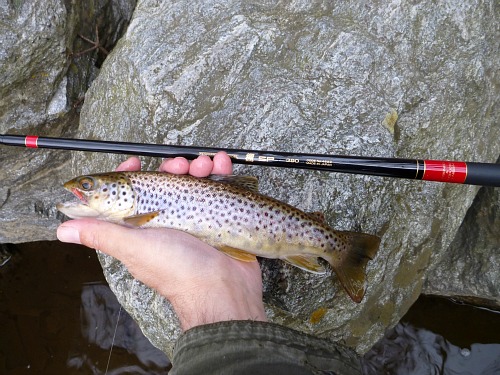 Unfortunately, where I fish I don't catch 16-18" trout with any degree of regularity, but I have come to realize that a soft rod will handle much larger trout than I once believed. Much of that realization has come from fishing zero tension keiryu rods, which are rated for tippets of 8X or less.
The zero-tension rods are extremely soft but what the softness does is protect a light tippet from sharp jerks, which will break it much more easily than a gradual increase in tension. The softness of the rod cushions the jerk from the initial take and from subsequent headshakes. As a trout pulls, however, the resistance it feels gradually increases as the bend in the rod gets to the thicker mid and butt sections. That progressive increase in resistance will turn a surprisingly large fish if you hold your rod to the side rather than straight up.
The last time I fished with a Nissin SP, I caught a pretty feisty pickerel. The rod handled it with absolutely no problem. The rod really is silky smooth, but it has more muscle down deep than you think.
If you want a light, smooth casting rod that is indeed fun with smaller fish but can handle larger fish than you would expect, please consider the Nissin SP 390.

Nissin SP 390 Features
These are not flashy rods. They are basic black with red accents - which to my eye looks a lot classier than some other rods.
The grip is not cork but instead is textured, which provides a very effective non-skid surface. You may find, as I have, that you actually prefer corkless grips. With rods that weigh only 1.5 ounces, you're not going to get blisters. You will definitely appreciate the extreme sensitivity you get with your hand right on the blank.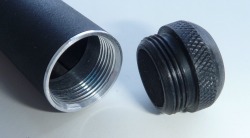 The grip screw is knurled and has a foam insert so the rod sections do not make the clickety clack sound some rods do when they are collapsed. The plastic screw fits into an aluminum insert. The plastic/aluminum junction eliminates the need for an "O" ring to prevent unexpected loosening.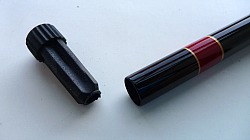 The tip plug is rubber and is a very snug fit. I find it much easier to screw it in rather than just trying to push it in. The snug fit means it will never slide out by accident when you tip the rod, as some plugs can. The  plug is also fluted so you can keep your line attached and still insert the plug into the collapsed rod for extra security when walking (or paddling) to your next spot.
I have fished the rods with a number of different lines, although I have generally used either size 3 fluorocarbon or the Fujino Midi or Soft tenkara tapered nylon lines. I have not yet tried it but I am sure the rods would do extremely well with the new Nissin Oni size 2.5 fluorocarbon lne.

Nissin SP 390

Length Extended - 12'11"
Length Collapsed 22 3/8"
Weight - 1.5 oz
Pennies - 8

The rods do not come with a hard case or a rod sock. They are nice rods, though, and are made in Japan by a company that has been making rods for a long time.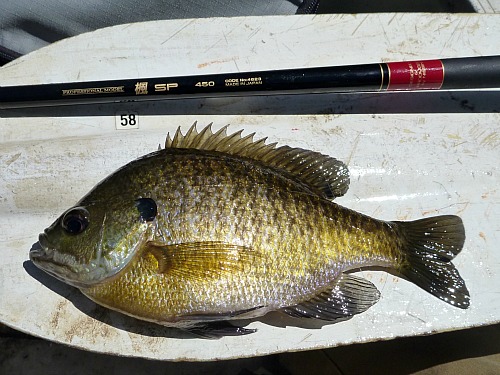 Don't think of them as panfish rods, but a good sized bluegill does put up a wonderful fight.
Please note: this rod is out of stock and has been discontinued by Nissin. I will not be able to get more. Replacement parts are still available but I don't know how long they will remain available.
The most similar rod I do have is the Suntech Kurenai HM39R.

TenkaraBum Home > Tenkara Rods > Nissin SP
---
"The bitterness of poor quality remains long after the sweetness of low price is forgotten" – Benjamin Franklin
"Be sure in casting, that your fly fall first into the water, for if the line fall first, it scares or frightens the fish..." Col. Robert Venables 1662
As age slows my pace, I will become more like the heron.

---
Warning:
The hooks are sharp.
The coffee's hot.
The fish are slippery when wet.
Beware of the Dogma

---