Covid-19 Announcement
Some shipments are still delayed. If you are planning a trip, please order well in advance.
---
Micro Fishing Starter Kit
The Micro Fishing Starter Kit has what you need to get started in micro fishing - the rod, the rig (hook, line and sinker), a pair of fine tipped clamps to hold the tiny hooks, and a photo tank in which to view your catch. I've been thinking of doing a starter kit for some time and it seems the interest in micro fishing has finally grown enough to justify it.
Faithful readers of my various musings on fishing realize by now that I occasionally march to a different drummer. So it is with micro fishing. Most anglers want to catch big fish. I am just as happy catching little fish. I distinctly remember that as a child, I wanted to catch the little fish near shore that I could see rather than the bigger fish out in the middle that I couldn't.

Some of the anglers drawn to micro fishing are pursuing a life list, which is the fishing equivalent of a birdwatcher's life list - a list of all the bird species seen, or in this case all the fish species caught. There are over a thousand species of fish in the US. Most are small - small enough to be classed as micros. There isn't yet a generally accepted definition of a "micro" fish, but all agree that a micro is pretty small - a few inches at most.
Duskystripe Shiner
I like catching new species, but I'm not pursuing a formal life list. I'm much more interested in just fishing small bodies of water that are often hidden in plain sight - places many anglers wouldn't look at twice. Places people don't fish because "there's no fish there," meaning no trout or maybe no bass. There's almost surely fish there, though, at least if the water doesn't dry up in the summer or freeze solid in the winter. Places I always look at and wonder "What lives there and how do I catch it?"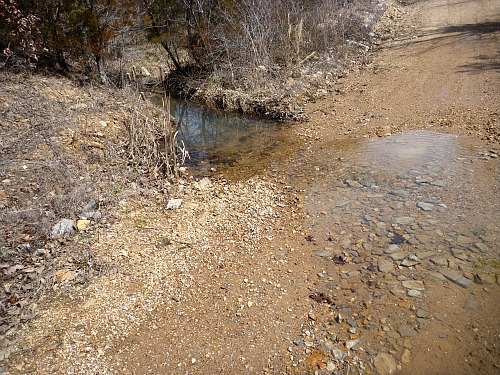 The best example of that is this little trickle across the road in north central Arkansas. It hadn't rained recently, so the wet spot in the road had to be running water. That "pool" at the side of the road wasn't much bigger than your kitchen sink, but as I drove past (slowly) I looked out the window and saw fish! I just had to stop. Then I just had to figure out how to catch one.

Creek Chub
It turned out that what lived in that little pool were creek chubs - neither remarkable nor rare, but still a very memorable catch in a puddle by the side of the road.

Multiply that by a few thousand (probably a few hundred thousand) little pools, creeks and  ponds and you soon realize that micro fishing opportunities are endless. Seriously, it's a case too many places and too little time. I know a guy in suburban New Jersey who keeps a rod in his car and fishes for 15 minutes on the way to the grocery store! (I do think his wife is on to him, but if it's only for a few minutes I don't think she cares.) Another guy emailed me saying he finally decided to see if there were any fish in the little stream across the street from where he works. On his lunch break he caught a bunch of sunfish and a little smallmouth bass. A third is going to teach his son to fish in the little brook that runs past their house.


Shimotsuke Kiyotaki
The Micro Fishing Starter Kit has what you need to start exploring all those little, overlooked places to fish.
Micro fishing is a simple endeavor, and this is a pretty simple kit. It consists of a Shimotsuke Kiyotaki 21 rod, an Owner Micro Fishing Kit (which includes a line, a float, a very small split shot, a bit of lead foil in case you want a bit more weight, three snelled hooks and a bamboo line winder to hold the line when you are not fishing), a pair of Dr. Slick Spring Creek clamps and a 3x5 photo tank.

---
Page still under construction.

Return from Micro Fishing Starter Kit to Micro Fishing

Return from Micro Fishing Starter Kit to TenkaraBum Home


---
"The bitterness of poor quality remains long after the sweetness of low price is forgotten" - Benjamin Franklin
"Be sure in casting, that your fly fall first into the water, for if the line fall first, it scares or frightens the fish..." -
Col. Robert Venables 1662
As age slows my pace, I will become more like the heron.

---
Warning:
The hooks are sharp.
The coffee's hot.
The fish are slippery when wet.
Beware of the Dogma

---