Micro Fishing Kit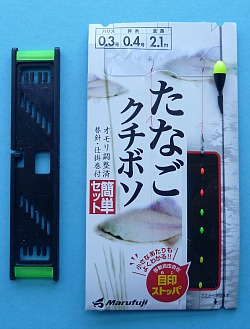 The Micro Fishing Kit is packaged for tanago fishermen in Japan. It includes a complete rig:
- a 2.1m line

- a float (top color could be chartreuse, orange or red - bottom color is always black)

 - six hi-vis marker beads (very sensitive indicators that go on the line beneath the float to show if a fish has taken your hook and is swimming to the side without taking the float under)
 - tippet connector (clever piece of gear that allows you to connect the very fine snell from the hook to your main line without having to tie a knot in the thin snell)
- two snelled tanago hooks (one on the pre-rigged line and one spare)
- microshot sinker
- plus a line winder to hold the rig when not in use (does not fit in Tanago Tackle Box).
The line is set up for a 2.7m (9') rod but also comes marked in case you want to cut it to 2.4m (7'8"), 1.8m or 1.2m to use with a shorter rod.
The rod is not included in the kit.
If you decide you really like micro fishing, eventually you will want to buy more hooks, more floats and some #10 split shot and some light tippet for micro fishing line but the kit isn't a bad way to get started.
If you have a preference for the color of the float top, please enter it in the box before clicking on the Add to Cart button. The choices are red, orange or chartreuse. Your desired color might be sold out so the choice is not guaranteed.

Marufuji Micro Fishing Kit - $6.50
---
Tanago Tackle Box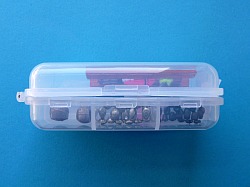 I don't want to make fun of bass fishermen (at least not too much). Many are good old boys who would give you the shirts off their backs if you needed it. But I am convinced that the reason they need a pickup truck is to carry their tackle box. This box, in contrast, is micro sized - it measures 4 1/8" by 2 1/2" by 1 1/4". I call it the Tanago Tackle Box. It will hold the bamboo line winders (but NOT the winder for the Micro Fishing Kit shown above), plus some extra hooks and sinkers, and perhaps even some micro fishing flies.
Tanago Tackle Box (just the box - kit, floats, hooks, etc. sold separately) - $5.50

---
Payment
Payment is through PayPal but you don't need to have a PayPal account. You can use your credit card.
Domestic Shipping
Domestic shipping is $3, via US First Class mail (2-5 day delivery). Most small items can be shipped together for a flat $3 charge. The charge is automatically added to your order.
International Shipping

International shipments require an additional $5 to Canada and and additional $7 to other countries. The additional charge is not added automatically. Please click the appropriate button. International shipping is via USPS International First Class mail, which can take from two weeks to one month, depending mostly on the destination country's customs office.

---
TenkaraBum Home > Micro Fishing > Micro Fishing Kit

---
"The bitterness of poor quality remains long after the sweetness of low price is forgotten" – Benjamin Franklin
"Study to be quiet." - Izaak Walton 1653

"Be sure in casting, that your fly fall first into the water, for if the line fall first, it scares or frightens the fish..." Col. Robert Venables 1662

---
Warning:
The hooks are sharp.
The coffee's hot.
The fish are slippery when wet.
Beware of the Dogma

---