Covid-19 Announcement
Most international flights have been cancelled.
There is no ETA for out-of-stock items that come from Japan.
Shipments to overseas buyers will take longer than normal - possibly much longer. Patience is a virtue - especially in fishing.

---
Fishing Backpack
A Fishing Backpack? Just to be clear right up front and center about what this is and what this isn't: This is not a backpack for ultralight backpackers who might (or might not) fish a little bit along the way. This is a backpack for fisherman and the emphasis is on the fishing. It is made by BW Sports, the same company makes the Tippet Fly Pouch.
To start with, the BW Sports backpack has a rod strap on each side, so you could carry several tenkara rods on each side if you wanted to. I carry rods on the right side and a large water bottle on the left side. The mesh pocket on the right side is divided and holds tenkara rods in their rod socks securely (The pockets are large enough the medium rod cases). Without the cases, you can carry more rods than even I usually take with me (and I can't remember the last time I only took one).
The Fishing Backpack will also accommodate a Tenryu Furaibo TF39TA, Suntech Genryuko or Daiwa Keiryu-X rod completely inside the pack for maximum security.

The mesh side pockets are much deeper than normal so your water bottle won't fall out and float away when you bend over to unhook a fish - and don't think that doesn't happen with other backpacks.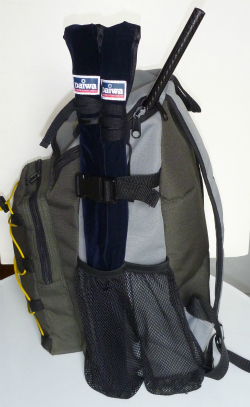 The Fishing Backpack has a large external pocket with a compression cord so you can carry a light rain jacket and have it immediately accessible. It comes with an adjustable waist strap and a fully padded back panel. The waist strap hits me too high above the waist to be of any help and I ended up cutting it off. The pack is made from 600 Denier Rip-Stop polyester, so it will hold up to the abuse you'll surely put it through.
With dimensions of 12" x 11" x 18" (fully loaded), it will hold the gear you need when you need more than just a dozen flies and a spool of tippet. For example, I carry hip waders (or chest waders) in the pack, along with wader gaiters, my tippet fly pouch, sunglasses, a camera and enough other stuff to give an ultralight backpacker a hernia just thinking about it (like an iPad and thermos of coffee to make the train ride more productive).
Rods and Net sold separately. Filter bottle not included.
---
TenkaraBum Home > Tenkara Accessories > Fishing Backpack

---
"The bitterness of poor quality remains long after the sweetness of low price is forgotten" – Benjamin Franklin
"Be sure in casting, that your fly fall first into the water, for if the line fall first, it scares or frightens the fish..." Col. Robert Venables 1662
As age slows my pace, I will become more like the heron.

---
Warning:
The hooks are sharp.
The coffee's hot.
The fish are slippery when wet.
Beware of the Dogma

---